Aries Horoscope Junkie Blogs
Your Aries Horoscope Junkie blogs and factoids. 
Mythology: The Ram.
Gemology: Amethyst and Diamond
Metallurgy: Iron
Colorology: Red
Ruled By: Mars
Physiology: Pointed and protruding sheep-like nose, wide forehead, pointed chin and triangular face. Light brown or reddish hair. Slender, well formed body.
Planets in the rising sign: Aries with the Sun and Mars can make the complexion more florid. The Moon and Saturn can make it paler and darker. Jupiter and Venus can make the body more portly. Saturn can shorten the body. Uranus and Mercury can lengthen the body.
Characteristics: Aries people are bold, self-confident and impulsive; they aim to lead, dislike following, are always ready to take the initiative in any movement that appeals to them, but often lack persistence to carry their projects to a conclusion over serious obstacles.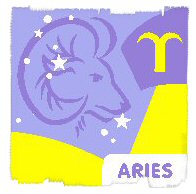 Your Horoscope Blogs: Adding your own Aries factoids or sharing your own predictions, insights or stories about Aries becomes your own free Aries web page. (If you would like include your URL or contact details I will set the link once your content is approved).
Write Your Own Aries Horoscopes Blogs
What do you like best about being Aries?

Perhaps you have something others under the Aries sign would like to know.

Or do you have an interesting Aries story to share?

What has been your most uncanny horoscope prediction come true?

Can you give an accurate Aries prediction for next week, month or year?

Share it here!

More Aries Aspects
Click below to read and comment on contributions from other Aries horoscope junkies...