Cancer Horoscope Junkie Blogs
Factoids and Blogs for the Cancer Horoscope Junkie
Mythology: The Crab
Gemology: Emerald and Black Onyx
Metallurgy: Silver
Colorology: Green
Ruled By: The Moon
Physiology: Clumsy body, slender limbs and powerful claws and people born with Cancer rising express them all. They have a large upper body easily susceptibility in later years to a prominence of the abdomen from over-eating. The powerfully hinged lower jaw creates a strong, full and wide face and large mouth; the whole construction similar to the crab's claw. Brown hair, blue eyes, pale and sickly complexion and low vitality. The body structure can appear top heavy due to slender limbs with a large upper torso and resulting rolling gait walk. Can often lack physical agility
Characteristics: Cancerians are very fond of home comforts and tend to be quiet reserved. They can adapt themselves to different conditions, which makes them easy to get along with. Cancerian anger is short-lived and they don't hold grudges. They have the courage of their convictions and have the strength of character to voice and defend them.
Planets in the Cancer's rising sign: The Sun rising in Cancer brings accentuates all their good qualities, boosting ambition and pride, and can increase vitality. With a rising Moon the Cancerian will be one who easily lets go of the past.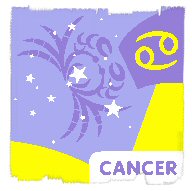 Your Horoscopes Blogs: Adding your own Cancer astrology factoids or sharing your own predictions, insights or stories becomes your own free Cancer Horoscope web page. (If you would like include your URL or contact details I will set the link once your content is approved).
What do you like best about being Cancer?
Perhaps you have something others under the Cancer sign would like to know.
Or do you have an interesting Cancer story to share?
What has been your most uncanny horoscope prediction come true? 
Can you give an accurate Cancer prediction for next week, month or year?
Share it here!
Write Your Own Cancer Horoscopes Blogs
Your Cancer Horoscope Factoids
More Cancer Aspects
Click below to read and comment on contributions from other Cancer horoscope junkies...