Pisces Traits 2013
Read your Pisces traits for Love, Fun, Health, Lucky Numbers, Career and Finance in the 2013 Horoscope.
Pisces Love Horoscopes for 2013
In 2013 a Pisces will manage to impress a lot of people around him or her, especially loved ones. The beginning of 2013 looks very favorable to every Pisces so listen to yourself and don't let your friends or relatives deter you from reaching your goals and bringing your own decisions, especially in the second half of the year where you'll have some frustrating doubts about your current relationship and personal life.
The tempo of last year continues into 2013, and any projects, which you decide to launch will be a success. As you reflect on previous years, this will give you the strength to move forward and have fun. You can afford to be impulsive, and Saturn will ensure that you are kept on the correct path and clear your path of obstacles.
2013 Health Traits for Pisces
You are going to have to do extra to take care of your noggin. This means you should not walk around when it is cold without covering it or forget to shield your ears from the wind. You are also advised to take it easy at work and be wary of excessive loads of work. Finally, make certain that you do not overtire your eyes.
Pisces Career and Finance - 2013
Taking your time and analyzing the different situations is vital to ensure that your financial circumstances improve. Slow and steady is the key to your career success throughout the year, and although you can focus on the goal, you should not rush. Every seed that you have planted will begin to grow, and you will see the results of your hard work. You need to ensure that all unfinished tasks are dealt with, allowing you to move forward.
Horoscope Lucky Numbers for Pisces in 2013
18, 23, 25, 36, 99, 3,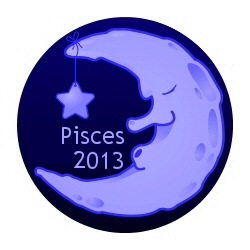 Read More About Pisces Traits
Click here for Psychic Search results focused on Pisces Horoscopes

The Pisces symbol of two fish is derived from the ichthyocentaurs, (a pair of centaurine sea-gods with the upper body of a male human, the lower front of a horse, and the tail of a fish. They were set in the sky as the astronomical constellation Pisces.) The fish are usually portrayed swimming in opposite directions; this represents the duality within the Piscean nature. Read more on Wiki