Taurus 2012 Predictions
Taurus 2012 Predictions (April 20 - May 20)
Taurus, or the Bull in reference to their representative in the zodiac, are well known for possessing very distinctive qualities and tend to be rather successful in all of their endeavors both personal and professional.
Taurus, those amiable people born between April 20th and May 20th, are smart, practical, influential, and pragmatic people, but they can also be quite stubborn, which often equates with perseverance and a great will to succeed.
Love and Relationships: Taurus 2012 Predictions
Thanks to the negative influences from the combination of Mars and Saturn, the first half of 2012 may prove to be a stressful one in matters of love and personal relationships. Don't allow external influences to affect those relationships, either at home or work, and maintain a level head during times of disputes or differences of opinion.
Taurus are notoriously passionate about the people and beliefs they care about and can be rather affectionate as well as fiercely loyal. These qualities serve the Bull well this year who should make it a point to express their feelings, verbally, emotionally, and physically to those they love. Make time to socialize with family and friends while taking a break from stress and tension.
Taurus has no trouble making new friends and 2012 is no different, especially the very end of the year when new relationships could form. But, do take care while engaging in one of your great debates not to offend those who aren't yet fond of you, although everyone is usually completely enraptured by your wit, wisdom, and knowledge on a wide variety of interesting subjects.
Career and Finance: Taurus 2012 Predictions
Taurus should expect both ups and downs in the world of career and finance during 2012. The first quarter of the year isn't exactly the best time for promotions, raises, or for undertaking any new business ventures, risky or otherwise. Make it a point to avoid any hasty investments or sudden career moves while focusing on will power and determination to persevere.
Regardless of the industry or type of career, Taurus should bide their time wisely in 2012 while waiting for the last two quarters to bring about more encouraging prospects and situations. And for those involved in research or education in some capacity, a good opportunity may arise early on in the year.
Health: Taurus 2012 Predictions
The Bull should be on the look out for potential health problems during the final quarter of the year as well as the chance for being affected in some way by a minor accident in the third quarter.
Although usually generally healthy and robust, Taurus should watch for things like stomach conditions or those affecting the lungs toward the end of the year like coughs, colds, and respiratory ailments. Listen to the often subtle signals sent by the body while making exercise and nutrition finally a priority.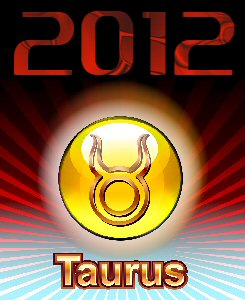 Overall, Taurus should expect surviving 2012 to bring with it a mixed bag of highs and lows while preparing to face some possible setbacks along with a number of notable achievements and exciting changes that have long been in the works.
Archived Taurus 2012 Predictions