Virgo Horoscope Junkie Blogs
Your Virgo Horoscope Junkie blogs and factoids:
Mythology: The Virgin
Gemology: SriLankan Jacinth and Pink Jasper
Metallurgy: Mercury
Colorology: Violet
Ruled By: Mercury
Physiology: Large brain with resulting intellect coupled with under developed chin resulting in lack of will power. Thin face, sallow complexion, brown or mousy hair, hazel eyes and small, inward turned, feet. Virgo people can be quick and active.
Characteristics: Learn easily and communicate fluently but can become compulsive over certain issues and fads. Health issues can range from such an interest that the Virgo becomes an excellent nurse to the opposite extreme where the Virgo becomes a hypochondriac
Planets in the rising sign: Mercury will swing the Virgo towards the positive side of his or her traits. Saturn can amplify the hypochondria into chronic illness.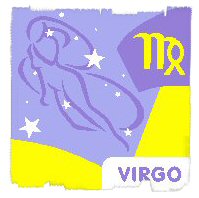 Your Horoscopes Blogs: Adding your own Virgo astrology factoids or sharing your own predictions, insights or stories becomes your own free Virgo web page. (If you would like include your URL or contact details I will set the link once your content is approved).
What do you like best about being Virgo?
Perhaps you have something Virgos would like to know.
Or do you have an interesting Virgo story to share?
What has been your most uncanny horoscope prediction come true? 
Can you give an accurate Virgo prediction for next week, month or year?
Write Your Own Virgo Horoscopes Blogs
Share larger Virgo posts here or use the Facebook comments down below for shorter factoids!
More Virgo Aspects
Click below to read and comment on contributions from other Virgo horoscope junkies...