Penny Clark Babson
Penny Clark Babson is a psychic medium and published author, she is a specialist psychic for afterlife communication.
Penny has worked online since 2002, becoming one of the top Kasamba psychic experts as well as having her own psychic medium practice.
Penny has known about her psychic ability all of her life and about her mediumship skills since she was 13 years old. 
She has correctly predicted such events as:
Anxiety and depression being on the rise in 2005 which were confirmed by studies of the New England Journal of Medicine.
The early summer 2006 excessive rain fall that caused the state of Vermont to declare itself a state of national emergency.
The capture of the known rapist, and Max Factor heir - Andrew Luster, who was convicted of well over 90 counts of rape when he fled to Mexico. Penny also specifically predicted his capture by the famed bounty Hunter - Duane "Dog" Chapman.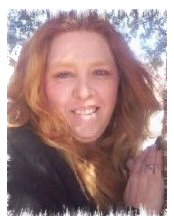 Penny Clark Babson has been the guest on many nationwide radio shows as well as Internet radio shows such as "America Today Live". For a several years Penny hosted her own internet radio show called "Psychic Impressions" in PalTalk.
She has studied in the fields of Nursing, early childhood education, business, and criminal justice and attended green Mountain college in Vermont as well as Kaplan college.
Penny is the mother of five daughters who range in age from 6-18 as well as the mother of five sons who have crossed over.
Books by Penny Clark Babson
Two published books are available worldwide through amazon.com
Click Here for Penny Clark Babson's books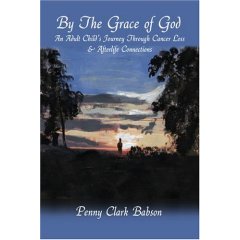 By The Grace of God - An Adult Child's Journey Through Cancer Loss And After Life Connections
About her fathers death of cancer. Showing a side to cancer loss and the love connected between parent and child that few books have been able to do.
Wonderful: This book shone through the confusion that was so prevalent in my life. Without it I don't know how I would have been able to continue on this journey. Thank you Penny, for sharing with us a piece of yourself and allowing us to glimpse into your soul. I trust that anyone who has taken the time to ready this book will no doubt agree or have greater praises than I possibly could in mere letters. 
A "True" inspiration from one author to another: Innovative, impressive and evocative! Recommended as an inspirational resource for those who have also survived cancer.
What A Special Novel: This book, will definitely help those that are learning how to cope with the loss of someone close to them, and how to outreach themselves towards others that are going through the same. Penny, keep up the good work, your ability to share with others will definitely help each person seeking healing and peace. Blessings to you and yours!
Inspiring: This book inspired me after losing my grandfather from cancer as a teen. What I see in this book is that it is a great recommendation for the loss of some one from any illness aids etc. I recommend this book highly!
A big help to all! I found this book to be a big help in my own loved ones battle with cancer. I was given this book by the cancer center my sister was visiting for treatment. Apparently the author donated many copies world wide to cancer centers. This book is wonderful!! A god Send and inspiration of love and loss that we all can benefit and grow from!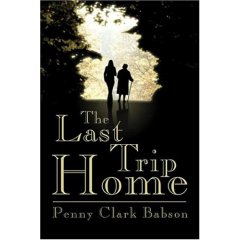 The Last Trip Home. A fictional story set in her home town of West Pawlet Vermont that connects a family through grief to help them find love.
Outstanding - Penny Clark Babson is a hot up and coming writer and you must purchase this must read book. I can't wait to read her next novel as this one was just that good! I think this book, even though it is only 47 pages, along with her first book will revolutionize coffee table books to a new era and better light. Wonderful book, heart felt, uplifting and simply great! Ten thousand stars for this writer!
Wonderful! I think this book, even though it is only 47 pages, along with her first book will revolutionize coffee table books to a new era and better light. Wonderful book, heart felt, uplifting and simply great! Ten thousand stars for this writer!
I loved this book. This is the second book I have bought by this author. The books may seem small but the action is packed from cover to cover.
Short, Sweet and wonderful. This Author is so wonderful. This story is a loving book about family and connections in life. The second book I have read of hers and I am waiting for the third.... A must read.
Penny Clark Babson has recently contracted her third book with the New York Literary Agency. Cradle of Love Cradle of Loss is a book about children who have passed away from SIDS, crib death and miscarriage. This book includes the stories of Penny's losses along as well as those of children from around the world who have passed into the afterlife.
She is currently working on two other books as well as doing freelance writing and her psychic mediumship work.
Originally from West Pawlet Vermont and living there most of her life, Penny now resides in the neighboring lakeside town of Wells in a cabin on the East Shore with her daughters. Her office, Impressions Unlimited, is also now located in Wells Vermont.
In her spare time she likes to spend time with her daughters and go on ghost hunting retreats in the area's 100 year old cemeteries. Penny has followed the investigation, as well as checked out her own leads, on the famed Amityville Haunting.