Beginner To Advanced
Psychic Development Training
Ian Parkin is the verified author of this post.
The novice, intermediate, and advanced psychic development training articles you find here are authentic, practical, and delivered free. While I have written many of these pages myself, this wealth of tarot, mediumship, clairvoyance, and psychic development training is continually being expanded upon with the guest posts of other experienced psychics and mediums who are also keen to help you.
As spiritual beings with souls, each of us has a sixth sense. Our awareness of it varies from person to person. There are some people that pay little attention to their extrasensory perceptions, and there are others who have been more aware since they were children.
What this innate spirituality means is that each of us has the ability to tap into our psychic awareness. We are able to raise our vibrations to higher levels, or levels closer to the divine. In these states, we feel more connected to others, to our own spirits, and to the universe. We are more receptive to the psychic messages we receive in these states.

The Novice To Advanced Psychic Development Training Hub
Mind | Intuition | Psychic  | The Clairs | Tarot | Mediumship | Divination | Schools | Courses | Guest Posts
It All Starts In The Mind:
In the myriad of teachings available on meditation what really matters is a particular state of mind, one that we can all achieve. The key factor to honing your ability is to be able to enter a specific state of mind, at will, that I call psychic resonance.
---
Alpha Mind Power Training Unlocks Your Psychic Ability At Will
I find it an interesting cosmic synchronicity that the zone of our psychic ability coincides with this alpha resonance of 7 to 14 Hz and the frequency for the heartbeat of the Earth is 7.8Hz.  Learn more > >

---
Why The Schumann Resonance Is The Key To Your Intuition
It is possible to sync your brain with the Earth's heartbeat frequency during meditation. Scientific study has revealed marvelous truths about the vibration of the energy field that encircles Earth. Discover the connection between your intuition and the Schumann Resonance. Learn more > >

---
Intuition - Develop Your Own Reliable Inner Guidance First
Before you get carried away telling everyone's fortunes you should first learn how to develop your intuition. Being strongly intuitive means mastering your own inner guidance that is reliable and on demand.
---
What Is Intuition, And How Do I Get It?
Learning about intuition in theory only takes you so far. To understand it well you must experience it. Here are some scenarios for developing intuition that will make it true for you. Because what you want is consistent, reliable intuition on demand. Learn more > >
---
What Is the best Mindfulness Meditation for Intuition?
To answer this, we can look at the training psychic mediums go through to develop their skills.  The mediumship practice of sitting in the power, while refining an acute awareness of that silent emptiness. Learn more > >

---
How To Access Akashic Records Made Simple
You can learn how to access akashic records for fortune telling, afterlife communication, soul level healing, karma clearing, intuitive insights, and more, simply by learning to meditate and develop your intuition or with more advanced psychic development training. Learn more > >
---
Psychic Grounding
Before I begin any psychic reading work I always go through a quick meditative exercise with my chakras. I have anchored this to my alpha mind state, as well as it being an excellent way to ground my energy field. I would recommend you formulate something similar in your early and advanced psychic development training practices. 
---
How To Focus On Earthing Your Chakras
Playing in the psychic sandbox requires advanced grounding techniques and know-how to have continuous healthy energy boundaries. This skill will not only boost confidence, but it will also provide protection and healing to your aura and physical bodies. Learn more > >
---
Easy Ways To Start Your Psychic Development Training
If you are a beginner, some of the easiest places to start would be to practice psychometry and telepathy. Psychometry is the art of reading objects and is something you should be able to grasp without too much effort. And telepathy is the ability of mind-reading the thoughts of people and pets. 
Before you get too far along the learning curve - this would be a good time to grab yourself a journal so that you can keep a good record of your development.
---
---
---
---
---
---
Developing Clairvoyance, Clairaudience, and Clairsentience
---
---
---
---
---
Clairvoyance With Tarot
As this is a page about psychic development, it's important to understand, and separate, the two avenues of tarot card divination. A psychic reading using tarot cards is very different from the main stream tarot and oracle card readers who memorize meanings and read cards like a book. If you develop clairvoyant tarot reading skills you will never need to read a book of meanings.

---
You Can Learn How To Be Psychic with Tarot
Before you learn how to be a psychic tarot card reader it is good to know the difference between rote tarot readings and real psychic tarot readings. One is regurgitating memorized meanings while the other is allowing intuition to interpret a tarot vision.   Learn more > >
---
Mediumship and Channeling
Being able to sense and perceive the spirit world is the realm of mediumship. There is no fortune telling involved here. A medium can bring evidential messages from lost loved ones, and healing, comfort and wonder to the recipients. It only take's one accurate and evidential reading to bring you your own prove of life after death - and it's truly life changing!
Communication with spirit guides is achieved with mediumship and channeling psychics. The medium hears, sees, and or senses your spirit guides and relays their messages to you. The trance channeler becomes a fine-tuned vessel  or instrument, through which spirit guides and angelic beings, from other realms of reality, can communicate directly with you the recipient. 
---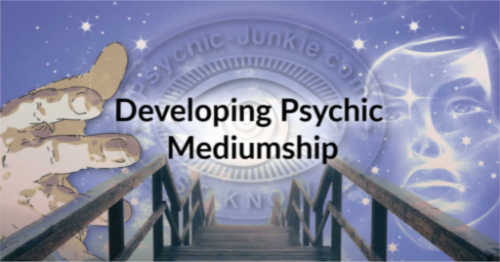 Practicing Mediumship Skills To Be A Spirit Communicator
Here's a more advanced psychic development training for practicing mediumship skills. This is for the psychic ability of receiving spirit communications. Emotional clarity, psychic resonance, sitting in the silence, meet your gatekeeper, after death communications and dreamiumship. Learn more > >
---
Learn About Opening To Channel Your Own Spirit Guides
One of the foundations for opening to channel is to first take a session or two with some different psychic mediums who will connect to the spirit world, your angels and higher guides. Then you will be in a good place to go it alone. Learn more > >

---
Divinations
Its certainly not advanced psychic development training but, by popular demand, I'm including some help on learning various forms of divination here. Palmistry - Tasseomancy - and more to come
---
Learn Palm Reading And You'll Be the Life Of The Party
Which Hand? What Shape? Why the 4 Important Lines? You don't have to be a psychic to learn palm reading. With some essential points from the ancient art of palmistry you can evaluate a person's character and future. You can unleash your spellbinding powers at functions. Learn more > >

---
How To Read Tea Leaves Like A Fortune Teller In A Tea Cup
Tasseomancy or Tasseography, call it what you will. Here's how to read tea leaves so you can try it for yourself. This is fortune telling by interpreting the shapes and symbols remaining in your cup after drinking a brew of loose-leaf tea. Learn more > >
---
Schools For Advanced Psychic Development Training
---
The Spotlight On Psychic Schools For Your Spiritual Growth
Enrolling with a psychic college, seminary, or university is another way of finding advanced psychic development training.  I've compiled a large list of psychic schools from around the world that will help your own metaphysical and spiritual growth. Learn more > >
---
Free Introductions To More Advanced Psychic Development Training Courses
---
---
---
---
---
You May Also Like . . . 
---
---
---
---
---
---
---
Want to contribute to my site?

I'm always looking for experts who want to share novice, intermediate, and advanced psychic development training advice.
My submission form is setup to block spam and therefore prevents you entering html code. But I'm happy to add a link if you have further related information on another website. So just add your URL and I will enable it after approving the content.
IMPORTANT -  Write something original for publication on Psychic-Junkie.com article hubs - Please do NOT just copy and paste content from other websites. Duplicate content will be rejected!

Remember to add your

Author Bio

If you are in business and want to promote yourself effectively please read about 

Advertising Psychic Services first!
Read Beginner To Advanced Psychic Development Training Articles
Read The Psychic Development Training Articles Here
A wealth of free help on how to develop psychic abilities is readily available to you here. These beginner and advanced psychic development articles are guest posted by expert and emerging advisors. Learn more > >