Gemini 2012 Predictions
Gemini 2012 Predictions (May 21 - June 21)
Gemini, the sign represented by the symbol of the Twins in the zodiac, is perhaps the most interesting and complex of all the twelve horoscope signs. These innovative and creative people born between the days of May 21st and June 21st possess a highly intellectual mind along with a pleasant demeanor and an innate charm that instantly draws others to them, making them popular in whatever circles they choose to travel.
The Twins should look forward to a year of excitement and success in 2012 along with a rare chance to recuperate a few losses, financial and otherwise, that were experienced in the past year.
Love and Relationships: Gemini 2012 Predictions
Gemini is known for their extreme trustworthiness and ability to bring out the best in others, making it rather easy for them to make and maintain relationships. However, in this upcoming year, the Twins will want to keep their argumentative, questioning, and suspicious natures neatly in check if they want to continue enjoying harmonious personal relationships, especially with their significant others.
Gemini should wisely use the second half of 2012 to mend any fences that were broken during the first two quarters of the year due to flared tempers or loose tongues and rely on their great ability to bring peace to just about any type of situation.
Career and Finance: Gemini 2012 Predictions
The beginning of the near year may bring about some strife in the workplace or on the career front with questions arising surrounding income in the first quarter. Instead of expecting a pay increase or promotion now, channel your energy toward other creative endeavors that just may turn out to be rather lucrative.
From March until the end of June Gemini could see their career related goals come to fruition as income and productivity both are on the rise. Thanks to favorable planetary positioning, the Twins can expect a profitable year provided plenty of patience is utilized, something that Gemini often lacks in spite of their best intentions.
For Twins who are interested in furthering their education, fickleness and trouble concentrating can both prove to be real barriers, but with the will to succeed and coming to terms with the fact that you simply perform better under pressure, you will be able to achieve whatever you want.
Also look for some confidence boosters in unexpected places during the last few months of the year which will greatly help to give you that extra push needed to realize all of your goals.
Health: Gemini 2012 Predictions
Despite all of the general odds the Twins should have a relatively healthy year in 2012. Although under the retrograde of planet Mars, Gemini will want to be on the watch for potential health problems that relate to either digestion or the nervous system.
This is particularly true during the first two to three months and again during the fall again due to Mars along with some help from Venus also in retrograde.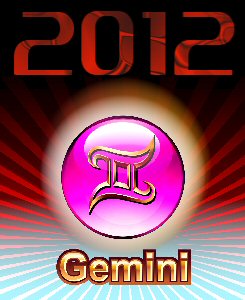 All in all, Gemini should look for a dynamic, exciting year that is rich with surprises as well as emotional fulfillment while surviving 2012.
Archived Gemini 2012 Predictions