Network Marketing System
A Perfect Law of Attraction Home Based Business for Indigo People
Is there a network marketing system suitable for Indigo People like us?
Indigo people are intelligent, creative and reasoning but dislike repetitious work or pastimes (we can often rebel against the status quo) and we like to think and act 'outside the box'. 
So I'm going to suggest an ideal network marketing system for indigo people to use and build a perfect business run from a home base.
Because we experience strong emotions, if left without a vehicle to express and be ourselves we can fall into despair and depression of differing levels.
The service industry can be a no-no because we don't deal well with authority and the 'have to' mentality that comes with it. Indigo People are far better off working alone, or in leadership roles because we are not exactly 'team players'! 
Having an ideal, network marketing, home business for indigo people, one that allows us to express our strong empathy for others is a much better choice than working for a twit of a boss. Because we don't suffer fools, working for ourselves but not by ourselves is a much better option.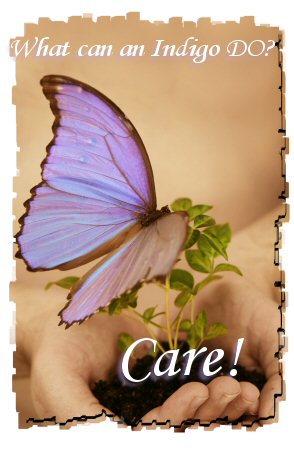 When we find an avenue to express our sensitive side we can feel a freedom and exuberance that is often locked tightly away. But if we don't find that emotional release some Indigo people have to deal with the negative side of being blocked and can be prone to rage.
Indigo people are often dismayed by the ineffectual systems found amongst our society's political and educational realms and when we find a way to make a difference, no matter how small, it can really make us shine. And this network marketing system for indigo people can certainly make a difference!
Because most indigo's have a burning desire to do something that can improve the world we are often disenchanted if we don't have a meaningful career or business to build. Until now…
To be able to work with our intuitive promptings is a sure fire way to radiate our indigo wonder… And because we like to jump from one thing to another, (often misdiagnosed as A.D.D.), this network marketing system for indigo people allows us to do what we want when we want.
Although many indigo people utilize their psychic gifts in the work they do, many would rather create a more conventional business that still fulfills most, if not all, indigo traits.
Needing a good avenue to express ourselves inventively and somewhat alternatively is what often keeps us out of the 9 to 5 job.
Being involved with other, spiritually motivated, self help groups of people will add further meaning and passion to our lives. And this business opportunity for indigo people that I'm about to share can bring the perfect balance of financial independence and happiness to all kindred spirits.
Several years ago a man learned how important it was to act upon his own intuitive promptings, so much so that his organization now teaches others to do the same. Have you ever asked yourself, "Did I make a difference today? Did I touch someone's life in a meaningful way today?"
Have you heard of the Law of Attraction? Most of us have read The Secret, so it's no longer a secret! But, how to put The Law of Attraction to work is still a mystery for many. I invite you to check out this network marketing system, which I think is ideal for indigo people. And even if you don't consider yourself an Indigo, but you still like the idea of running a meaningful home based business take a look at this. 
The energy you send out to the universe is what you draw back to yourself. How much positive energy can you generate by sending out a card everyday. A meaningful message, a happy birthday, a thank you, some inspirational words, an encouragement, an expression of gratitude. This is a fabulous mechanism for applying the Laws of Attraction in your life. 
Network Marketing Systems