Your Psychic Consultant
Ian Parkin - Personal Psychic Consultant - Ask me as if you were seeking the advice of a wise friend or intuitive counsellor. My readings are sensitive and compassionate and I am able to provide a positive and reassuring viewpoint to all possible situations I see for you. I will leave you feeling lifted and enlightened, whatever challenge or exciting surprise lay ahead. You can use me as your Confidential Psychic Consultant based on the following specialties:
General Psychic Reading

Ideal for you if you have some specific questions about present and/or future outcomes you would like me to focus upon.
Love and Relationships Reading

Before you get too invested in a romance, wouldn't it be nice if you knew how much potential you have as a couple? If you have matters of the heart to focus on this is the consultation for you. Romance is very emotional and I can hone my clairvoyant perception to ascertain potentials, directions, outcomes, conflicts, and answer questions while tuning into you as well as significant others. The rocky road of soul mate / twin flame relationships usually calls for extra care.
Spiritual Psychic Reading

If you are looking for personal empowerment via a divine connection between you and your reader this will be the focus to choose. In spiritual psychic readings you will receive more information related to options for YOU to consider. This is a stronger level of guidance for clients who are more interested in driving their future rather than just looking at their future. As I have followed a spiritual life path into the mystic for the last 35 years I can coach and guide from my own deep and personal experience.
Work and Career Reading

If you are looking for guidance regarding your work life, and have career decisions to make, the this type of insight can be very valuable.
TarotVision™
TarotVision™ is clairvoyant perception guided by the imagery of Tarot cards while in the trance state of the Schumann Resonance - the deep rhythm of Mother Earth and of the psychic realm. I developed, then honed, this unique skill for use in my readings over many years of my professional psychic career.
The Way of Personal Development
My personal development sessions help you along the way to self-actualization. Having been inspired by the far-reaching psychology of Abraham H Maslow (1908 – 1970) and the timeless spirituality of Lao-Tzu's (600 BC) 'Tao Te Ching' I created the blueprint for Self-Actualization I call The Way of Personal Development. 
Corporate Psychic Consultantcy
Corporate Clairvoyance is my business psychic advisory service for entrepreneurs. If this is new to you, just take a moment to consider what a difference having your own Confidential Psychic Consultant with insight of a commercial nature could make. 
Psychic Development Coaching
Helping you to develop an ability to quickly gain intuitive knowledge of things and people. While it may be considered by the unenlightened as a supernatural power, it really is a 'normal and natural' power available to each and every one of us to gain an intuitive edge in life.
Making Things Happen with the Law of Attraction
The Law of Attraction is the magnetic force that has been used by successful people throughout the ages yet had been suppressed from the masses. I can help you make things happen with the potency of a mystic's spell and without all the hocus-pocus. 
Guidance from your Psychic Life Coach

These sessions are geared towards living a life with the Wizardry I have discovered and used on my own mystic path.  Law of Attraction and Affirmations have long been known as The Secret to a fulfilled life. The Law of Attraction is the magnetic force that has been used by successful people throughout the ages yet had been suppressed from the masses. When mixed with my sixth sense twists you will find the secret element can help you make things happen with the potency of a mystic's spell but without all the hocus-pocus.  I can provide you with advanced training on how to turn your goals into accurate future predictions.  Psychic Life Coaching is suitable for individuals as well as corporate clients.
Ian Parkin - Your Personal Psychic Consultant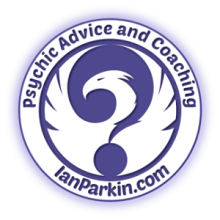 Ian Parkin is the owner and principal psychic of this Website.
30+ Years Providing Professional Psychic Advice and Coaching

Are you a candidate for readings by email? Scarcity of free time? - Shy? - Prefer writing to talking? - Hearing impaired? - Brain Fog? Convenient? To learn about my email psychic readings process where you can decide what level of interaction you would like - Click Here Now .