Psychics In Mobile Devices
Tips and links for getting readings with psychics in mobile devices.  
As more and more web traffic moves to mobile devices it is good to see the major psychic reading services adopting mobile ready platforms. Leading the way is Kasamba and Oranum, and I'm sure the others will follow suit soon. 
While Oranum uses an app, Kasamba's system automatically picked up your device and displays mobile/non-mobile browsing for you. For instance if you click on this (50% discount) link to Liveperson's Psychic Line from a PC/Mac browser you will get the full interface, but if you are on a smart phone you will see the simplified mobile interface.
Kasamba recently released their unique Mobile Psychic Chat system which provides you with several advantages. 
Its anonymous and private, so if you are in a room full of people no one will realize you are chatting with psychics in mobile mode. Pretty cool too if you are tucked up in bed and want a discreet personal reading.
Real Time: As your psychic types you see it instantly. You get a real conversational flow happening.
The silent mode of operation ensures your reading is discreet and for your eyes only!
You can access the transcript so you can look back at your reading at later times. This is great when you need to reflect on the advise at anytime you need.
Kasamba Mobile Psychic Chat ! Instant psychic readings on the go! Enjoy 3 Free minutes + 50% off your first paid session

California Psychics have their site switch between mobile and desktop modes automatically.
Alternatively if you wanted readings with Oranum's psychics in mobile mode you can either jump direct to their mobile psychic chat page or you can install the appropriate free app from one of these links.
If you search Google Play Store for Psychic Apps you will see there is an ever growing assortment to try. Most are free and while there will be some useful ones you will find a lot of junk and spammy apps to sort through.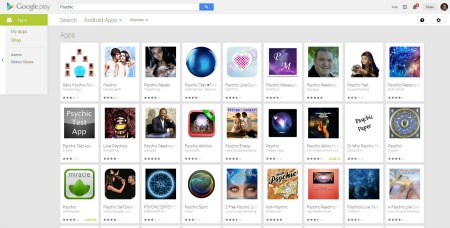 Personally I like a paid Tarot App by Galaxy Tone Software called Galaxy Tarot Pro (there is also a free version) and Galaxy Runes Pro, (also a free version available)
I'm not sure what else may be available for iphone/ipad as I do not use Apple. Perhaps you can recommend some apps in the comments section below 
Psychics In Mobile Statistics
I am able to monitor the percentage of mobile vs non mobile traffic on Psychic-Junkie.com and I see the trend to mobile is growing steadily. At the time of writing this page (May 2013) I can see that 25% of my sites visitors now come via mobile devices. 
Here's a breakdown (I will update occasionally so you can see the trends).
Psychic-Junkie.com Mobile Statistics ( Updated May 2017)
May 2013

74.50%

8.65%

7.99%

3.87%

2.57%

1.16%

1.25%

Aug 2014

72.29%

10.50%

9.94%

4.78%

2.01%

1.86%

0.61%

May 2015

56.03%

15.76%

18.30%

4.38%

1.91%

3.18%

0.43%

July 2016

58.36%

16.23%

18.05%

3.15%

1.35%

2.62%

0.24%

May 2017

60.07%

14.94%

19.35%

2.17%

0.29%

3.13%

0.04%




Desktop

iPhone

Android

iPad

Other Mobile

Android Tablet

BlackBerry
[Add a comment in the section at end of page if you want to be notified of updates.]
Back to the Psychic Realm now and if you can recommend some good 'Mobile' psychics please use our Psychic Reviews page. Your input is useful to others who may be searching for the right type of help and advice.
If you find my site stats of interest you may also like to see my Psychic Webmasters page.