Scorpio Traits 2013
Read your Scorpio traits for Love, Fun, Health, Lucky Numbers, Career and Finance in the 2013 Horoscope
Scorpio Love Horoscopes for 2013
If you're a Scorpio you should ignore the recommendations of your family and friends in relation to your relationships. They will only lead you to serious problems in the beginning of 2013. On the other hand, you'll have to face a difficult challenge yourself: you'll either have to go through an inner change for the better, of you'll have to settle for a love life that's less than what you desire. It's your choice, but I suggest you consider taking the first option.
The planetary forces are incredibly powerful at the beginning of the year, which will affect your plans for the future. However, as you move forward, you will embrace Jupiter and use the friendliness of this sign to guide you. Mars and Venus will reactivate your fun, and creativity insuring that you enjoy the remaining part of 2013.
2013 Health Traits for Scorpio
2013 is looking quite excellent for you, health-wise, if you are a Scorpio. The only thing, though, is that you should be wary of eating excessive amounts of food. In order to make sure that your sense of wellbeing is as optimal as it can be this year, take some time out to set aside relaxing moments for yourself.
Scorpio Career and Finance - 2013
You need to ensure that you begin the year in a positive mood with a fast paced attitude, to ensure that you achieve what you set out to regarding your financial situation. You have to take control and cease the moment to change the direction your life is going in, and improve how you feel. Your positive attitude will become your best weapon against the feelings that have hindered you in the past. As you begin to achieve concrete results, you will feel far happier, and your life will begin to change for the better.
Horoscope Lucky Numbers for Scorpio in 2013
27,4,69,34,11,52,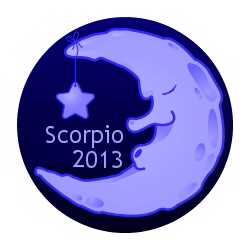 Links for more on Scorpio Traits
Click here for Psychic Search results focused on Scorpio Horoscopes
Scorpios are referred to as eagles when they are more enlightened or evolved individuals who exercise the positive attributes of the Scorpio sign.
The Babylonians called this constellation the 'Scorpion', and the sign can be literally read as 'the creature with a burning sting'.