The Psychic Trumpet
The psychic trumpet is the place to share your wisdom and ideas and learn from the insights of others.
I like the name (also known as a Spirit Trumpet) because it was an instrument favored in early séances as a tool through which enlightened souls would speak.
Here is a way for enlightened souls of the here and now to share some wisdom. So have your 'SAYance!', and create a page all about your own wisdom and ideas or scroll down the page to learn from the insights of others.
We all love to know how to do things better, so now you can show and tell your tips and techniques about what you have found to work well for you.
Suggestions for blowing your Psychic Trumpet
Perhaps you can share wisdom about:
If you want more ideas for what to write about take a look through my A to Z List of Psychic Abilities and Forms of Divination Do tell us, Psychic Junkies just love to get more insights.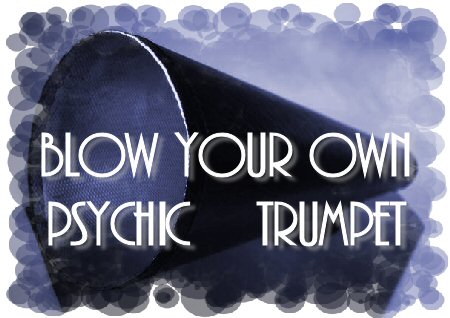 Although the form is set up to block spam and therefore prevents you entering html code, I'm happy to build a link to you if you have further related information on anther website. So just add your URL and I will enable it after approving the content.
IMPORTANT Please do NOT just past copy from another website. Duplicate content will only reduce the search engine rankings on both sites. Only enter something original for publication on Psychic-Junkie.com - Duplicate content will be rejected!
Trying to promote yourself effectively on Psychic-Junkie.com? Please read Advertising Psychic Services first!
Blow Your Own Psychic Trumpet
Do you have tips and techniques about being psychic, or about something Psychic Junkies would like to know? Share it here!
See What Others Have Trumpeted About
Be sure to read these contributions....
The original spirit trumpets were curious devices for speaking to the dead.

Have you found some articles on this page that you resonate with? When you spread the love and share them socially you help the authors by circulating their work.