The Angel At My Shoulder Who Provided Real Down-To-Earth Help
Ian Parkin is the author of this post.
The angel at my shoulder. In 1997 I was working on a recording project with BMG records in London. I was running out of time to meet a critical deadline of delivering artwork and copy to BMG. If I missed this deadline the deal was off (and it was a BIG recording deal). 
As I jumped on the early morning Tube (London Underground Train) and headed into the city I realized there was absolutely not enough physical time to get from A to B, then C, and finally to BMG. Knowing I would not make it in time I came very close to giving up and not rushing all about town.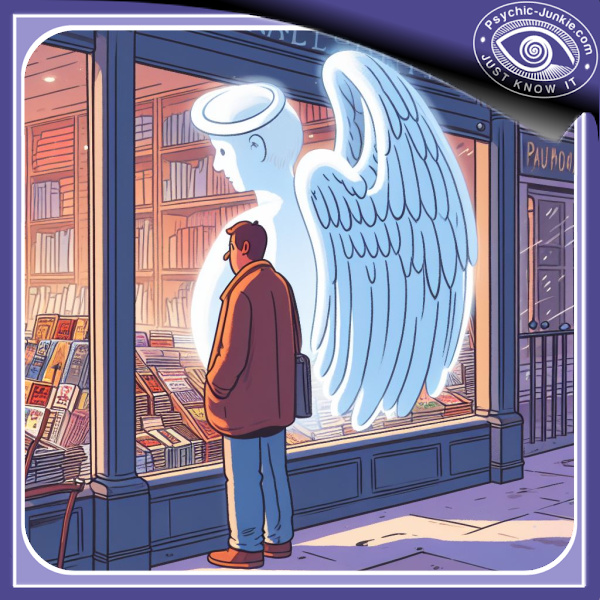 How does it feel when an angel touches you?
So while on the train, I closed my eyes and quietly meditated on the problem at hand. About five minutes in I first sensed the angel standing just behind me with a hand on my shoulder. It felt like a physically real hand on my shoulder so I opened my eyes to check if someone was there. No, and closing my eyes again I received a clear message "Carry on, time will seem to slow down and you will make the deadline and the deal with be sealed."

I know psychic help when it shows up, so I carried on with the job at hand. And it did feel like time stretched out before me. I calmly went about my business going from A to B, then to C, and finally to BMG. 
When I stepped out of the small office of this department of BMG records (with deal done) I took note of the time. Precisely ONE Minute to deadline! 
Then I felt that angelic hand on my shoulder again. I turned to look if anyone was there. Of course there was no-one near me. But as I gazed across the street my eyes landed upon the Swedenborg Society bookshop widow. There in the window was a full sized poster promoting a newly released book (now out of print). It's title, "An Angel At My Shoulder"
Comments for - Angel At My Shoulder
Reassuring Me - Comment by: Martin 
I've had a similar experience but strongly doubted myself. It is reassuring to see it is not just me. Thanks for sharing, it really helps.

---
If you would like to ask questions, add answers, or comment on this page please use my contact form. Start the conversation with the heading [About An Angel At My Shoulder]
Or if you're inspired to write an article on this subject please submit a guest post here.
---
---
---
Keep your kindred spirits informed by sharing this article . . .

---
---
Wiki - Angels's In Theology