Ian Parkin is the author of this post.
Apply For Online Psychic Jobs Here And Find Help To Work From Home
Searching for online psychic jobs? I will show you prophet-able opportunities, and how to be successful freelancing from home by phone, webcam, live chat, and email. The first thing to determine is if you are best going solo or teaming up. It all depends on your platform.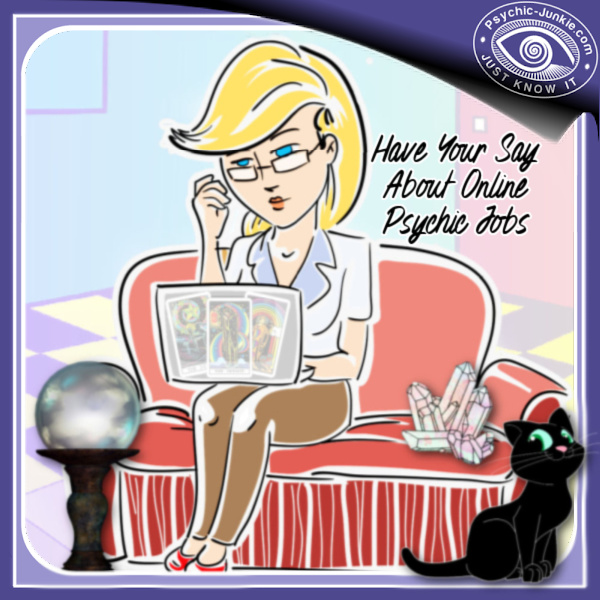 Going Solo | Teaming Up
If you have your platform, you can be successful, and make more money, going solo.


If you do not have a platform, you will be more successful teaming up to a psychic network with an established platform. 
What is a platform? If you have an online audience, you have an online platform. That means social media, blogs, and websites with a high number of targeted unique daily visitors. (A single visitor who looks at multiple pages or returns to your site numerous times in a day is counted as ONE unique visitor.) And you need thousands, each and every day, to say you have a platform.
Earnings in Going Solo vs Teaming Up with a Network
Let me explain the pros on cons of both avenues.
You are either a freelancer providing paid psychic readings independently (going solo - receiving full rates), as I do now, or you will freelance by providing paid psychic readings to the client base of an existing network (teaming up - receiving % rates), as I used to do.
No matter the job titles, nobody is going to pay you a fixed wage in this industry. You are going to be a self-employed freelancer whichever way you look at it.   Also see FAQ Earnings
Teamed Up Online Psychic Jobs with the Big Networks – The Pros and Cons

The downside is money. It can be a bit disheartening when you provide great psychic advice where the client is happily paying around $5 per minute, but you are only earning around $1 per minute. The best rates I've seen are where you earn 40% and 50% of your charge out rate. But some are as low as 20%.
When I worked for a big international phone psychic line the rate to clients was $4 per min and I would receive $1 per minute. Then you pay your taxes too! But I was very happy with those arrangements because I had been in business before, and I knew the true costs of marketing. I had many happy and lucrative years working from home with just a laptop and phone line. But I've met some naive psychics who just cannot get their head around being paid $1 out of every $4 or $5 charged to the client. If you are new to the world of online psychic jobs, don't get hung up on that.  
The upside is lots of clients. The top psychic networks are so big, so well established, and have such deep marketing pockets, that there are always plenty of clients to go around for good evidential psychics. They run affiliate marketing programs which reward other websites (like mine) very well for exposing the network to their website's visitors. 
As an example, let's say you joined the Kasamba Psychic Reading Network. When logged on as an expert you could be exposed to millions of people across the world in a single day. All thanks to the affiliated advertising paid for by Kasamba's corporate body. 
If you are just starting out and want the quickest way to earn a home-based income as a psychic, join a good network like the companies I list below. I'm going to show you how to do that.  I will also show you how to know if the network is offering you a genuine opportunity and how to weed out the fake-believe online psychic job offers with the help of SimilarWeb's Traffic Rank tool. 
How To Sort Out The Best Offers Of Online Psychic Jobs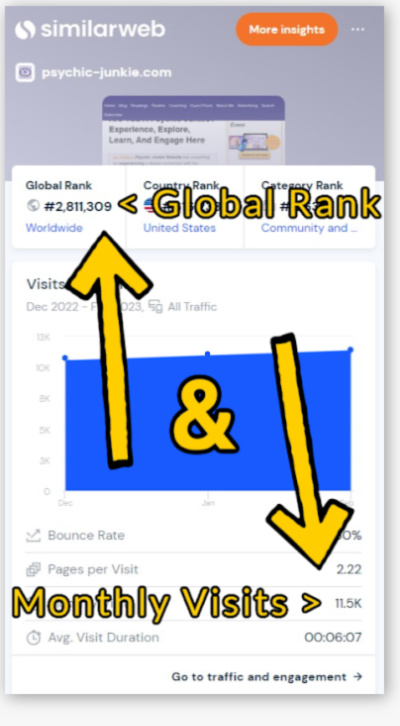 The SimilarWeb Traffic Ranking Tool

You will want to weed out the fake-believe sites, from the genuine psychic marketplaces.
SimilarWeb is a web traffic analysis tool that provides verified traffic ranking information for websites. SimilarWeb's traffic ranking is based on a variety of factors, including the number of visitors to a website, the pages they visit, and the amount of time they spend on the site. SimilarWeb uses a proprietary algorithm to validate website traffic, and its rankings are updated on a regular basis. A lower traffic ranking indicates a more popular website, while a higher traffic ranking indicates a less popular website. SimilarWeb also provides other traffic-related metrics, such as the number of unique visitors, the number of pageviews, and the average visit duration.

The SimilarWeb TrafficMeter™ extension is something you can connect to your own browser. [Click image to get it]
Any site with a global rank lower than #300,000 (and monthly visits over 150K) is a good platform to support a whole network of readers.
It is a free extension for the Chrome browser.
You can see how I use the results to rank the world's most Famous Psychic's websites on this page. 

The Online Psychic Jobs Center - Who Is Hiring?
These are the types of psychic networks I would recommend you check out if you want to team up to portals with good platforms for all reader job categories. I list them in order of most traffic detected on the SimilarWeb Traffic Ranking Tool. I occasionally change the list as and when stats change. 
Lowest Rank #Number + Most Monthly Visits = Biggest Platform = More Exposure For You.
(Site rankings last updated March 2023)
---
---
---
---
---
If you are looking at using any other networks for your psychic career, make sure you check their traffic rank. Avoid any with a global traffic rank higher than #500,000 (and monthly visits lower than 100k) they just will not get enough clients to keep all the readers in a network going. 
TIP - Have a short reading with a couple of different psychics before you apply and candidly ask them how they like working for the network.
---
Going Solo With Freelancing Online Psychic Jobs - Pros and Cons
The upside is money. The best thing about psychic freelancing is you get to keep all the money you charge.  (Less the costs of marketing, and services such as payment processing and communication systems, and taxes of course).
The downside is you must find your own clients. If you have a good platform all you will need to look at is the most suitable ways of scheduling, connecting with, and charging your clients. 
Transformational Marketing for Coaches, Healers, Energy Workers, Psychics, and Wellness Professionals
PayPal's Going Solo Resources for Freelancing Online Psychic Jobs

Square's Going Solo Resources for Freelancing Online Psychic Jobs
Skype Services
Zoom - Cloud Video Conferencing

SimplyBook.me - Free Online Appointment Booking and Scheduling Software!

SBI for Setting up your own Online Platform
---
Frequently Asked Questions and Comments About Online Psychic Jobs
---
What is it like to work as a psychic? - by Johanna S (Chicago USA)
I have done free readings for my friends for years, but I've not known how to make it my work. I love this page about online psychic jobs by the way.
I believe, as professional psychics, we are in the business of bringing sunshine into the lives of others. I love living an authentic life.
---
Is there a way of going solo without having a good platform already established? - by Lakshmi H (London UK)
Yes! This would be advertising your psychic services on marketplaces like ebay or creating your own psychic reading gigs on freelancer sites like Fiverr. 


To research the market on eBay first search the type of readings you want to offer. Then on the results page look for the search refinements (left column on desktop view) and choose Show Only > Sold Items. This will reveal the market for you on eBay. Personally, I would not recommend it if you want to be busy. 
---
How good do you need to be to get online psychic chat jobs? - by Richard W (Manchester UK)
I've read lots of books about developing psychic abilities, but I do not have any experience in doing readings for people I don't know. What if you're not good enough?

Richard, it's all about evidence. If you have the evidence that your psychic readings are real and good, then you are halfway there. If your friends (clients you know well) have the evidence that your readings are accurate, you are ready for a future as an online psychic advisor. If you do not yet give evidential readings, you may need more practice.
---
How easy is it to work from home as a telephone psychic reader? - by Outback Charlie (AU)
If you are a good psychic very easy. If you have a phone line or internet connection it will not matter how remote you live.
---
Are there online tarot reader jobs too? - by Angel Card Eyes - Michigan (USA)
Are these psychic jobs and freelancing opportunities open to tarot card readers as well?

Yes, absolutely. These opportunities are good for mediums, clairvoyants, tarot readers, angel card readers, in fact - any form of fortune telling expertise. 
My pick of Budding Tarotpreneur products from Amazon, publishing affiliate may get a commission

---
How much can you make as a psychic? - by Show Me The Money (UK)
I know I'm asking "How long can I have a piece of string?" But are there some pointers you can provide from your many years in the industry? 
Most big networks offering online psychic jobs let you set your own per minute rates. But it is advised you start at the low end at about $1.50 per minute while you build a clientele. Out of that you would get paid about 30% to 60% (network dependent) As you build a good profile and earn good reviews you can be flexible and lift your rates to the average $5.50 to $6.50 per minute. The psychics who have established themselves well ask upwards of $20 per minute. Many years ago, I worked with a psychic phone network charging $4 per minute and I received $1 per minute. Most readings would run for 20 minutes, and many regular clients would run longer. I worked 5 or 6 days per week on six-hour shifts. 6 hours per day, pretty much non-stop, was enough for me. But if you wanted a longer piece of string, you just choose longer hours. After about six months building a regular client base I would log into the network's system, and I would have a queue of clients waiting for me.  Nowadays I am a Psychic Solopreneur with my own platform and multiple streams of income. 
---
---
If you would like to ask questions, add answers, or post comment on this page please use my contact form. Start the conversation with the heading [About Online Psychic Jobs]
If you're inspired to write an article on this subject, please submit a guest post here.

---
---
---
Keep your kindred spirits informed by sharing this . . .

---
---
Wiki - Self Employment - Psychic