Tarot and Runes Reader | Cassandra Orvis
My psychic interview with Tarot and Runes reader Cassandra Orvis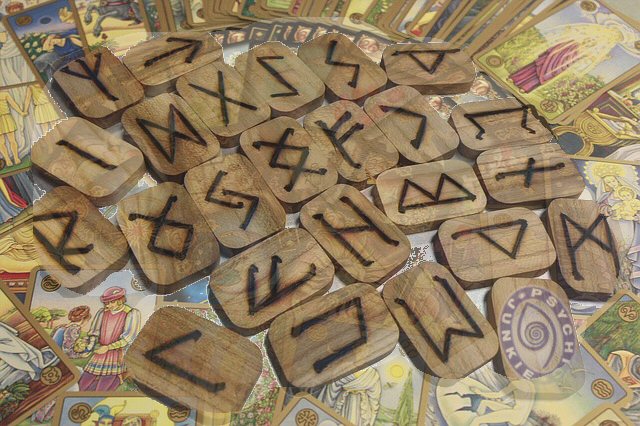 Psychic Realizations

I first realized I had psychic abilities when I touched a tree with one hand and it started to turn brown, I touched it with the other one and it turned green again. I did this multiple times just to be sure.
Being psychic is how I cope with life.
My journey into the metaphysical world was chaotic, terrifying, amazing, everything and nothing at the same time. Time seems to stand still.
Psychic Abilities

My skills are Tarot and Runes, as well as some animal communication. I help people/animals deal with death and cross over. I can hear/see/feel things others don't/can't. I intermediate with herbs, I see paths for others sometimes, I am a vessel/key, etc.
Sometimes being psychic is a gift and sometimes you wish it would stop just for an hour or two. Just temporary silence but then I remember how scared everyone else is of death and the family members I've been able to help and calm in their final moments. And all the friends and family I've done rune and tarot readings with to help them with tough choices. It's tough when my cards or runes basically yell at them when they refuse to deal or cope with something weighing heavy on them. It all becomes worth it in the end.
As time has passed I've learned from my mistakes and discovered abilities I didn't know I had like runes and herbs.
I strongly believe that everyone can harness their extra sensory ability and that the mind is capable of so much more than most can comprehend.
When I'm tuned in there's always a colorful haze and it changes depending where I end up but mostly purple. People, creatures, buildings and always the haze/hue.
Significant Psychic Experiences
One of my most noteworthy experiences was when I got to see Asgard and to stand before Odin himself and speak with him.
Reactions to Psychics
I avoid talking about the psychic realms 99% of the time. But I do open up and discuss with people I believe can comprehend and/or accept the things I experience. In the main I deal primarily with Death and Chaos and am (LITERALLY) a Heathen and a Spiritual Warrior.
Star Signs
My star sign is Ares and the traits show in me when I'm stubborn, thick skinned, short fused, love to argue and be right, and failure is not an option.
Psychic Consultations
My general approach when reading, if they're in person with me, I let them shuffle the cards or shake the runes while thinking about the question they have. If they do not have specific questions they can focus on whatever they want the cards or runes to talk about. If they are with me by phone I let them talk about the thing they want the reading for and I start drawing cards or runes until they finish talking and then I read them.
My very first rune reading was fascinating because basically the runes introducing themselves to me and stated that they were my current path.
In my reading service I can do a little of everything but sometimes I don't get to decide what will work and when. The down side of working with Chaos.
If clients are not in Oakland and able to be with me personally I conduct my readings by phone.
Tarot and Runes Reader | Cassandra Orvis
Contact Details for Cassandra - Email: kitastrefy (at) gmail.com