The Hollywood Psychics Network is possibly one of the youngest online psychic portals and it is certainly not the biggest. While they have yet to attract top level psychics, they do conduct extensive screening to ensure their psychics are 'on the ball'. 
Hollywood-Psychics is unique among the other big sites when it comes to price per minute. Psychic readers cost the same amount, regardless of experience or type of reading. New clients get the first three minutes free, and then pay just $1 per minute for their first paid reading. You get to choose a package priced at: $10 for 10 minutes, $20 for 20 minutes or $30 for 30 minutes. For regular clients all readers are priced at $5 per minute.
What a cool satisfaction guarantee! If you're displeased with a paid reading, they will credit your account, or if you prefer, they WILL refund your money - which is rare! Most sites just credit your account with minutes for another reading.
Then, they have a great customer service team! A live representative is on duty around the clock to address your questions and concerns. But if you do have an issue make sure you call within one business day subsequent to the reading in question.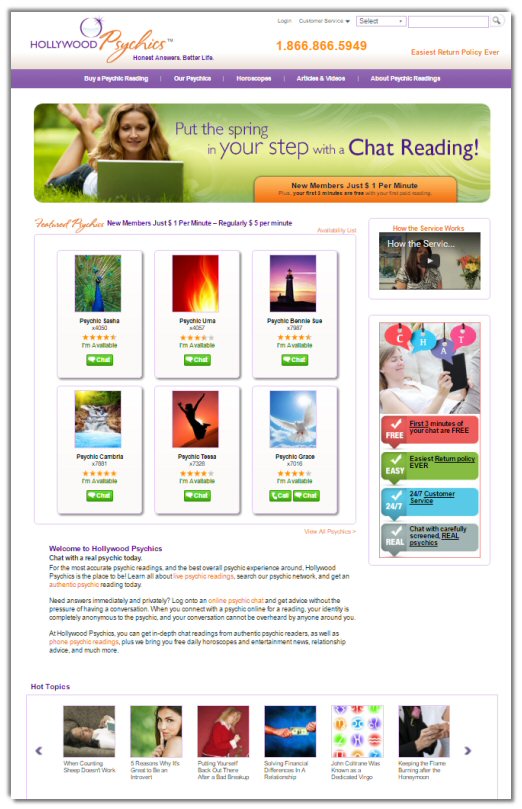 Hollywood Psychics Website
This 'Hollywood' branded business isn't associated with glamorous Tinsel Town in California. Possibly, their savvy marketing department realized the unlimited potential of combining 'Hollywood' with 'psychics'. Moreover, they aren't exclusively a site for females, as some critics implied early on. To correct this discrepancy, they have added a section, "Psychic Readings for Men".
Once on the portal, click on "Our Psychics" to get a feel of individual psychic's gifts, styles, specialties and tools (if they use any).
To Filter your Search, see the check sheet on far left of their 'Our Psychics' screen.

Reading Type - phone or chat.
Styles include compassionate, direct, expressive, thoughtful and wise.
Gifts include clairaudient, clairsentient, clairvoyant, empath, medium and pet psychic.
Tools range from card readings and astrology to past life interpretation and more. If you prefer a psychic who doesn't rely on tools, check the box "Uses no Tools".
Specialties are Mind-Body-Spirit, Family and Friends, Work and Money and Sex and Relationships.
Language - English or Spanish.
What's to Like?
Affordable, money-back guarantee, ability to compare four psychics. After new client offers, all readers are available at only $5 per minute. 
What's Not to Like?

It can be annoying to check all preferred filters for a handful of psychics. Given time, perhaps they will attract more psychics.
What's the Verdict on this Portal for Psychic Readings?

They rock it like they're the only game in town.
---
Your Comments About The Hollywood Psychics Network
---
Be the first to leave a comment . . .
---
To add answers or comments about this page please use my contact form. Please start the conversation with the heading [About Hollywood Psychics].
Are you a Psychic on the Hollywood Network? I can publish an interview that would appear as a guest post on my site. Please find all relevant information here: Psychic Interviews. For guest posting a full article find all relevant information here: Psychic Junkie Article Hub

---