Love Tarot Reading
If you're considering love Tarot readings, there are things you must understand. Foremost, the cards never lie. The cards can reveal your past, present and future love life, as they appear at the time of your reading.
Love is an important aspect of our soul journey. Finding love. Keeping love. Love problems. Tarot is an invaluable divination tool. No matter what you question about love relationships, it will point you in the right direction.   Love Tarot readings can offer valuable insights and guidance on matters of the heart.
Generally, readers use a regular tarot deck for love readings, which is comprised of 22 major arcana cards and 56 minor arcana cards. Tarot readers choose different spreads according to your questions.

For instance, the 3-card spread provides a quick love check-up. The first card bespeaks of past love. The middle card shows the current state of your love. The 3rd and final card lets you peek into a potential future, assuming you stay on your present path. Be mindful you were gifted with free will to make changes or adjustments to unhappy situations.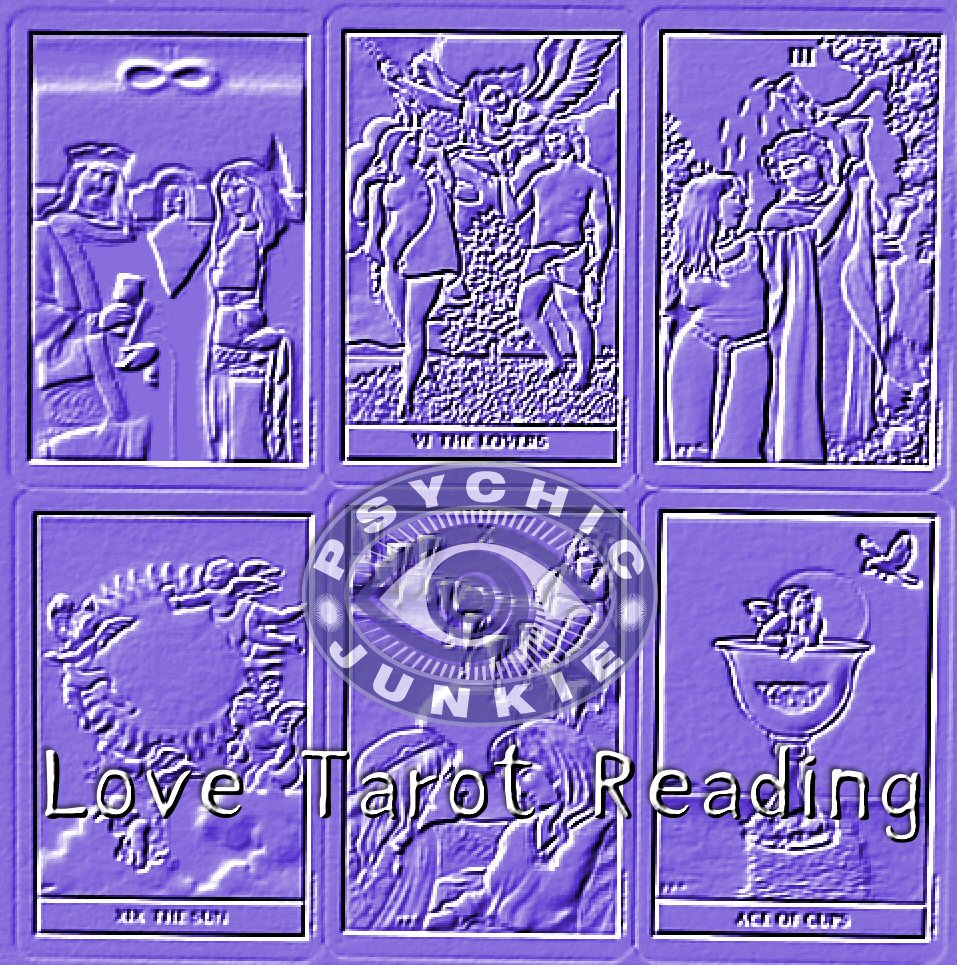 A 13-card spread reviews your love status for the upcoming year, month by month. The center card is an overview of the entire year.  Your Tarot reader may use the 13-card spread when you have questions and concerns pertaining to a current relationship.  For example, when you suspect your partner is cheating on you.
Perhaps you are concerned about past relationships that were failures. Be mindful – the way to the future lies in the past. An intuitive reader can see what the cards indicate about your past relationship patterns and offer techniques to help you that help you make positive changes in future romantic relationships. 

Is your current relationship 'stuck'? Is your partner cheating on you? What do the cards show about the future of this relationship? Are you even invested in the right relationship? Will he pony-up with a ring? Is she my forever love? Tarot cards hold the answers to these and other love quandaries.

Connecting with a Tarot reader, who is also a practicing psychic, brings forth one of those rare Eureka! moments. Rather than regurgitating fortune cookie type meanings, psychics think in a world of higher dimensions. She/he will tap into hidden knowledge, which will aid you in making tough decisions before something terrible occurs.

Tarot readings on love can take unexpected twists and turns. Its focus can spin, quick as a snap of the finger, in the direction of issues we'd rather not address. By keeping our minds open and receptive, the Tarot brings life lessons into the light of understanding. A problem understood is a problem half-solved.

Introductory Love Tarot Reading Offers
Kasamba can provide you with 3 free minutes with a Tarot Reader of Love (plus 50% discount if you continue) click here for details.