The Psychic Source Website Reviewed
The Psychic Source Portal gets its fair share of positive press and then some. Perhaps their greatest coup is validation by actress and 'spokesperson', Tori Spelling. It's no secret that Hollywood A-listers, such as Angelina Jolie, Shirley MacLaine, Sarah Jessica Parker and Jennifer Lopez consult with psychics for career guidance, matters of the heart and spiritual matters.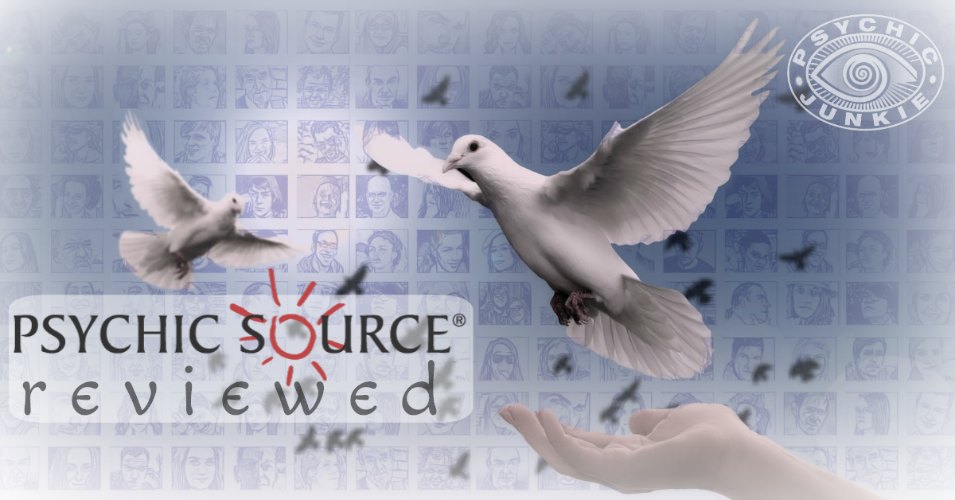 As the oldest and 'most respected psychic service' online, the good folks here vet their psychics as if their reputation depended upon it. It does!
They also have a straightforward satisfaction guarantee – if you are dissatisfied with your paid psychic reading - they will refund your money. If you prefer, your account will be credited so you can select a different psychic - talk about no-risk!
Questions? Customer Care Center is available round the clock in the U.S. and there are special phone numbers to reach International Customer Care.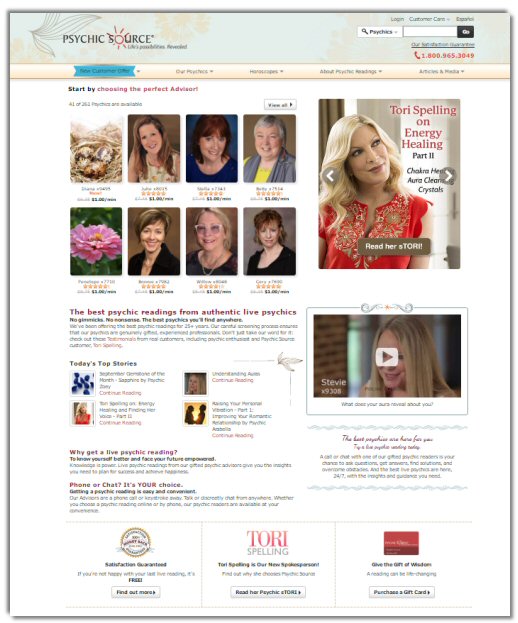 Psychic Source Website
Take time to read information located in "Membership Rewards" section and watch the swag start coming your way. You'll accumulate rewards with each reading and/or purchase. Watch your in-box for free horoscopes, promotional newsletters and money-off coupons.  
Take advantage of Special Offers. For example, get bonus dollars when you buy a special package (best deal).

If you're all about an inquiring mind, the "Articles & Media" spills out (just about) everything you want to know. An added plus – articles are written by Psychic Source experts and Tori Spelling too. Be certain to consult the "Glossary of Terms" to familiarize yourself with their psychic buzz words.

So, how about those psychics? You'll find representatives of: Clairaudient, Clairvoyant, Clairsentient, Intuitives, Mediums, Pet Psychics and those who focus on career or love.

Talk about types of readings! They excels here. From various card readers, astrology and numerology to Past Life, Spiritual, Tarot and more, it's a consumer's playground.
Readings at this psychic portal are available by phone and via psychic chat.

Clicking on any psychic's photo brings up their profile, complete with video, price, specialties, expertises, client reviews and a short bio.  

What's to Like?

Preceded by a solid reputation, they have maintained a transparent, easy to navigate website, which they back-up with a generous money-back guarantee.
What's Not to Like?

If I really wanted to pick some nits, I would point out they don't have webcam availability. Also, there are some impatient customer complaints that predictions during their readings aren't coming true. - I say…there is a little human thing called 'free will'. Seriously! It's not possible to please all of the people…
What's the Verdict on this Psychic Reading Portal?

There is no need to be confused when navigating this well-organized website. All roads lead to their marvelous Site Map. Consider it your home base on their portal. Just click on where you want to go and - Voila! - you are there.
Coupons for the Psychic Source Website?
Best Coupon/Discount Deals
10 mins for $10 plus your first 3 mins are free - Click here for best phone, webchat or email offers.
Click here to read or post Psychic Source Reviews