California Psychics Reviewed
California Psychics has built an impressive brand based on unique website features and premier psychics. Since exploding on the psychic scene in 1995, they have put applicants through an arduous screening process. This means phonies are weeded out, leaving the cream of the crop. 

Becoming a member is like living in a gated community -  no undesirables allowed inside. It's not easy to be appointed as a reader here. In fact they only accept about two out of every hundred applicants who ask for psychic jobs.  All psychics in this portal are subject to a strict code of conduct.
If you're dissatisfied, just call Customer Service, within 24 hours of the questionable reading and request a credit of "Psychic Dollars" to your account. What this means is you can trust their psychics to come up with good insight and guidance for you.
The Psychic Selector page is a great place to find out who the best psychics are for your type of questions. You can compare the styles and tools used by the readers and also check the feedback from other customers to see which psychics might be best for you.  This may help you locate a psychic who is similar to one you've found to be on the ball in the past. 
On the Selector page use the left column. First you can simply search for psychics by name if you already know who you are looking for. 
On the Schedule section if you tick appointments and/or callbacks you will see if the readers have an available appointment spots and see how many clients are in a waiting list for a call back. By clicking the numbers displayed when these options are ticked, you will be taken to the advisors page where you can schedule an appointment that suits you.
Next you will see headlined sections for Subjects, Tools, Abilities, Styles, and Prices. 

Subjects:
Love/relationships

Money/finance

Career/work

Pets/animals

Destiny/life path

Lost objects

Lost people/pets

Past lives

Deceased loved ones
Tools:
Astrology

Tarot

Numerology

Runes

I-Ching

Crystals

Pendulum

Oracle cards

No Tools
Abilities:
Empath

Clairvoyant

Dream analyst

Medium

Remote viewing

Automatic writing

Channeling

Clairaudient

Clairsentient
Styles:
Inspirational

Compassionate

Straightforward
And Prices:
Ranging from $4 per min to $13 per min. But using this link will provide first time users with some $1 per minute options
California Psychics Homepage
For newcomers, the "introductory offer" tab is a good starting point. At present they are offering:

Preferred psychics @ $1.00 per minute.
Premier psychics @ $2.00 per minute
Elite psychics @ $4.00 per minute
Tip: Think good, better, best because it's unlikely you'll get a poor reading, due to the exhaustive screening process of new hires.
Good to Know: One more time, this psychic network has dared to be different by offering "talk" or phone readings exclusively. This means no chats, no email readings.
When you're ready, click on the "our psychics" tab. Let the fun begin!

On the portal they have developed spiffy search capabilities: price, topics, tools, ability and style. Select your preference from each category and a list of psychic's pictures and profiles will appear.

"Style" is an intriguing feature. You may select Inspirational, Compassionate or Straightforward.

"Tools" are important. If you're looking for an intuitive, clairvoyant, etc., select "no tools". Otherwise, decide which tools you fancy from Astrology, Numerology, Oracle Cards and more.

Tip: One of the perks of choosing from high-quality psychics is their variety of tools. Why not stretch out of your comfort zone and request a reading with Runes or I-Ching?
"Topics" are self-explanatory. You already know why you're here.

"Ability" is all about the psychic's skill levels and genres, from Career and Work to Remote Viewing, with in-betweens like Channeling. What is your penchant?

"Price" is determined by each psychic.

Tip: Don't forget to take advantage of the introductory offer below.
What's to Like?

Out of 100 psychic applicants, only two, on the average, are brought onboard.
Daily horoscopes, tons of teaching articles and a blog are sweet freebies.
What's Not to Like?

It is most unfortunate, but they do not offer a money-back satisfaction guarantee.
There is grumbling about the non-availability of private chats or email readings.
What's the Verdict on this Psychic Portal?

The website is easy to navigate, psychics know their stuff and user satisfaction is guaranteed.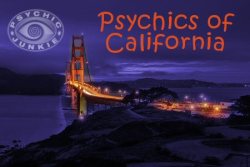 California Psychics Coupon
When you are on the California Psychics site, ticking the various check boxes will change the list of readers to match your preferences.
World-Wide service. While callbacks are limited to USA callers, they do provide toll-free numbers for Australia, Denmark, India, New Zealand, and the UK.

An international number is provided for all other callers outside of the above list. Skype is also available. 

Best Coupon Deals on the California Psychics Portal
Click Here for today's Online Special Offer
This is the USA Toll Free Phone:  800.318.8851