Ian Parkin is the author of this post.
Fiverr Psychic Reading Gigs. See How To Freelance Your Way To The Top
Would it excite you to know that the top-rung Fiverr Psychic Reading Freelancers are pulling in six-figures a year? If you want to set up your work-at-home business on this platform follow this process to get the best shot at long term success.

Have you been doubting that Fiverr works for spiritual advisors?
Are you stuck in the idea stage of posting your divination gigs here?
Are you concerned that the platform may not be legitimate?
Are you worried about devaluing your work at $5.00 a pop? 
If so, sounds like you could use some dynamite advice!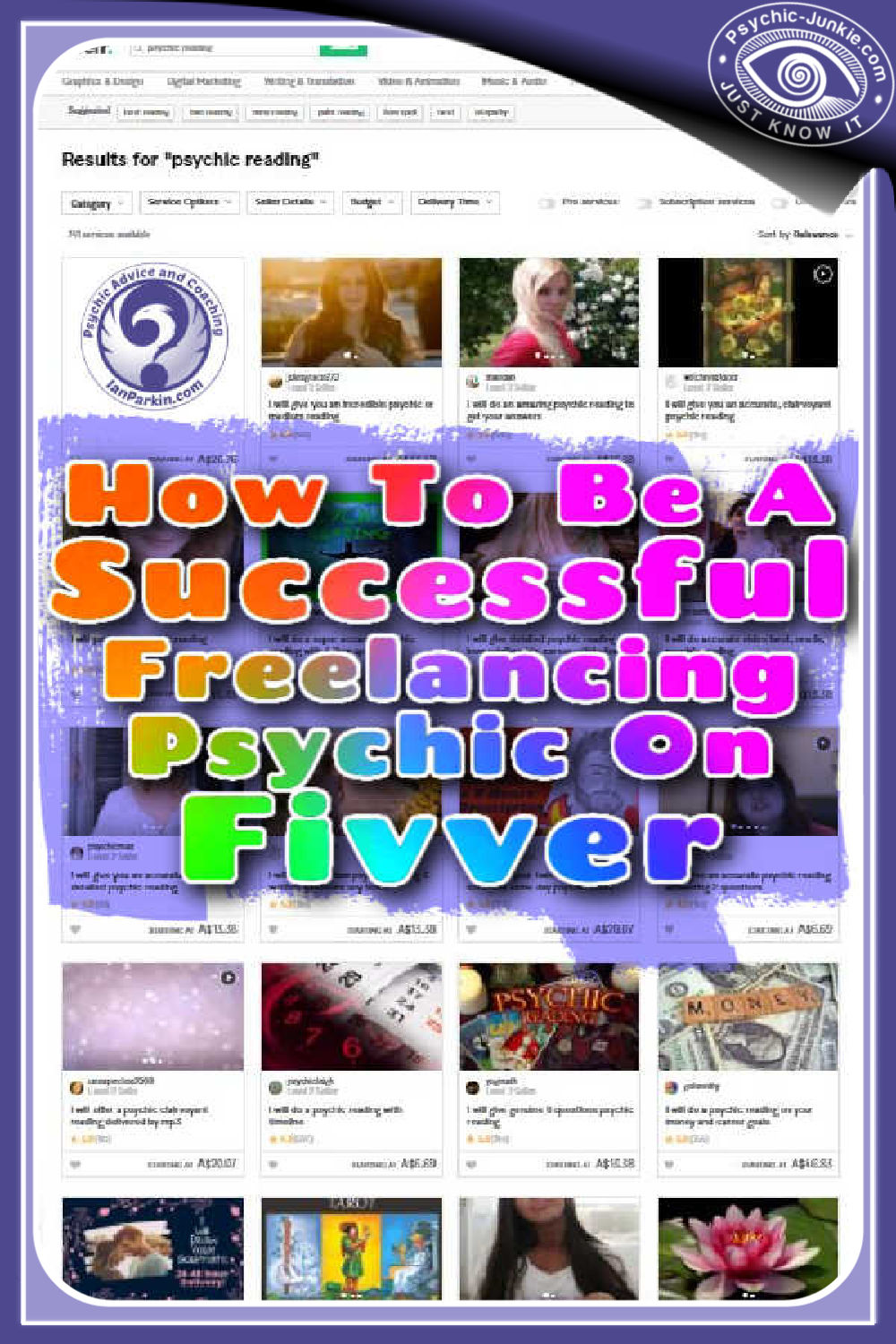 Fiverr is a legit online marketing community, which ranks in the top websites in the US and globally for the most web traffic. *The site with the highest combination of visitors and pageviews is ranked #1 You can check today's rank here.
The concept is not about selling your good stuff on the cheap. You just need to learn upselling aka Gig Extras or add-ons, which permit you to establish fair prices for your services.
Action Step: Browse fiverr.com for existing Psychics and Tarot readers, paying particular attention to pricing. Note descriptions and prices for their 'packages'.  For example, one question answered is typically priced at $5.00. For Standard 10 card Celtic Cross Tarot spreads, prices vary from $15.00 - $40.00.
The one question psychic and tarot reading on Fiverr make-up their basic packages, which has its advantages. Basic Fiverr gigs are comparative to loss-leaders in the retail industry. Where supermarkets might feature products at ½ price or buy one, get one free as loss-leaders, you will answer one question on a specific topic for five bucks.
As you know, people seeking answers and are primarily interested in romance or finance. These are two different gigs. Try to word your gig descriptions something like this:
Do you have burning questions about your finances?  I will read one Tarot card and provide valuable insights and guidance regarding your concern.
Action Step:  Write gig descriptions, focusing on your categories of experience, such as: love, money, health, career, past life, future insight, etc. And your way of reading such as clairvoyant tarot, psychic mediumship, spirit guide channeling, angel card reading, palm reading, etc.

Later you can add-on descriptions for Standard and also Premium services.
Dynamite Advice: Remember nesting dolls where the tiny doll is inside a bigger doll, inside an even bigger doll and so on to the biggest? As a new seller, think of yourself as the tiniest light working freelancer who only provides services to a few clients.  Set big goals and grow exponentially. 
Advantages of Offering Basic Readings
Well, you have to be starting somewhere. The idea is to build your freelancer brand by getting noticed. Without giving away the store, basic - but accurate answers will let clients see that you know your stuff. A happy client keeps coming back. Satisfied clients recommend you to their friends. You'll start getting link-love too.
Dynamite Advice: In the corporate environment, beginners are advised to dress up. Or dress as if you were already on the next level. For instance, a receptionist wearing a suit will get promoted before her co-worker wearing jeans.
As a spiritual advisor / fortune teller – the corporate example translates to - give it your ALL. Don't focus on the few shekels you are earning at present. Do provide quality work, as if you were making $100 a pop.
Never lose sight of the fact that you chose a helping profession. So, help your clients and the Universe will reward you. It really doesn't have another choice…
The Process Of Getting Your Fiverr Psychic Reading Gigs Noticed.
Slip into the buyer's moccasins for a moment. Visualize looking at hundreds of psychic, spiritual healing, and tarot reader gigs and getting more and more confused. Aha! Here's one that looks promising. Now, what is one of the first things you would explore before clicking that 'purchase' button? 
If you answered 'profile' - take one step up the ladder - after you craft your awesome profile of course.

Action Step: Create An Awesome Profile
How do I become one of the freelancing psychics on Fiverr?

Potential buyers want to know who you are and what your gifts include and why you are the very best when it comes to offering psychic readings. Therefore, your immediate task is to craft a detailed profile with content that will entice clients to give you a chance. Your killer profile is an opportunity to make the best, first impression on potential clients and gain a competitive edge. While it's tempting to simply copy the best profiles of successful Fiverr psychic reading professionals. Don't do that! On an energetic level you mess with the mystical. It is plagiarism, there's no need to pull negative energy to your spirit-full freelancing business. Finally, add a profile picture of you looking somewhat mystical.  Potential clients shy away from gigs without profile pictures.
Keep your Eye on the Carrot: Fiverr Pro

Old farmers knew how balky their mule could be and for incentive, they dangled a carrot in front of the mule, just out of his reach. That premise pretty well sums-up your long-term goal - to get accepted as a professional psychic.

Fiverr Pro was introduced because "buyers want the very best". This honor doesn't just come to you. After getting a respectable number of gigs and great reviews, complete the intricate application (perspiration involved), and wait for Fiverr's assessment. Approval entitles you to post Pro Gigs.

Pro Gigs are identified by a Pro badge. Potential clients are comfortable you're one of the best psychics or tarot readers at Fiverr. Attaining that coveted Pro Badge proves that, indeed, you are the crème de la crème of high Fiverr psychic reading freelancers.
Movin' On Up

Whether you peddle pet monkeys or psychic wares, it's all in the numbers. They base a big portion of rankings on the number of your 5-star reviews. At first buyers will trickle in.  Give each of them your personal best, appreciate their business and you'll start earning positive reviews. 

Don't spend negative energy worrying about who's on top. Instead, take care of your own, working from home, Fiverr psychic reading service.
When you are all set up you will want to share your gigs around the web as much as possible. There are links to share your gig on the main social channels so post to the ones you use to drive your target audience to your gigs.  Create a website website to use solely for promoting your Fiverr Psychic and Tarot readings on Fiverr. I can even include a link to your gigs if you take the time to write a good Guest Post.
Keep it real. Don't give in to temptation and buy fake orders/reviews. If Karma doesn't catch you Fiverr will and your ranking will plummet. 
So now go take a look through the psychic realms on Fiverr. Get inspired by the leading experts, read their profiles, check reviews. Heck, get a session if you feel a good vibe within one of them. If your area is a specialty like Tarot, Mediumship, Akashic Records etc you can use Fiverr's search box with the relevant keyword.
When setting up choose the right Category for your gigs > Fun & Lifestyle > Subcategories >  Astrology & Readings AND/OR Spiritual & Healing
---
---
Keep your kindred spirits informed by sharing this . . .

---
---