Starting a Tarot Business
Starting A Tarot Business At Home So You Can Read The Cards Online
Ian Parkin is the author of this post.
Are you thinking of starting a tarot business at home?
I work at home reading tarot clairvoyantly. If you are starting to wonder about making a metaphysical living you will find this free advice, from a seasoned professional, very practical.

You could soon be making money by starting a tarot business at home. Are you in tune with your card reading psychic abilities but too nervous to charge? Well let's get straight to it and get my answers to the most frequently asked questions on this subject.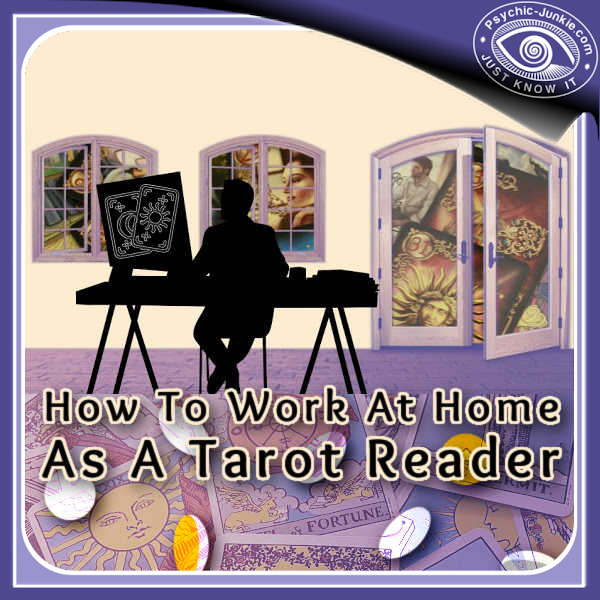 Tips For Starting A Tarot Business At Home
Find The Best Tips For Starting A Tarot Business At Home In These FAQs
Can you make money reading tarot cards?
Yes, you can make money if you are a good tarot card reader. Rates vary from $1 per min up to over $20 per minute. Personally, I charge $5 per min which equates to $300 per hour. With a Tarot Card Deck at hand, I've been providing psychic advice and coaching for over 30 years. I can show you how to make a good living by starting a tarot business if you need my help.
How do you become a tarot card reader?

It all begins by taking some simple steps at first. A good starting point is to give some tarot readings to friends and family members in your home. These individuals can begin to see what you can do and can make recommendations to their friends. You can also opt to make house calls, setup a local new age shop, or proceed to open your business online. Depending on the laws of where you live you may have to submit to a background check, and obtain a license to legally act in this role. If you are unsure of the local laws pertaining to you starting a tarot business it is a good idea to speak with others in the community or seek out legal counsel.
How much does a tarot reading cost?

A real tarot reading can cost anything from $10 to $100 for starters. In starting a tarot business we all set our own fees, and if you are working through an online network you must factor in their percentage. So, if you gave a lower priced tarot or psychic reading of say $2 per minute and your session was 10 minutes long your client would pay $20. But if you need to pay the network's percentage of say 60% ($12) you would have earned $8. Equating that to an hourly rate of $48 per hour. 
How long do tarot readings last?
That is a bit like asking how long is a piece of string? If you provide readings through the networks your client can cut the call instantly. And if you are not giving strong evidential readings your sessions will be short and your career will be equally short lived. On the other hand, with good readings your clients will continue until they spend their budget, or their questions are fully answered. The norm with my regular clients is half hour and hourly readings.
Is online tarot reading accurate?
Before I worked by phone, and later online, I had only given face to face readings. I wasn't sure how accurate I would be if I was not sitting with a client in person. But now from years of online experience I can confirm that giving my psychic and tarot readings over the phone and online is easier and even MORE ACCURATE!
Where do I start?
If you have never given a psychic or tarot reading before, but just know the ability is in you, you can get busy practicing in the following ways.
When starting a tarot business and delivering authentic readings, you need to open your mind and body to become in focus with the person you are giving a reading to (the sitter). Think about the center of your brain and allow it to fill with the emotions and expectations around you. Begin to fine tune your intuition at this point and learn how to read the signs given to you in the cards.
For this to work best, request your sitter to ask you a question. It can be as simple of a question as, "Does this person have a romantic interest in me" or something with a deeper level of advice. Such as "which job is the better choice for my future?" You can then get the impression you have.
This is the point where you trust your intuition. Not every tarot reading psychic works the same. Some people instantly see part of an image in a tarot or oracle card and a scene appears to come from nowhere. You may analyze this image and provide details of it to your sitter. The technical term for this is experiencing clairvoyance.
Sometimes there is an audio cue that leads you to the answer. This is known as clairaudience. It might be as simple as a voice in your head giving you guidance through the answers. Another form might be a tune or a song that comes to your mind that provides you with the answers you need.
Once you have the image or sound in your mind, begin to build on it. You want to actively understand what you know. Begin to question what you see and look for other clues to give a further detailed account of what you know.
With this information, you can return to the moment with your sitter and let them know what you have discovered. This process can continue for some time. Some of us who work at home reading tarot prefer the sitter to actively ask their follow up questions during the entire time and will share instantly what they see or hear. This can speed up the process.
Once you get a feel for clairvoyantly reading tarot face to face with a sitter move forward to providing some readings over the phone, Skype, Zoom, WhatsApp, etc. You will soon realize that you do not need to be sitting face to face at all to be able to work at home reading tarot cards and give psychic advice. You just will not know it until you try it.  
Then you can seek opportunities for starting a tarot business doing online freelancing or for home based psychic jobs with the big networks.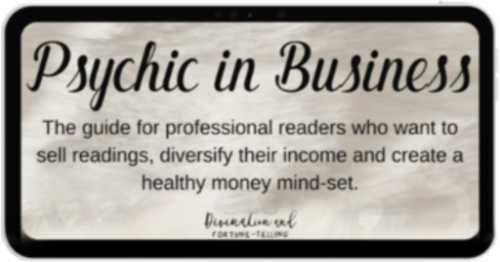 Who Else Needs A $30 Psychic Business Plan?
Are you struggling to make a name for yourself as a professional psychic reader? Want to know what you can do to actually start making a living? I have something for you . . .  Learn more > >
---
---
Keep your kindred spirits informed by sharing this article . . .

---
---
Wiki - Tarot