True Ouija Board Stories and The Lessons Learned
Ian Parkin is the verified author of this post.
Are the spirits ready to talk to you? These real-life Ouija board stories, with the many lessons learned, will either encourage or discourage you.  You can learn how to make one while also realizing what are the consequences of their use.

There is a lot of negativity surrounding the Spirit Board. But this tends to come from the energy of those who do not put their finger on the planchette. If you are a negative person you will tend to come up with all sorts of crap about all sorts of things. If you are enlightened with positive mind, you will come up with positive and helpful insights on all sorts of things.

Scary is not necessarily negative.
I remember playing with the Talking Board, as a kid back in Olde England, we would scare the beejeepies out of each other with all sorts of stuff and nonsense.

Then in early adulthood I had been drawn back to the board with office work-mates. Again I had the beejeepers scared out of me, but this time it was not stuff and nonsense. It was the fact that three of us with our fingers on any piece of furniture in the office, as light as you would place on a planchette, would have tables and chairs lifting and flying around the room in phantasmagorical style. There certainly is an energy when a group of like minds lightly connect in a spirit board fashion.
There were a couple of messages from those early Ouija wanders that strongly influenced me over the rest of my life. Things like moving to Australia and avoiding the Middle East. But after developing my psychic ability in later life, I've never been drawn back to the board of spirit communication. Do Ouija boards work? Yes, and No, it is all down to you and your own attitude.

Do You Have Any Real-Life Ouija Board Stories To Share?
By using the form below you can share with us your own experiences (good and bad) around the Paranormal Psychic Ouija.
Alternatively you may like to share your views in answer one of the common questions I get asked about this subject. Like:
Do Ouija boards work?
Are there any Ouija board rules and instructions I should know about?
What are the consequences of Ouija board sessions?
How do I host a seance or party with a spirit board?
How can I use a Pendulum with a Ouija Pad?
Can you play a Ouija board by yourself?

What do you say to start a Ouija board?

What is the origin of the Ouija board?
What are the happiest of Ouija Board Stories?
---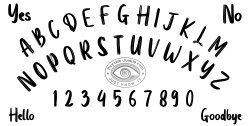 How to Make a Ouija Board
Paint letters of the alphabet directly on the board or table in an arc. Put A-M on the first line and N-Z on the next line. Add numbers 0-9. "Yes" goes on the top left and "No" on the top. Hello and Goodbye goes on the bottom. Learn more > >

--- How To Host A Seance Party That Will Bring The Spirit Out
If you want to host a seance party that will really work, you will need a psychic medium to channel deceased spirits. Has communication with ghostly entities always fascinated you? Some of us are downright curious to know what the spirit world is like. Learn more > >

---
Published Ouija Board Stories
Please rate and comment on the stories below . .