Rev Jennifer Marie Solis
About the clairvoyant medium, Rev Jennifer Marie Solis.
From as early as three years old Jennifer remembers her grandfather Ricardo as her best and only friend. Yet Ricardo had passed on two months before she was even born in Madrid, Spain. Growing up through a battle of obstacles it was many years later that she realized that this connection with the other side was not normal and accepted that she had a gift. The ability to meet someone in person, or just be given a photograph of a person, and immediately envision a whole slide show of images depicting that person's circumstances was something special. She then realized that she could use this gift to help others understand that every one of us is surrounded by angels, spirit guides, and our family and friends that have passed on.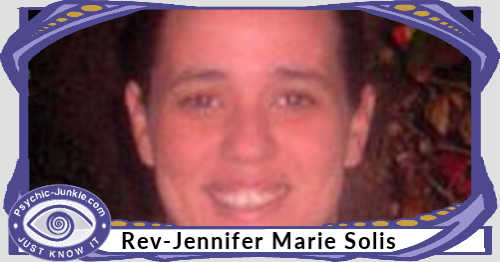 Jennifer says.."Divine inspiration is something that everyone looks for at certain times in life. Problems arise when we look for this guidance in material things and in relationships. When doing this we recreate the same problems over and over again. Only in actualizing your higher self can we bring change. When we begin to look within to find that much needed guidance we find that direct link to our source - God. Only this will give you the peace that comes with knowing you are divinely guided through the adventure that is this lifetime.
If you could see with your own eyes that we are all surrounded by our angels, our spirit guides, and our passed on family and friends, you would never doubt that you are truly blessed. My purpose is to help you know that there is more to this world than just the physical, to help you understand that even the tragic events in our lives are really gifts."
Rev Jennifer Marie Solis Links
(Webmaster - Awaiting updated contact info for Jennifer Marie Solis)