Tarot Horoscopes
There are several ways of looking at a Tarot Horoscope.
So, if you are looking for a Tarot Horoscope Spread, you can use the following in a variety of layout shapes. 
Alternatively you can see the Astrological Tarot Correspondences, as revealed lower down the page, and use them as your zodiacal talismans.
The Tarot Horoscope Spread
Card position 1 is Aries and relates to Personality

(Keywords: charisma, charm, identity, makeup, nature, psyche, self, temper, temperament, complexion, disposition, dynamism, emotions, individuality, magnetism, singularity, likableness, selfdom, selfhood) 
Card position 2 is Taurus and relates to Financial Security

(Keywords: commercial, economic, fiscal, monetary, banking, budgeting, business, numbers, numeric, pecuniary, pocket)
Card position 3 is Gemini and relates to Far Horizons

(Keywords: travel, confines, environment, surroundings, location, vacation, territory)
Card position 4 is Cancer and relates to Family

(Keywords: clan, folk, group, house, household, people, tribe, ancestors, birth, brood, children, class, descendants, descent, dynasty, network, relationship, relatives, kin)
Card position 5 is Leo and relates to Creativity

(Keywords: cleverness, genius, imagination, imaginativeness, ingenuity, inspiration, inventiveness, originality, resourcefulness, talent, vision)
Card position 6 is Virgo and relates to Health

(Keywords: energy, fitness, strength, well-being, pleasure, enjoyment, zest)
Card position 7 is Libra and relates to Relationships

(Keywords: partnerships, personal or business associations, romance, love, company, tribe)
Card position 8 is Scorpio and relates to Others

(Keywords: mystery, ending, beginning, extra)
Card position 9 is Sagittarius and relates to Inner Self

(Keywords: beliefs, philosophy, attitude, mood, perspective, mindset, opinion, being, character, personality, essence, spirit, ego, identity, temperament)
Card position 10 is Capricorn and relates to Doing

(Keywords: aim, ambition, eagerness, endeavor, inclination, longing, objective, passion, wish, yearning)
Card position 11 is Aquarius and relates to Potential

(Keywords: hopes, wishes, desires)
Card position 12 is Pisces and relates to Sacrifice

(Keywords: restriction, danger, relinquishment, surrender)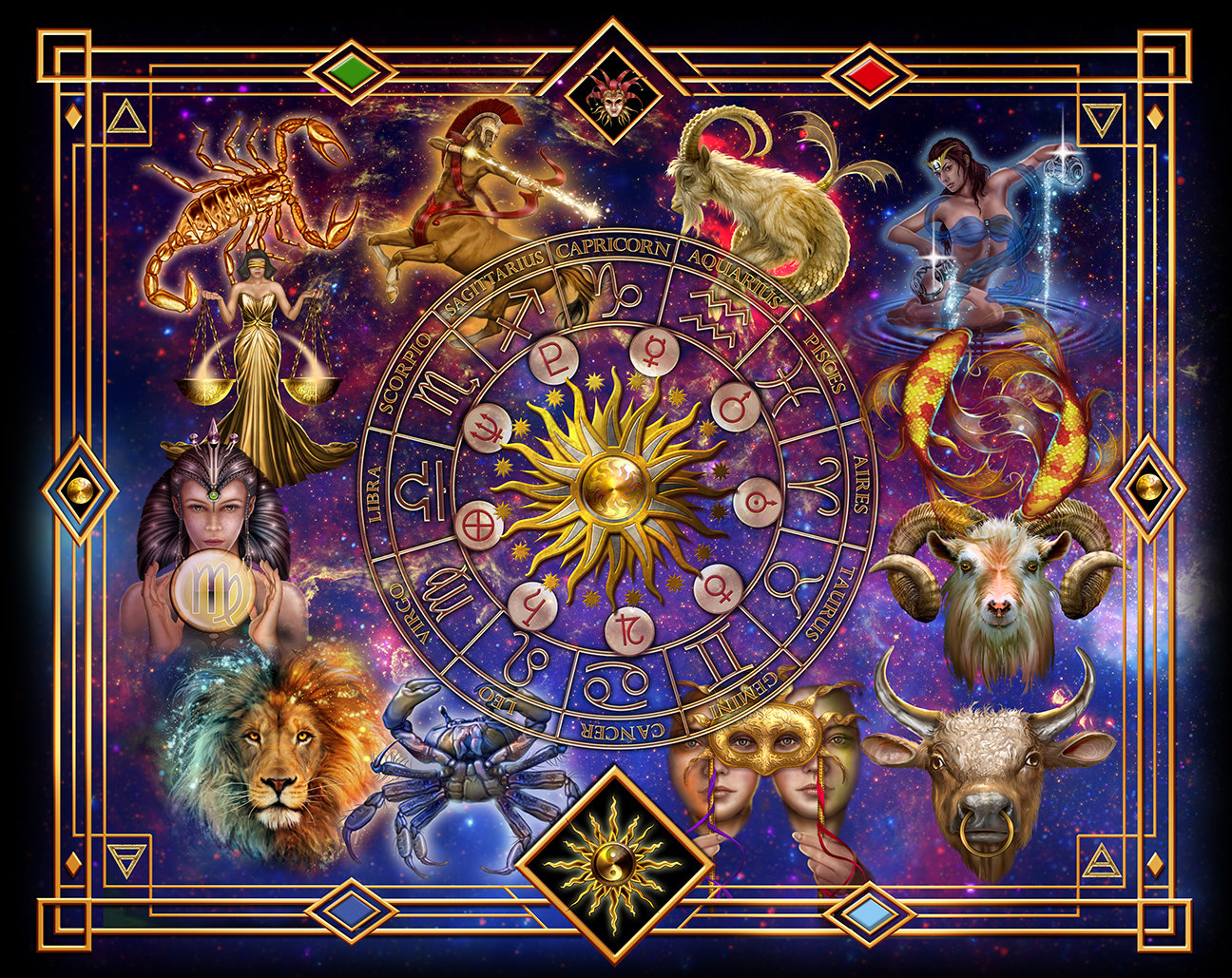 Richly printed Tarot Reading Cloth with gold satin back by Ciro Marchetti
Astrological Tarot Correspondences
Another way of looking at the Tarot and Horoscopes is to see what Tarot Cards are associated with each star sign. This way certain cards can become your zodiacal talismans.
Aquarius – The Star - plus 5,6,7 and King of Swords
Pisces – The Moon – plus 8,9,10 and Knight of Swords
Aries – The Emperor – plus 2,3,4 and Queen of Wands
Taurus – The Hierophant – plus 5,6,7 and King of Pentacles
Gemini – The Lovers – plus 8,9,10 and Knight of Swords
Cancer – The Chariot – plus 2,3,4 and Queen of Cups
Leo – Strength – plus 5,6,7 and King of Wands 
Virgo – The Hermit – plus 8,9,10 and Knight of Pentacles
Libra – Justice – 2,3,4 and Queen of Swords
Scorpio – Death – plus 5,6,7 and King of Cups
Sagittarius – Temperance – plus 8,9,10 and Knight of Wands
Capricorn – The Devil – plus 2,3,4 and Queen of Pentacles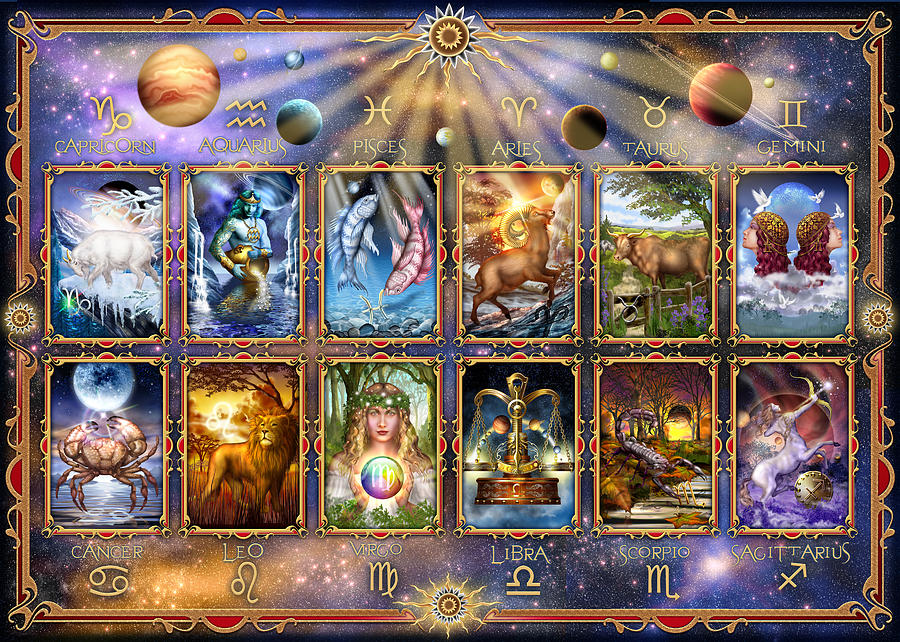 Horoscope Tarot Cards by Ciro Marchetti
[FTC - Affiliate Marketing Consent]  If you click a link on this website that leads you to a product or service and you buy it, I stand to earn a small commission. This is called affiliate or referral marketing. 
[GDPR - Cookie Consent]   Cookies help me deliver my services. 
By viewing this website, you agree to my use of cookies and affiliate marketing. - Learn More
Read more on the connections between the Tarot and Horoscopes