Ian Parkin is the author of this post.
An Ancient Wisdom Biz Magically Found Me In The New Age
My Ancient Wisdom Biz launched from synchronicity.  In 1985 I had found a purpose to bring New Age info out of the backstreets and into mainstream retailing. This had come about following my experiences with Shirley MacLaine's Out on a Limb, my telepathic reception with the Andronicus Tapes and then my embarrassment when trying to acquire The Sleeping Prophet from a back-street space-cadet compound known as the Rainbow Centre.
It's now 1986 and my goal is to open my own New Age Bookstore, bang in the main shopping mall of Townsville's (then) city heart.

Over the last few months I had found The Mystic Trader. A printed catalog of Stuart Wilde's early books and audio tape sets. This was long before the internet, and a catalog mailed through the post was still an effective marketing method. I do not remember how I came across Stuart Wilde (one of the world's most influential spiritual teachers) - but he became a major mentor in my metaphysical pursuits. And I had purchased and consumed pretty much every book and tape set available. My far-reaching road trips as a long distance country rep work became my audio classroom for all of his teachings.
Life on Magnetic Island was wonderful. I would get home Thursday afternoons and have till Monday mornings to enjoy this tropical paradise. I had made friends with Steve and Christabel, a couple who shared similar mystical interests. Steve had a small shop on the Picnic Bay beach strip selling T-shirts, souvenirs, beach things and he ran a booking agency for local boat trips and island excursions. 
Sharing my desire to open a retail shop in the city hub brought on some valued business advice. "You need a business plan, a budget, and you need to test the market" Steve said. "Most important, you need that market test first, because if no-one is interested in New Age books and tapes, there is no need to do the plan and find the budget".

Steve had a brilliant idea. He offered to put some of my books and tape sets in his shop on consignment and if there was any call for them we would know I was on to a good thing. I doubted this as the Island only had a population of less than two thousand people plus or minus a few dozen tourists at the best of times. As I had all the audio cassette sets from Stuart Wilde in near new condition, on the Monday I set out on my week's work trip and left Steve with half my Wilde treasures. About six books and six tape sets.

When I returned on Thursday afternoon, I was keen to stop in and see if there had been any interest. Amazingly Steve had sold it all. Nothing left. Wow. So the following Monday I headed out again, this time leaving Steve with the rest of my collection. Thursday afternoon I returned again to another complete sell out!

That was enough market research for me, I was off to find an empty shop. (With no business plan or budget other than about a thousand bucks in savings. – Don't do this at home!)

In the city center was a shopping mall called Northtown. There were a few empty shops, and one caught my eye on the first floor, directly by the escalator. I found the center manager's office and walked in to ask the price for renting the shop. 

Fred, the center manager was very pleased to see me. (Too many empty shops for his bosses liking). Asking the price, he floored me with a leasing price as high as the ceiling. And I instantly realized why all the new age stores, up to now, were hidden in the back streets where few people would ever see them – cheap rent!

Picking myself up from the floor, feeling my dreams dashed, I thanked Fred for his time and started to leave. Half way out the door I heard Fred say, "wait a minute Ian, how much would you offer?"

I thought of a ridiculously low amount, but one I knew I could cover from the existing turnover of my sales rep work. I took a breath, voiced my pittance of an offer, and when Fred picked himself up off the floor he countered with, "would you be prepared to sign a three-year lease on that?" You bet I would, and I did, right there on the spot.
My Ancient Wisdom Biz Is Born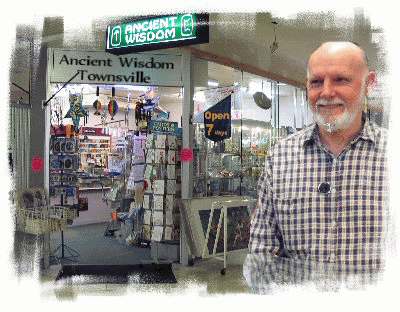 This Ancient Wisdom Biz continued for another 25 years with new owner William
My Ancient Wisdom Biz was a thriving New Age Bookshop (it lived on for thirty years) and I turned a profit from my very first week of opening. I mentioned I only had a little money. I found some cane bookshelves in a cheap-jack store, managed to order a collection of books from the new age wholesaler, had the bookshelves placed across the front third of the shop with single copies of books displayed on plate stands. I stocked single copies of as many titles as I could afford at the time. It was quite pathetic really, but it worked. Each time a book sold I would reorder two copies. 
Soon I had an idea about what would sell well and managed to buy by the carton. As time went by I started importing from American book wholesalers. I eventually inspired others to open similar high street stores and I became a new age wholesaler and agent.  I achieved my dream of bringing the New Age out of the closet in North Queensland in the 1980s
The Magic In Starting My Ancient Wisdom Biz
Remember my market research? About a month after opening my Ancient Wisdom Biz, I attended a barbecue on the island with my friends Steve and Christabel. I was introduced to Pam, a wonderful lady who ran a clothing store in the city center near my own shop. When I mentioned my Ancient Wisdom Biz she was soooo excited. "I love all that stuff" she said. "Do you have anything by Stuart Wilde?" "Steve had some in his little shop a few months back and I bought the lot!" Hahaaa, my market research was really just one customer, Pam had taken it all, both weeks. I would NEVER have opened the shop if not for the illusion of lots of interested customers. Pam has remained one of my very best and dearest friends ever since.

I have lots of truly magical stories during the years I ran my Ancient Wisdom Biz. I hope to jot more of them down for you soon.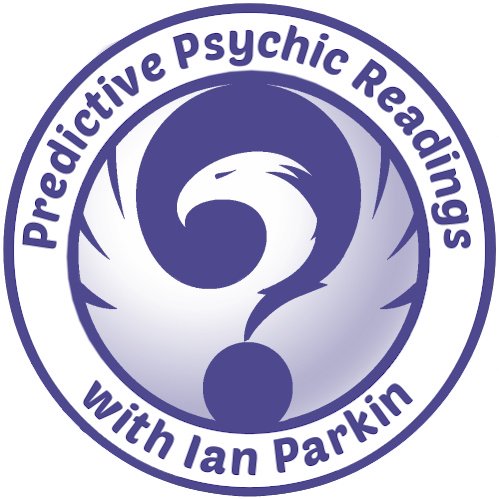 Clairvoyant Readings Direct with Ian Parkin
"the predictive psychic for when real insight matters"
> Click Here To Set Up Your Appointment <
Ian Parkin is the owner and webmaster of this platform, leveraging his expansive experience of over 35 years in providing top-tier professional psychic advice and coaching on an international scale. 
As a respected authority in the field, Ian has consistently been the go-to psychic for clients seeking profound insights and transformative guidance.
---
---
Keep your kindred spirits informed by sharing this . . .

---
---