Primary Authority: Ian Parkin writes, or reviews, verifies and edits all content before publishing on Psychic-Junkie.com
What is Life Coaching and Intuitive Guidance?
Coaching and Intuitive Guidance is better known as Psychic Life Coaching. The purpose of this service is to get your life back in balance and maximize your potential. A Psychic Life Coach can assist you in regaining an ideal work-life balance.
Why a psychic, rather than a regular, mainstream life coach? Because the Psychic Life Coach can use her gifts to tap into higher realms. He does not need to obtain degrees or know all about psychology, etc. He only needs to know where to find answers and insights you need.
The regular life coach mainly excels in a particular subject or skill and conducts a formal practice. Their methods of goal achievement, etc. come directly from a textbook. As they are only qualified to help to a certain extent, the client/coach relationship is short-lived.

Life Coaching and Intuitive Guidance consists of many 'hats' and sessions are of a personal nature. Your psychic coach looks beyond the material world to find the best possible solutions to your issues and challenges. Once major issues are on their way to resolution, you may return for an occasional check-up.
They say – messy mind, messy life.

So, if your mind is all cluttered with career, relationships, financial problems, self-esteem issues and more, one Psychic Life Coach can do the job of 5-6 traditional life coaches. He will inspire you to reach your greatest potential and guide you through obstacles blocking your success.
Your Intuitive Coach will not tackle your issues in a linear fashion, as often one thing links to another. For example, you're stuck in a dead-end job, with no hopes of advancements or raises. Finances will affect your desire for that dream home and low self-esteem associated with your career can negatively impact your romantic relationships.

If you recently experienced a bad break-up or even divorce, most likely you're suffering from loss of self-esteem and depression. Your Psychic Life Coach can direct you to unlock your personal power. She will show you reasons you keep attracting the same toxic relationships over and over again and expecting different results.

When you look for this type of coach, see if you can find a Clairvoyant. Clairvoyants have unique gifts that allow them to see your past, present and future. So that a Clairvoyant Coach will see precisely what you need to do to solve your issues. Working together, you'll devise a step-by-step plan of action that gets you past the pain promptly and helps you incorporate important life changes.  

If you opt for coaching via phone, Clairvoyants are most likely to be well-versed in remote viewing. They can connect with your energy quickly.

Receive Coaching and Intuitive Guidance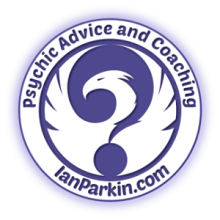 Ian Parkin is the owner and principal psychic of this Website.
30+ Years Providing Professional Psychic Advice and Coaching

Are you a candidate for readings by email? Scarcity of free time? - Shy? - Prefer writing to talking? - Hearing impaired? - Brain Fog? Convenient? To learn about my email psychic readings process where you can decide what level of interaction you would like - Click Here Now .
Learn how to enhance and embrace your own intuitive abilities. As your clairvoyant coach I want you to live a purpose driven life – to follow where your passion leads – to walk in balance – to express your Joie de Vivre. Read more about my Coaching and Intuitive Guidance here.
Click here for 24/7 Online Psychics Offering Life Coaching
Learning about intuition in theory only takes you so far. To understand it well you must experience it. Here are some scenarios for developing intuition that will make it true for you. Because what you want is consistent, reliable intuition on demand.