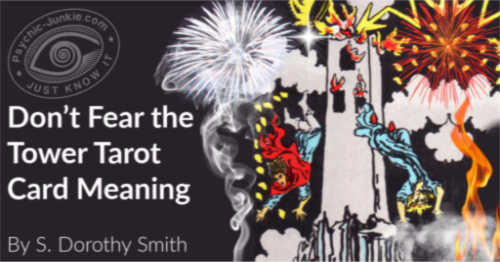 Don't Fear the Tarot's Tower Card Meaning
No one jumps for joy when the tower tarot card appears in a reading. But here's why there is no need for you to fear this symbolic card with thoughts of the grim reaper, death and everything that is apparently destructive.
Cherished beliefs and long-worn patterns are threatened to be dismantled and a tumultuous period of change promises to materialize on the horizon. But just as a storm clears away debris and then breathes fresh air into the atmosphere, so do life's storms dismantle everything that does not serve us and leave in their wake a new dawn replete with sunshine and rainbows on which we can build new dreams and foster new realities.
Sometimes it's difficult to discern what needs to be torn down and rebuilt when the Tower Tarot Card appears. Could it be an old habit? An old belief? An old way of living? Sometimes change can be subtle and not necessarily always drastic. Subtle shifts in perception can be just as life-altering as major life changes in that they lead you to look at your life from a higher perspective. Whatever change the Tower brings, it promises to bring new awareness and new wisdom with which to rebuild on firmer foundations.
For instance, you might get into a fight with a long-time friend and the two of you no longer see eye to eye and you ultimately lose the friendship. What might at first glance seem like a disheartening loss of a trusted friendship might in the long run turn out to be a needed end to an alliance that was based on shaky ground from the beginning and it took only one heated argument to finally learn the truth. Grieve the ending but shift your perspective to finally see the truth.
Life's trials will often leave us standing on our heads with our entire lives thrown upside down. Yet once the storm settles, what will remain will be the kernel of truth on which to rebuild even stronger foundations. The Tower might not be a welcome sign, but from a positive perspective, it always presents itself when we need a fresh assessment of the present situation. Like pruning away what is unnecessary to live our best lives, the Tower tarot card meaning, once endured, can be a welcome relief.