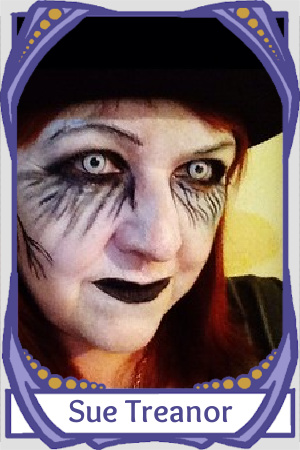 Sue Treanor is a natural, self-taught psychic medium and has been involved in private circles, with Mia Dolan of ITV's Haunted Homes, appeared in various newspapers, Fate and Fortune Magazine and on Kerrang! Radio. She has also made a short film on Spiritualism for the BBC's faith Website.
Sue is also involved in spirit rescue and house cleansing and works for a British Ghost Hunting company as a medium. She can take you on walking ghost tours in castles, houses, museums, tunnels and other haunted places throughout the UK.
With her husband Michael, Sue Treanor runs a spiritual shop and centre in a haunted building in Evesham in Worcestershire UK. They sell crystals, books, tarot and oracle cards, jewelry, Angel Goods, figurines, and a large range of Wiccan goods. Their famous and popular open evenings have discounted readings as well as free wine and nibbles for all who attend. Ghost hunters from all over the country come to Spiritus to investigate and come face to face with Colin, their resident Poltergeist. 
Facebook - Spiritus Shop Evesham
YouTube - Sue-Michael Treanor
Website - DuskTillDawnEvents.co.uk