The Kasamba Psychic Reading Portal Reviewed
The Kasamba Psychic Reading Portal has established a leading web presence as an accurate psychic network. Since 1999, Kasamba has focused on customer satisfaction. You've got to admit they're doing something right, as evidenced by three million 5-star reviews.  
What are you seeking on a psychic portal? Kasamba's got it! From astrologers to numerologists and spiritualists, hundreds of bona fide psychics call Kasamba their home base.
Accurate psychic advisors post a picture and profile.  Read those of interest for an overview of their spiritual gifts, prices and customer reviews.
Kasamba makes your experience stress-free with various categories, such as fortune tellers, love psychics, astrologists, career advisors, dream analysis experts and much more.
Each category shows the total number of advisors. A random sampling shows 260 fortune telling advisors, 273 dream analysis advisors and 59 remote viewing exerts.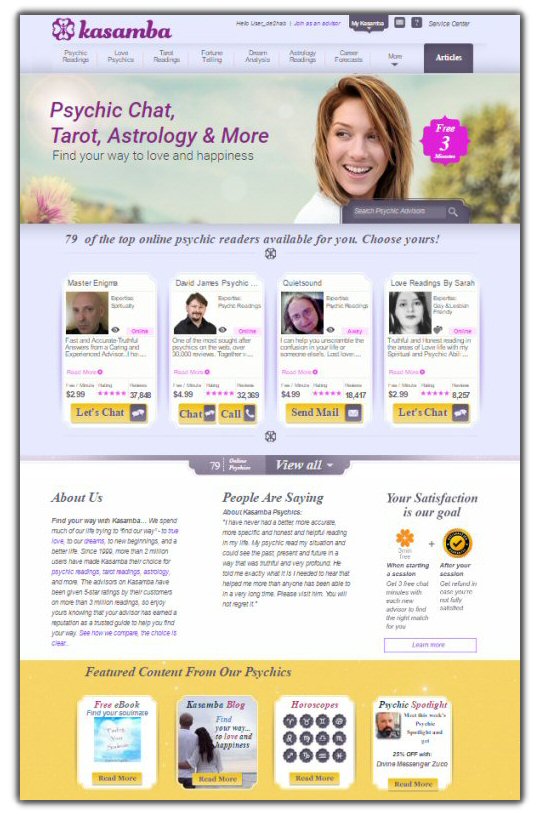 Click for Today's Kasamba Psychic Reading Offer
The website is user-friendly. When you're ready choose a psychic who appears a good match and you will be directed to the sign-in screen. If your psychic is not available or you prefer your readings via email, a reply is promised within the next 24-hours.

Kasamba's claim to fame is the instant messenger-esque chat. The 'PrestoChat' is a nifty function, which lets you and your psychic chat in real time. For those with very little patience, this means no more waiting overnight, to get insights and direction.

Tip:  Print the transcript of your chat reading to review at your leisure.
No prepayment required means you can put your attention on your reading and pay when you are ready. Virtually unheard of in the psychic biz. Kasamba wants happy customers, backed by their satisfaction guarantee. So if you are not happy with the reader you Just complete the handy form to request a refund.
What's to Like?
Site is easy to navigate, even for newcomers. Random sweet deals on Facebook, Twitter, etc., a free 3-minute chat any time, combined with a pay when you please posture, makes the site more inviting than most. Layering on Kasamba's satisfaction guarantee ensures your experience is a win-win.
Psychic advice is as close as your fingertips, day and night, including weekends.
What's Not to Like?
Kasamba promises a satisfaction guarantee, but there is a lot of buzz about the difficult dance involved in requesting refunds. The lack of telephone support, may cause small issues to grow.
What's the Verdict on the Kasamba Psychic Reading Experience?
A visit to Kasamba is comparable to visiting a fine-dining establishment. Kasamba's 'menu' offers a prodigious selection of expert advisors, a vast display of specialties, i.e. astrology, fortune tellers and master tarot readers, with desserts (readings) that are good for the soul. Following a friendly chat, you will leave totally satisfied.

The Kasamba Psychic Portal sets the bar beyond ordinary psychic networks. 

Click here to leave your Reviews for Kasamba Psychics

Kasamba Psychic Reading Offers and Coupons
New client incentives, include first three minutes free, with no further obligation. Occasionally, they also offer half-off discounts to encourage new customer sign-ups.