LifeReader Psychics Reviewed
Your LifeReader Psychics Reviewed. Don't touch that mouse! Stop. Before you go psychic shopping. Whether you're a newbie or gourmet, the LifeReader psychic portal will serve up a hand-selected buffet of psychic specialties.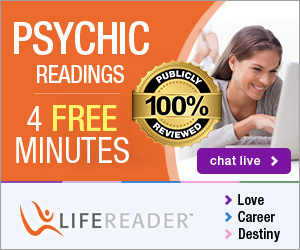 Dining out would be boring if the same chef served the same menu in every upscale restaurant. Likewise, the psychic community would be boring if all psychics were medium.

Let us jump-start your research, with reviews of several Life Reader psychics. The scope of this page does not permit reviewing each one. But, the Life Reader website features in-depth profiles and large pictures of their psychics. Read their testimonials, both good and bad.

Focus on your specific situation as you read the reviews. Most Life Reader psychics offer a main specialty and several sub-specialties (think side dishes).
---

Eve - Chat: 4 free min

LifeReader Psychics Reviewed: If you really are seeking a Medium, meet Psychic Eve:

Eve, of many talents, is a clear channel medium. She does not use cards or crystal balls, etc. but relies on her innate abilities to connect with spirits. Her primary specialty is relationships – Soul Mates, Divine Partners, Twin Flames.

Eve is proficient in the 'clairs' (clear) including: clairaudience (hearing), clairvoyance (seeing), clairsentience (sensing) and claircognizant (knowing). She is a trained Akashic Reader.

---

Sandra - Chat: 4 free min

LifeReader Psychics Reviewed: If you want an Intuitive Counselor, say "Hello" to Sandra, Intuitive Clairvoyant:

Sandra is all over it, when it comes to exploring our options to achieve clarity of life. We found it intriguing that in addition to intuitive consulting, Sandra is a professional watercolorist.


She is pro enjoying the journey, instead of focusing on the destination. If you have questions about love or money, Sandra will provide pertinent details and guide you toward informed decisions.

---

Patrick - Chat: 4 free min

LifeReader Psychics Review: If aspects of your life need to be healed, greet Shaman Patrick:

Patrick bills himself as "world renown, acclaimed shaman/psychic and healer". He promises "practical advice" via skilled psychic/medium work. Patrick is well-versed in reading the Tarot or crystal ball. Other gifts include: clairvoyance, clairaudience and clairsentience. He was protegee to a Nepalese Shaman in the Himalayas. 


If want a psychic with heart, Patrick may well be your ideal psychic.


Note: Shaman Patrick is one of the expensive psychics. To find out if he's right for your needs, take advantage of Life Reader's introductory offer of $0.19 per minute for the first 10-minutes.

---

Xena - Chat: 4 free min

LifeReader Psychics Reviewed: Is your love life (or lack of) bugging you? Welcome Life changing love/relationship specialist, Xena.

Xena's claim to fame is her nickname, "The Clairvoyant's Clairvoyant". She regularly counsels other psychics. She promises to help you realize your authentic life path. Xena's main specialties are relationships and love.


We were particularly fascinated that Xena is a coffee cup reader. There aren't many of them around these days. She is also an intuitive.

---

Pauline - Chat: 4 free min

LifeReader Psychics Review: If you're on a quest for Divine Guidance, give a warm welcome to Psychic Channeler, Pauline:

Pauline can channel guidance from your Angel Guides on your behalf. She is an accomplished Tarot reader, who is proficient in astral travel and dream interpretation and manifestation. Also, she is a medium, empath and clairvoyant.


Pauline's goal is to comfort and guide seekers who need to revitalize and re-balance body, mind and spirit.

---
Final Thoughts

You've tasted niblets of psychic specialties, are you ready to have it your way, at the Life Reader psychic website?

Go…Rock that mouse!
Your LifeReader Psychics Reviewed
This is the place to post your own feedback and recommendations for your favorite LifeReader Psychics

Endorse Your Favorite LifeReader Psychics
Tell us about your favorite psychic at LifeReader