Your Prophecy Update
In The News
Report an accurate Prophecy in the News or post a Prophecy Update
If you've been looking at prophecies about your future, and in hindsight can reveal some startling accuracies and/or unsurprising inaccuracies, please post an update of a  prophecy here. Perhaps you know how to interpret the signs yourself. In that case you can put your prophecy in the news.
With some good reporting we can narrow our focus towards the best sources of prediction and drop aside those 'unremarkable guess merchants' that unfortunately pop up in haunts like ours.
Your updates can be from any type of prediction you want to write about. There are many sources of predictive arts for you to turn to. See my A to Z list of Psychic Abilities and Forms of Prophesy for some suggestions.
When you find an accurate prophecy from a professional, or a pure prediction from an amateur, come here and submit an update on your prediction.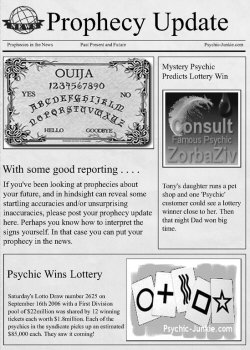 Reading predictions and prophecies is a great way to get some general ideas about different aspects of your future. You can find out a lot about your love life, finances, career options, health conditions and many other important topics as well. When you are well informed you can make well thought-out decisions in the future.
There are lots of important aspects of your future that can be predicted based on your connection to a good psychic, astrologer, tarot reader, crystal ball reader, or other type of seer. However, it's important to mention that you shouldn't completely rely on prophecies for making every major decision in your life. By all means seek these ideas and predictions as often as you can, but treat your recommendations and predictions only as general guidelines and not like a hundred percent sure survey backed up by scientific evidence. This way you won't ever be disappointed and you'll be able to make your own decisions based on your own perception of your situation and the world.
Post Your Prophecy Updates
How about commenting on a Prophecy Update in the news? If you are posting your update based upon recent news on new or ancient prophecies please make sure you include some information that links back to the original news release.
What Is Your Prophecy Update?
Do you have a Prophecy Update? Or an interesting story about a prophecy in the news? Share it here!
What Other Visitors Have Said
Click below to read the updates and interesting stories about prophecies in the news from other visitors to this page...

The Mayan Calendar came to a finish at the end of 2012

Doomsday Predictions  As for Armageddon it looks like the flat earth-ists were at it again leading up to 2012.

The Prophecies for 2012 of Nostradamus, Mayan, and Astrology.
2012 Prophecy Pages Compilation of pages answering Mary's question for some other psychics to share their 2012 .