Psychic Work From Home Jobs. How To Be In The Hiring Line Online & Off
Ian Parkin is the author of this post.
Psychic work from home online opportunities are especially suitable if you live in remote locations and part time and full time jobs and are always available for truly gifted psychic readers and tarot readers. It doesn't matter if you have the psychic abilities of a seasoned pro or an absolute newbie, I like to guide all professional psychics towards the trusted esoteric marketplaces and away from the high-pressure dodgy hotlines that give fake psychics a place to ply their scams. 
First things first, if you want to be a home psychic advisor, you will need to be brutally honest with yourself. Can you say YES to being a truly gifted psychic reader? If you can't, nor will your clients! Don't go looking for psychic work from home opportunities until you have a solid belief in your own spiritual abilities. Many wannabes try to make money in the psychic advice arena thinking that cold reading techniques or counseling skills will get them into this buoyant business. But they don't last long. Unfortunately, while they crash and burn, these scammers give the rest of us a bad wrap - but that's life.
So, if you are not yet confident with your psychic reading services I suggest you spend some time with my lessons on developing a strong psychic gift that you can depend on. Then, when you are truly able to provide accurate psychic readings you will be able to come back to check my updates and job ads so you can consider which type of opportunity would suit you in the best way.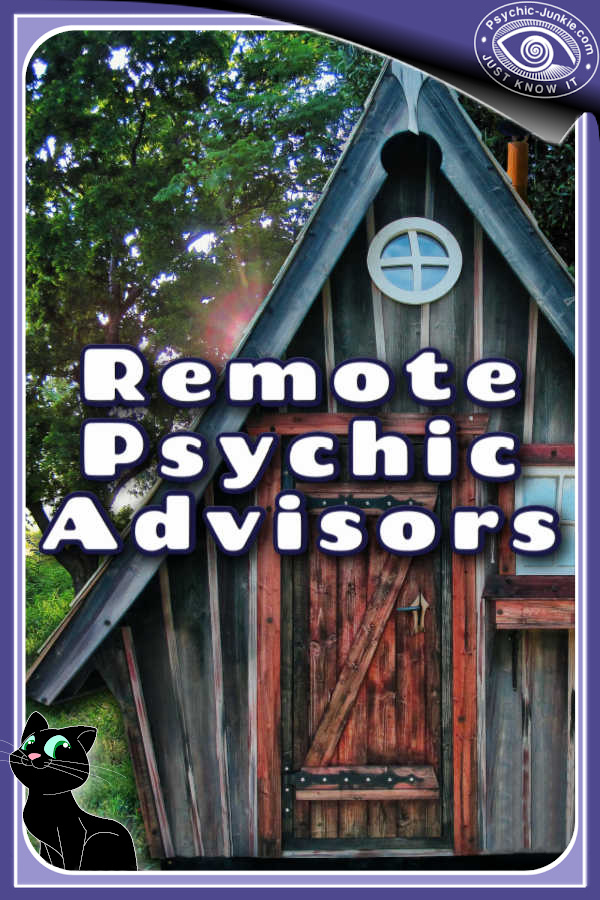 You can live remotely if you are a gifted psychic work from home advisor!
OK, so you are confident with your psychic services, looking for a career change, and you want to know what options are best for you so you can start making a healthy living from home using your spiritual gift. Great, here we go.

How to get yourself into the psychic work from home market.
One thing to understand is that while everyone talks about this work being a job, it is really about being self employed in your own psychic business. No-one pays set weekly wages - really - no one! In an independent contractor position you will earn a set rate for each minute that you are on a call or a percentage of the rate per minute charged to the client. Set rates usually start at or under $1 per minute and percentage rates can start at or under 30% and can go higher around the 40% mark. (30% of $4 per min means you earn $1.20 per minute)
Psychic self employment is a great way of life. I, for one, have always loved my psychic work from home lifestyle. The main reasons are the freedom it gives me to set my own schedule and work my own hours so I can make as much money as I need. But when I first started professional psychic reading it was face to face with clients in my own New Age Store.  And when I first joined a phone psychic network it was after only after I had sold up shop and moved to a new location. I was recruited by a good psychic friend already working with the line. 
When you work a remote job as an online psychic there are plenty of options. You can offer online chat, Skype calls, video chat, webcam work and even text and email psychic readings if you don't like talking on the phone line.
Develop your own specialty. Whatever way of connecting with clients you choose it's always good to develop a particular niche. Perhaps you are great at dream interpretation, or you excel at psychic medium readings, remote viewing, or fortune telling. Maybe you are better at giving psychic tarot readings? How about doing palm reading online, by getting your clients to email a photocopy of their palms? Can you offer numerology or astrology readings? Using tarot cards to give love readings is always a good idea. Giving regressions into past lives is another theme worth considering if that is your forte. The important thing in this sort of work is that the types of readings you offer are up to you.
Who are my clients?

Some are love life clients who will want to know about an affair, or how to end a relationship, others how to save a relationship. Often it's nothing to do with relationships at all. Career advice, how to get better results in business, spiritual guidance, psychic development - you name it people want to ask a psychic consultant like me about it. Psychic predictions can be provided in so many ways, whatever your talent you can find a way of incorporating it into your psychic work from home job.

You will need to develop trust and a good reputation. Clients look for insight from real psychics they can trust. You will build trust because being a real psychic you 'get it right!' If you are the real deal you develop a regular client base, one that supports you with a great income in the long term. 

Finding the right psychic work from home opportunity for new advisors.

First, find a company to work with that will give you a firm financial foundation. You want to join forces with one of the large and well established psychic companies. 
Avoid, like the plague, any online psychic jobs advertising premium phone numbers. Premium numbers have been outlawed in most countries, but they do still exist out there in the fringes, even in the United States and United Kingdom. You are in dodgy territory when you see these hotlines being used. You want to check out the reputable companies and the reputable firms all have easy access free-to-call-in numbers. 

The dodgy psychic hotlines ONLY have premium numbers. They are very difficult to contact for help, and if you do start working with them they will push you to stretch the calls past certain minimums or they withhold paying you. Don't waste your time. If you are a good psychic, stick with good psychic sites. Call the customer service number and ask to see their independent contractor agreement so you can apply to become one of their readers. They may put you on a waiting list if they have a full quota of readers. But that's OK; apply to a few more psychic work from home opportunities until you click in with the right one. ll the best psychic reading sites with a large member base, you will be tested and appraised then taken on if all is well. Remember that you will be self employed so that means you handle your own taxes.

You may also be contracted to work with only the one company. That's good ethical practice. Although you can set up a second avenue for online readings in your business, under no circumstances EVER bring a client of one company over to another or to yourself. It's not ethical and most likely not allowed if you read the small print of the contract you will sign.

I keep an updated list of reputable psychic websites with who is hiring now on the the Psychic Job Center page.
---
---
Keep your kindred spirits informed by sharing this article . . .

---
---
Who Else Needs A $30 Psychic Business Plan?
Are you struggling to make a name for yourself as a professional psychic reader? Want to know what you can do to actually start making a living? I have something for you . . .  Learn more > >