Tarot Card Meanings
Quick Locator - By Richi Who
Here is your handy Tarot Card Meanings Locator. Simply click your chosen card from the lists below to display the meaning of that card in a new tab. 
By returning to the Locator tab and clicking a new card you can have several tabs open at once.
This page contains interpretations based on the Rider Waite Tarot deck. You will find tarot card meanings for all 78 cards of the major and minor arcana.
In the course of a reading the figure represented on each major arcana card can either be representing your subject themselves or someone influencing your subject.
This will of course depend upon the context in which the card has been drawn.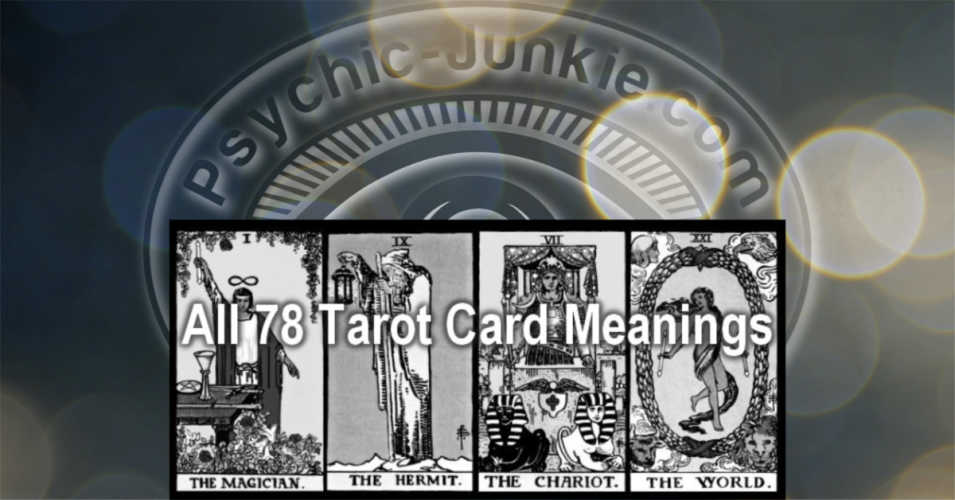 Tarot Card Meanings - Major Arcana
Meanings for the- Minor Arcana
---
Write about your own Tarot Card Meanings

This Tarot Horoscope Spread can be used in a variety of layout shapes. 

Wikipedia says that each card possesses a pictogram and title that represents a specific concept. The belief in divination associated with Tarot focuses on the prospect that whatever cards are dealt to the participant will be revelatory.
Divination using playing cards is in evidence as early as 1540 in a book entitled The Oracles of Francesco Marcolino da Forlì which allows a simple method of divination, though the cards are used only to select a random oracle and have no meaning in themselves. But manuscripts from 1735 (The Square of Sevens) and 1750 (Pratesi Cartomancer) document rudimentary divinatory meanings for the cards of the tarot as well as a system for laying out the cards. Giacomo Casanova wrote in his diary that in 1765 his Russian mistress frequently used a deck of playing cards for divination. Read more.