Tarot Layouts
Life Path and Twelve Monthly - by Richi Who
Tarot Layouts for Fuller Readings. These Tarot Layouts are designed for performing a professional type reading. The first consideration here is what type of layout you are comfortable with, and secondly the nature of the reading.
Sometimes your subject will simply want answers to a prepared list of questions, but more usually the request is simply "to have their cards read!"
Now, assuming you are presented with a subject who you have never met before, who has sat down and simply told you their first name - and nothing else - it is up to you to make a psychic connection, or at least an emotional connection with them.
I find that the easiest lead-in is to perform a life path reading first in order to break the ice and build up something of a picture of their life.
The Tarot Layouts
---
Here is the Life Path Layout which simply consists of nine cards in three groups representing past, present and future.
This is the only Tarot Layout for which I use the Major Arcana only. I usually keep a separate pack of only the Major Arcana just for this purpose.
The purpose of three cards for each stage of their life is the present an expanded picture for each stage.
This is a good layout to test on your friends for practice. Remember - the cards never lie!
---
Having built up a picture of your subject's life you should have established a connection or at least a rapport with them. (Of course I have had to read for clients who refused to confirm or deny anything. After all being a psychic I should know all!) 
---
The Twelve Monthly Reading sets out their life path for the next year.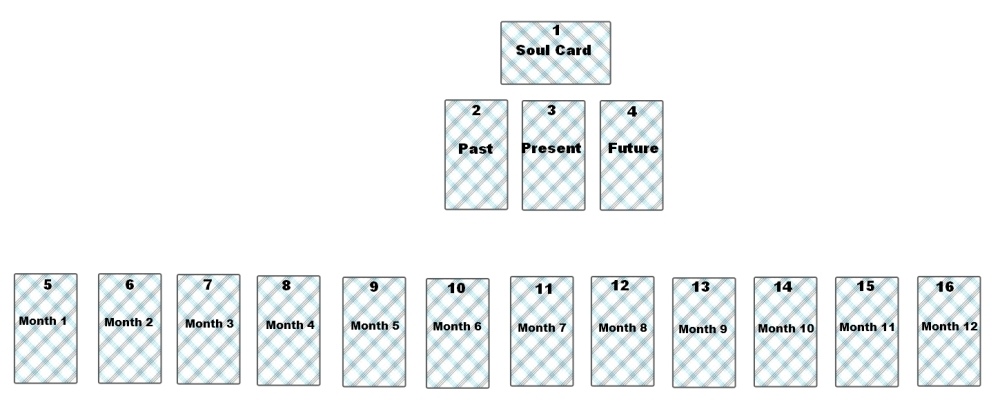 This is the layout I most usually use for a full reading. As far as I am aware it is one which I developed - actually evolved - over years of readings.
Card 1 - The subject/person you are reading for.
Card 2 - Where the client is coming from.
Card 3 - Where the client is at now.
Card 4 - The subjects goals and destiny.
These first four cards are more for your benefit then for your client
Cards 5 – 16 - Each month of the coming year.
The actual timing of the year is a bit nebulous. If the subject is given to procrastination the time line can be stretched. This is something to take into account from cards 1 through 4.