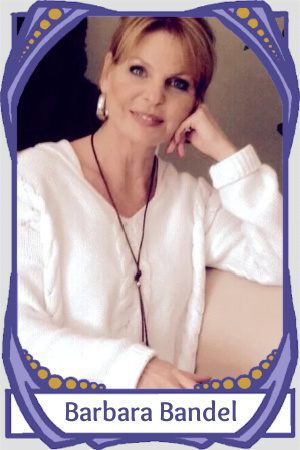 Barbara Psychic Medium has been providing mediumship for more than 25 years.
Here are some of the ways Barbara can help you:
4-Part Course: Develop Your Own Psychic Abilities. We are all born with a 6th sense but when we grow older we learn to use our common sense. I will teach you how to connect with your heart and intuition and your 6th sense. When the course is completed I will tell you which Psychic Ability is the most powerful within you. And I tell you how you can continue to develop your abilities. I guide you step by step.
Personal Soul Script: this is a recording with a reading about you on a soul level. I go into a light state of trance and tell you everything about you, your soul mission on earth, why you wanted to enter this life, who your Spirit Guides are, your connection with your Guides in previous lives and much more. I need a photo and your first name to make a Soul Script. The duration of the recording varies from 30 to 45 minutes.
Free Psychic items:
Free card reading. In 2012 I (well..actually my Guides..I only wrote down what they said) made a card deck. You can ask questions about Love and questions about your current lifepath. You can also ask where you need to focus on today. 
Free meditation. Together with my Guides I made a 'power-half-hour'. In this half hour meditation I take you on a journey (I also bring you back to Earth, don't worry). We will start with relaxation, then connect with your own Guides. We also travel into the Universe and the Universal Library to collect and download the knowledge you want to receive in this moment in your life. The benefits of meditating on a regular basis are huge for your body and mind. It changed my life completely in a positive way. 
Free healing for 30 days. My healing powers are quite strong. Everything is energy. I only need your first and last name. When I've received your email I ask my team of Healing-guides on that same day to send you a healing. I need permission from you to do this. If you want to ask a healing for someone else, he or she has to give me written (email) permission. I will ask for a healing for you, every day for 30 days. If you want to receive more healing you can email me again after 30 days. Unnecessary to say that you should always seek doctors advice if you feel pain or discomfort. My services are not a substitute for professional services. I can't and will not give you any guarantees. I also want to say that I do not sell your email address to third parties and I will not use your email address for newsletters and so on. 
Barbara Psychic Medium Website: www.BarbaraTheMedium.com
A Psychic Mediumship Course You Will Have Fun With
When we grow up, we learn to use our mind more than our heart. This leaves you disconnected from your intuition and doubting when your heart speaks to you. As well as a full Psychic Mediumship Course, I can give you some free help to train your intuition today.