Adelaide Psychic Maria Jones Reviewed
I have had two readings from Adelaide Psychic Maria Jones over the past 4 years, I think she is an amazingly talented woman and has a very special gift. She told me things that I have never mentioned to anyone. by: Anonymous Jan 22, 2012
_______________________
Adelaide Psychic Maria Jones was an incredible woman and also incredibly accurate.... I would recommend her to anyone as she was 98% accurate and knew things that nobody could have possibly have known..... I would have to say she was absolutely INCREDIBLE.... by: Anonymous Feb 04, 2012
_______________________
Ms Jones has one of the best reputations in Australia her accuracy rate is amazing. by: Anonymous Apr 20, 2012
_______________________
I have had two readings with Maria and also know her on a personal level. My experience with her has been nothing but positive and she told me things that nobody (BUT ME) knows. Things I have never shared with my closest friends and family. Maria is the REAL DEAL and is the best Psychic in Adelaide in my opinion. by: DK May 31, 2012
_______________________
Dear All, I have seen maria over a span of 8 to 10 years. I have lost track of when I first met her but my family and I have never had any problems with her. She is accurate and very insightful.
I hardly say a word when i am in there, and the information i am given is pretty much spot on. Much of what I am told is referenced against a personal family Feng Shui master whom has been an advisor and mentor to me over the years, so I have little doubt in the information told to me by Maria.
Keep up the good job Maria. She is one of the most accurate psychics I have met in Adelaide. I can only think of one other whom I can not remember his name. by: VL Jun 04, 2012
_______________________
Where is she now? I went to see Adelaide Psychic Maria Jones four years ago she is amazing, Iwant to go back but can not find her number!! could you please give me the name of the place she is working at so i can contact her. by: Anonymous Jun 12, 2012
_______________________
Be Your Own Judge. I have seen Maria on two occasions and have been utterly blown away with her accuracy, especially on things that are personal and private and only known to myself.I have been to two other psychics over the years but Maria stands out among them. She is gentle, kind and caring in her delivering of information. by: Claire Jun 13, 2012
_______________________
Help in getting Adelaide Psychic Maria Jones contact details?
I have heard thrugh a friend that Maria Jones is the go to psychic if you really want some answers, yet I have been unable to locate her contact details, can anyone please point me in the right direction to be able to contact this woman.
Bright blessings to all. by: Mel Jun 17, 2012
_______________________
Adelaide Psychic - Maria Jones Contact Number. Hi Mel, I believe that Maria Jones's current contact number is 0411 513 263 with approximately a 10 month wait. Good luck.. by: Anonymous Jun 23, 2012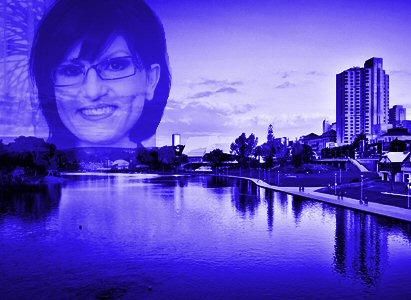 Adelaide Psychic Maria Jones
_______________________
Honesty. I've seen Maria over the last 13 years. I have been always very impressed with her information. I have found her to be honest and straight forward.She has told me information that only i know and have not shared it with anyone. This has included even names and dates. I've never been able to get in on a cancellation, I normally wait 12 months.
I also personally known friends and family that have seen her. They have all been very happy. Only my sister was some one that Maria couldn't read. She didn't charge her and ended the session within 5mins. And if you in a session with her and you personally believe that she is not connecting she will stop, not waste your time or charge you either.
You know when you are having a reading within mins if the person who is reading you is connecting or not. She will not see you more then once a year.. My friend tried to sneak in after seeing her only 6 months before hand. Adelaide Psychic Maria Jones refused to see him and told him he had to wait at least 12 months before seeing her. by: Angela Aug 09, 2012
_______________________
Maria blew me away with my reading! She knew things no one could of possibly known - things I have never told a soul. The information given to me was delivered in a nice caring way and I shall be going back to her once a year to get updates :-) by: Ally Aug 10, 2012
_______________________
Maria Jones - Truly gifted, kind & amazing.
I first saw Maria Jones in the year 1999 - just after a very close relative unexpectedly passed away. I did not mention this at all and during the reading she asked me - "Who is Peter, he is here & he says he loves you & he's sorry. He says he wasn't meant to go so soon".
Peter was like my big brother & he died in a car crash.
Maria has always been kind, caring & accurate, and I see her every couple of years for a reading. Sometimes she tells me wonderful things - like the actual date my dog would be born or things I didn't want to believe - like my EX partner was a chronic drug abuser & cheater and would never ever change. (both of these things I knew - I just didn't want to admit to myself). 3 years ago she also told me about a wonderful man who I would meet when I least expected it- who was quite arrogant, that would be 2 yrs younger than me, highly intelligent & very loyal & committed. That man is now my boyfriend of 7 months & I met him when i answered the front door of my best friends home (after I went for a 5K run - stinky, sweaty etc etc )
Adelaide Psychic Maria Jones your an amazing person - thank you for being you.
by: Helen Aug 23, 2012
_______________________
Hi I saw Adelaide Psychic Maria Jones 12 months ago - Aug 2011 and may I say she blew me away, I got in straight away to see her. At the reading, I told her nothing, I walked in and off she went. I don't know what the nay-sayers are talking about. My sister then saw the following month and had the same experience.
Another sister saw Maria Jones a few weeks ago as there were inexplicable things happening in her life - all within 1 week and she was equally blown away and she is a bit of a sceptic.
I have since moved interstate and will be booking my next reading with her for a phone reading as it has now been 12 months.
Maria Jones tells it like she's told it - she doesn't beat around the bush and she doesn't pretty it up - some things were a bit hard to swallow but that's probably why I had trouble hearing those things.
All in all, I would strongly recommend Maria Jones to anyone really wanting some answers. by: Anonymous Sep 17, 2012
_______________________
---
Links for Adelaide Psychic Maria Jones
Contact Adelaide Psychic Maria Jones