The Psychic Interview Questions That Will Spotlight Your Magic For Us
Ian Parkin is the author of this post.
My psychic interview questionnaire is designed to reveal your talents and gifts. If you are a practicing psychic, intuitive, tarot reader, astrologer, or medium I would really love to publish your answers on this website.
Your interview will appear on a web page in the way you enter it in the form below.
When compiling your answers it may help you to stay on track if you copy and paste the question you are answering immediately above each of your answers.
But please feel free to enhance this with answers to any questions you think could be added to the list.  And drop any questions below that are not relevant to you.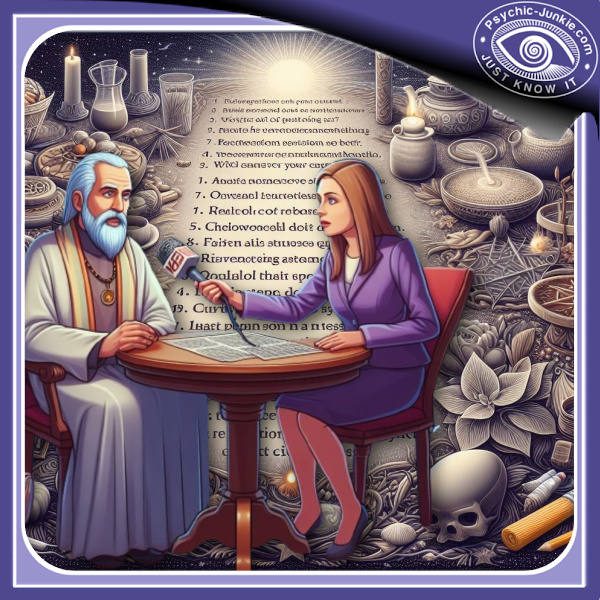 More help:
If you would like to print out the questionnaire before completing the interview you can download a PDF here. (Right click the link and select 'save as' then print it out)
If you have a tendency to over-promote yourself read my guide on Advertising Psychic Services.
Prefer to write a Guest Post? I'm always looking for writers who want to share their psychic articles.
My Psychic Interview Questionnaire
1) Psychic Realizations
Describe how you first realized that you had psychic abilities.
Why is being a psychic so important to you?
Describe your journey into the psychic world.
2) Psychic Abilities

What spiritual skills do you have?
Please share any thoughts you have about psychic being a special ability.
How have your abilities changed over time as your own wisdom increased?
What are your thoughts around everybody having a certain degree of psychic power?
What are your personal spiritual views regarding the psychic realm?
3) Significant Psychic Experiences

Please share your most noteworthy personal metaphysical experience.
4) Reactions to Psychics

When do you avoid telling people that you're psychic?
When do you like to be very open about being a psychic?
What do you most want the public to know about you?
5) Star Signs

What star sign are you?
What makes you typical of your star sign?
6) Psychic Consultations

What is your general approach when you read for people?
What can you share about your most fascinating reading to date?
What do you most want people to know about your services?
How should new clients connect with you? (Website/Phone/Location/Email)
* Submission Agreement for Psychic-Junkie.com
Your psychic interview submission to this site must be original and created by you (not copied), in good taste, legal, accurate and true, non-defamatory, non-threatening, non-confidential, non-infringing of copyrights owned by others and relevant for this site.
Psychic-Junkie.com reserves the right to reject your submission, or to edit/delete any parts of it that violate this Agreement. Psychic-Junkie.com may also edit to improve clarity (e.g., typos). 
By consenting to this submission agreement you certify that you have the right to submit the text and photo(s) that you are submitting. Your submission signifies agreement to the above and that you agree to grant to psychic-junkie.com an exclusive, royalty-free, irrevocable, transferable, perpetual license to publicly display your submission on psychic-junkie.com. Submission of photo(s) or other image(s) is on a non-exclusive basis. You grant psychic-junkie.com the right to pursue anyone who copies your submission.

Images can be added in step two. Adding at least one image will significantly help in the social sharing of your page and helps me promote you.

---
Please use this form to post your interview answers.

Step 1 - what area of expertise do you need?

Step 2 - which type of reading do you prefer?

Step 3 - what level of experience fits your needs?
Use this wizard to connect with your perfect online psychic today!