The pages below include content from multiple authors. I have verified and approved these submissions. – Ian Parkin
Re: Aloha Astro Reviews - Noor Ali - Brooklyn USA
I had one session with Dee last month, and I've been thinking about it everyday since then. Dee is kind, intuitive, and a great listener that really try her best to understand what is it that you most need to know more about. Not only she does that perfectly and effortlessly, she gives you insights and tools on how best you can create the environment you desire for yourself. She explained my birth chart in full details, and took the time and effort to do the same for a person I'm interested in. She's extremely attentive and non-judgmental, and that alone gave me an immediate sense of safety and trust. The session I booked was for an hour, but she went on more than twenty minutes beyond that to really deliver her message that was so very accurate. Booking a session with Dee is a precious treat you can give to yourself, or others. Trust me on that. 

[Re: Aloha Astro Reviews]
I love talking to Dunnea. She's a sweet, worldly, kind, honest, and open minded soul whose readings are accurate. She's my number 1 reader.
Re: Aloha Astro's Readings - by S Fawn (Oglesby USA)  I've been receiving readings from Dee for 20 years now and her insights have always been amazingly accurate. I consider her to be one of the best astrologers due to her wisdom, intuition and knowledge. I always receive clarity and guidance after our time together. She is clear and thorough as she delivers the information from the cosmos. Dee is incredibly personable, compassionate, and her intuitive skills are astonishing.
My Psychic Review.  - Jessica S - Staten Island USA
Dee with Aloha Astro is simply amazing! She is a gifted intuitive who has really given me clarity into my current life challenges and the best possible out come with a mix of runes and cartomancy . I highly recommend her services she is truly a master of her craft.
Re: Aloha Astro Reviews -  Natalie J - Santa Rosa USA
I was recommended to Dee and am so glad I reached out to her. I was feeling unsure about what steps to take next in my life, and she was able to give me a lot of clarity. In addition, she was super easy to talk to. I'm really grateful for this experience. Thank you!
Re: Aloha Astro Reviews - M Marsh - Orlando USA
Dee is a gift. She has given me such insight and every single thing she has said to me resonated completely. She is a high vibration soul and I am so thankful to have crossed paths with her. I highly recommend her. She won't disappoint!!
---
Re: Aloha Astro Reviews - I first noticed Dunnea on Quora. She answered my astrology question and I thought she was very knowledgeable. I had my first reading with her about a year ago and another one with her recently. Everything she said made perfect sense. I've been to dozens of psychics to understand what was going on and my next steps. Going to them is like getting bits and pieces of information to try and put the puzzle of life together. Going to Dunnea is where I get all the information I need to see how all pieces of the puzzle fit. Really helped me in my career and choices. She's professional and great to talk with also because she listens and answers my questions. - Gabrielle T. (Lilburn USA)

---
Re:  Aloha Astro Reviews - I've had several readings with Dee and her accuracy never ceases to amaze me! She is also a pleasure to talk to. Never judgmental, very honest and always sweet! She has become my go to for astrology and Runes readings. - L Banister (Napa USA)

---
Dee has helped me many times during my career transition. I highly recommend her, if you are looking for clarity/guidance of your birth chart and transit analysis. - Roz Roberts (Long Beach USA)
---
I had a reading in May from Aloha Astro and she was amazing!!! The best reading I have ever received. She was recommended in a chat room and did not disappoint! - Kellie Farrish (Antioch USA)
---
Re: Aloha Astro Reviews: Sweet, genuine, intuitive, understanding, and thoughtful. A bright light and a mother figure. The sweetest soul and a phenomenal reader. Beautiful on the inside and out, with intuitiveness to match. - Danielle George (Laurelton USA)
---
Aloha Astro Reviews - I have had previous readings with Dee in the past and usually go to her for guidance when I feel I am at a crossroad in my professional or personal life. She has been accurate every single time. There are times during the reading I will think that's not possible and sure enough it happens around the time she said. I have also been thinking and contemplating things that I did not tell her and she would tell me what I was "possibly" thinking. I won't go to anyone else now. She truly is amazing. - by Kourtney M (Edmonton Canada)
---
Aloha Astro Reviews - Dunnea Ray Is An Amazing Reader: I use Dee for both chart readings and runes, I've been using her for two years now and she is highly accurate with both. She is a pleasure to talk to and completely non-judgmental! (K Clarke)

---
Have had several readings over the years and could tell some were mostly guessing and seemed to always say only good things for me to leave feeling happy and none of it ever came to pass. Dee on the other hand said things about my life immediately without me telling her anything but my name and birth-date. She even shared something I didn't want to hear. Dee told what she saw and didn't give any fake feel good story about which I appreciate that. She is definitely gifted. I am so happy I saw someone post about how good she is on Facebook. I also like that her rates are affordable. I am looking forward to doing more readings with her in the near future.
- by Ck Young (California, USA)
---
This was my first time calling her.  She's fantastic! Super sweet and goes above and beyond. I was amazed at what she picked up without me even telling her anything besides my birthday. She did a combination of runes, destiny cards, numerology, and my natal chart. Plus, she created a Daywatch Calendar for me. She went into great detail about everything that she saw for me and was very informative. She also gave me some useful advice too in regards to my career! Definitely worth the money in my opinion and I plan on speaking with her again in the future.  Oh, and she did give me a few predictions regarding love and money. It's too early to tell whether or not they'll manifest, but I'm sure that they will.  Thank you so much Ms. Dee!

- by Danielle (Cincinnati, Ohio, USA)

---
Once again, thank you Aloha for your amazing insights. You have been a beautiful guide over the past years on this journey called life.  If you have not tried vibing with Aloha you are missing out!
- by N. Harvey - USA

---
Re: Aloha Astro Reviews. I had my first session with Dee and loved it! She's accurate, studious and attentive! Definitely will do more session with her!
- by Paty, Pasadena CA, USA
---
Dunnea Rae has been the most amazing reading I have had to date. She has an awesome way about her that tunes into your spiritual levels. I recommended her to my believer and non believer friends and family alike and the results are always the same. They leave with a sense of enlightenment.  I truly respect her vision and her kind words. Thank you for always being available to help guide me on my life's journey. 
- N.H. New Jersey.

---
Loved My Skype Session With Aloha Astro
I have had an in depth relationship reading with Dee before and sought her out again. I love astrology but the Magi Astrology brings another level to understanding relationships and compatibility. She did runes for me and destiny cards also and I left the session with a newfound clarity on some issues I was currently going through. Everything was spot on. It was very helpful. I will highly recommend her services. Lovely person to deal with and very easy to ask your questions in a live Skype session. I contacted her directly and she emailed me back within the hour. Got the reading the next day.
- Melanie, Melbourne, Australia 
---
Dee - Aloha Astro
I had my first astrology session with Dee and it was amazing! She's very knowledgeable and provided me with perspective on different life aspects. I strongly recommend her to anyone looking into exploring this great tool of astrology.
- Coral, Florida USA
---
Dunnea Rae was incredible.
Anyone looking for an insightful, thoughtful, attentive, and kind women with an finely attuned insight with the cosmos NEEDS to speak with Dee.
- Courtney Houston, TX USA

---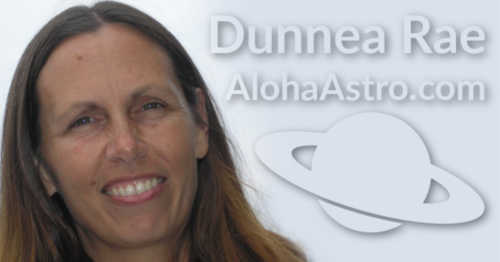 Interview With Astrologer Dunnea Rae Of Aloha Astro
My name is Dunnea Rae, but many people call me Dee. My intuitive abilities and interest in metaphysics began when I was six years old. My grandmother visited me in spirit at the time of her passing. Saying goodbye and that she would always be with me. Learn more > >

---
Post Your Aloha Astro Reviews
---
To add Aloha Astro Reviews or comments about Dunnea Rea please use my contact form. Please start the conversation with the heading [Re: Aloha Astro Reviews].
---