Ask Crystal Ball Questions
About my Free Psychic Readings on Facebook, where you get to ask crystal balls on Love, Money, Career, Wellness, and Spiritual themes.
Here I can include more help and pointers on how to best use the regular free scrying posts I share on my Facebook page.

First pop over to Facebook (opens in a new window so you do not lose this page) and remember to LIKE the page so that you get the new posts when I put them up.
Each unread Crystal Ball scrying (or unread Free Tarot Reading) will be pinned to top of posts to make them easy to find.

You will see my image containing five crystal balls on the post. They are numbered 1 to 5. Each has a theme.
1 - Career   2 - Money   3 - Love   4 - Spiritual   5 - Wellness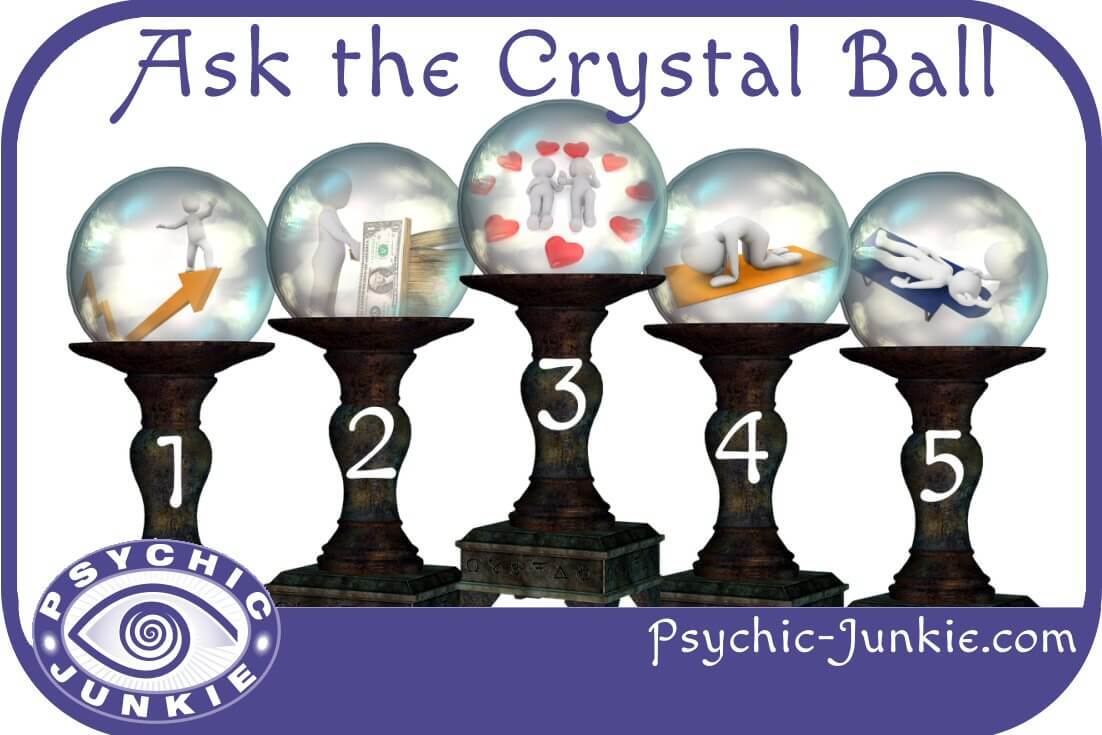 How to ask your free question:

Please be in a relaxed state of mind as this will help you tune into the psychic realms. Think of one question only for the scrying and match the theme of your question with the relative crystal ball. Imagine projecting your question into the ball. Hold the thought for a minute or two, then let it go.
Please add your own magic and appreciation to the mix by sharing the post and liking the page.
How to get your free answer:
Keeping your question secret to yourself, just type the number, of the crystal ball you are asking, into the Facebook comments under the post on my Facebook Page (@onlinepsychicadvice). 
As soon as I have scryed the crystal ball for each theme I will post the answers and place a link into the comments and on the post. I will then place a LIKE  ❤️  on your personal comment so you know your answer is available. (You will get an instant notification through FB saying "Psychic Advice and Coaching reacted to a comment you left".
---
---
More Ways to Ask Crystal Ball Questions
For answers to pressing questions here are a few other ways to engage psychics who Ask Crystal Balls
For personal crystal ball readings with me please check my online status here.
---
You can use [Crystal Ball] in the psychic search engine to find more on the subject.
[FTC - Affiliate Marketing Consent]  If you click a link on this website that leads you to a product or service and you buy it, I stand to earn a small commission. This is called affiliate or referral marketing. 
[GDPR - Cookie Consent]   Cookies help me deliver my services. 
By viewing this website, you agree to my use of cookies and affiliate marketing. - Learn More