See The Different Clair Senses Used In Our Psychic Readings

Ian Parkin is the author of this post.
What are different clair senses?
The clairs are our soul senses. They are our natural psychic abilities. The three main clairs used in psychic and mediumship readings are Clairvoyance, Clairaudience, and Clairsentience, but there are, lesser used, different clair senses listed below. 
To best understand the clairs as soul senses it helps to know that we are souls having a human experience, rather than humans trying to understand the supernatural. 
Being human we sense the world around us through our psychical senses. When at the beach we can see the horizon, see the ocean and see the sand we walk upon. We can hear the waves crashing at the shoreline, hear the wind and the squawking of the seagulls. As we walk to the water's edge we feel the sand between our toes, then the chill water splashing our legs, and if we take the plunge we feel the ocean envelop us and then float us to the surface. We will also taste the salt in the seawater, smell the washed-up seaweed, and we know to what depth we can go out to depending on our swimming ability.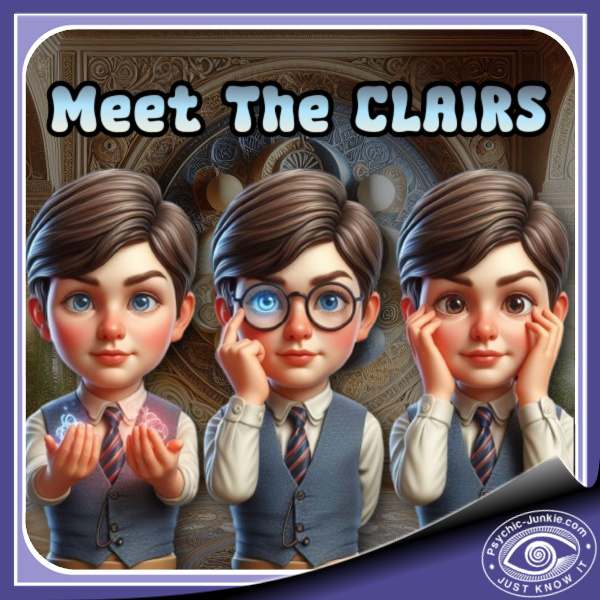 Being aware that we are each a soul, experiencing life in our human form, we can also utilize our soul senses – the clairs. In developing your spiritual connection, you can utilize your intuitive level sensing of sights, sounds, and feelings etc.

The simple analogy for this is to think of a TV set. We cannot see, hear or feel the TV signal as it passes from the broadcast station, though our TV antenna and into the television – but it IS there. The TV tuner must be tuned in to receive and convert those signals for us. 
Likewise we can tune in and access the clairs with a brainwave frequency of around 7.83 hz. I call this alpha/theta level psychic resonance.
With psychic resonance a psychic medium can tune into the soul level signals of our loved ones 'living' in the afterlife (as well as guides and angels etc). And our loved ones living in the afterlife can learn to broadcast a signal to psychic mediums and the psychically aware, (as well as to their loved ones directly through dreams, symbols and coincidences). 
With psychic resonance a regular psychic can tune into the soul level signals of their clients. And as the soul level is in the realm of Time/Space not Space/Time we access past present and future all in the moment of now.
How Do The Different Clair Senses Work?
While the word clair is French it actually originates from the Latin word clārus meaning CLEAR, in modern day psychic circles the word really means INTUITIVE CLARITY or refers to clarity at soul level of the different clair senses. 
Clairvoyance works with clarity of intuitive vision or clearly seeing soul level transmissions.


Clairaudience is clarity of intuitive hearing, or the ability to clearly hear soul level transmissions.


Clairsentience is clarity of intuitive feeling, or the ability to clearly feel soul level transmissions.


Claircognizance is having the ability to clearly know something from soul level transmissions, or clarity of intuitive knowing.


Clairalience means the ability to clearly smell soul level transmissions, or clarity of intuitive smelling. 


Clairgustance is the ability to clearly taste soul level transmissions, or clarity of intuitive tasting.
To name any other soul level sense just add clair!


Step 1 - what area of expertise do you need?

Step 2 - which type of reading do you prefer?

Step 3 - what level of experience fits your needs?
Use this wizard to connect with your perfect online psychic today!
More FAQs related to "The Different Clair Senses"
---
How many senses does Clair have?
Scientists say that human beings have between 14 and 20 physical senses, so accessing those on an intuitive / psychic level would mean there are up to 20 clairs also.
What are the Big 6 Clairs?

The main six clair senses are: 1 Clairvoyance (Inner Vision), 2 Clairaudience (Inner Hearing), 3 Clairsentience (Inner Touchy/Feely), 4 Claircognizance (Inner Knowing) 5 Clairalience (Inner Smelling), 6 Clairgustance (Inner Taste).
What are the soul senses?
The soul senses are the same as our physical senses, only we perceive them on a metaphysical level. These extrasensory perceptions (ESP), also known as Spiritual senses, are best known as the clairs. The different clair senses are all the ways a psychic can see, hear, feel and just know things for you. A clair sense can be any form awareness you have as a psychic ability.
To ask questions, add answers, or comments about this page please use my contact form. Please start the conversation with the heading [RE: The Different Clair Senses ].
Or if you're inspired to write an article on this subject please submit a guest post here.

---
---
Keep your kindred spirits informed by sharing this article . . .

---
---
Wiki - Clairvoyance