The Facebook Tarot Card Reading Where You Pick A Free Real Card
Ian Parkin is the verified author of this post.
I always post the latest answers to your free Facebook tarot card reading questions here. To participate you will need to know how to get this offer showing up in your Facebook feed. 
I lay out and photograph five of my tarot cards. I use many different tarot decks, so there is a variation on the intuitive energy each time. 
I've embedded the most recent free facebook tarot card reading post below.
How To Set Your Facebook Notification Setting ON
Important  Steps - if you want to stay in the loop!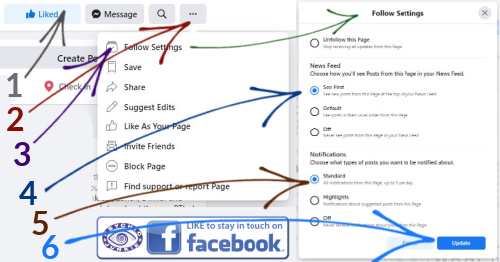 1) First LIKE this page: fb.com/PsychicJunkieWebsite 
2) Click […] click
3) Click [Follow Settings] > (opens Follow Settings tab)
4)  News Feed > Click [See First]
5) Notifications > Click [Standard]
6) Remember to press the [UPDATE] button when done!
How To Get Your Facebook Tarot Card Reading
On my post's most recent Free Facebook Tarot Card Reading image, glance over the cards (left to right) 1 + 2 + 3 + 4 + 5.
In a relaxed state of mind, think of your question and then imagine pushing your question into the heart of the crystal ball (also in the photo).
While doing so, take note of the card number that come to your mind, as if it was emanating from the crystal ball and drifting right back into your awareness.

Then . . .

Type your card choice in the Facebook Comments below the card spread image (not your question, keep that private)
Please add YOUR own magic to the mix with Page Likes and Post Shares
After reading your card I will ❤️ your comment as soon as I post the result
I will post the link back to the results which will appear on this page below
Latest Facebook Tarot Card Reading Post Revealed
---
Card One
Queen of Wands - Influential

The stage is yours. Be the star that you are and shine your light. But remember, it is not what you say, but what you do that carries weight. No need to manipulate others, just create the right environment and all will fall into place.

---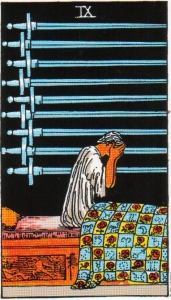 Card Two
Nine of Swords - Anxiety

There is an easier way to get through what concerns you. Trust that, while you may worry, there is very capable help taking care of things. It's time to trust in others, real or imagined, and know that all is to be OK. Knowing that all is going to be good, what would you do next? Do that thing.

---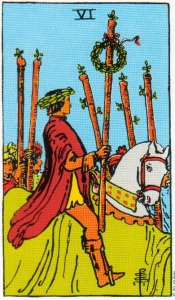 Card Three
Six of Wands - Recognition

Others can benefit from things you are good at. Stand up for what you believe in. This may be the time to stop following and start leading. It is not as lonely at the front as you may think. Only form partnerships with equals or above. Your ongoing success inspires others to follow, so do not drag the unwilling, you can leave them behind. 

---
Card Four
Eight of Cups - Withdrawal

One way or another it is time to loosen the grip and let go. This can be a gentle release that will be providing a kindness to some-one or some-thing. Clinging on will not really change things, it will just put the transformation out of sync. Best go with the flow to set yourself up for pleasant surprises. If this saddens you, know that there is a silver lining to your cloud.
---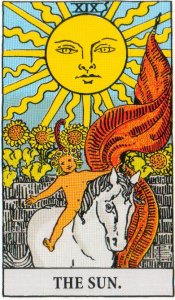 Card Five

19 - The Sun - Revelation

The angel at your shoulder is saying "all is well", and "play along". So, take yourself off to the funfair of life and participate fully. Keep things simple and keep things sweet, you just do not yet know who you will meet! 
---
Earlier Facebook Tarot Card Reading Post Revealed
---
Card One
Queen of Pentacles - Protective

If you have concerns about forthcoming travel, ventures, or projects being safe and sound, take this message as an indication that all will be well. I'm sensing a mix between guardian angel and a racing driver guiding you all the way (sounds like a crazy combo). Maybe you need to get going, in a hurry on a safe path!

---
Card Two
Seven of Wands - Perseverance

Stick to your ideals and do not let others influence you away from what you want. If doors are closed to you, just keep going until another door opens. There is no point in pushing against opposition Move around it, over it, or under it, but not through it. There is an easy way, follow that path as it opens to you.

---
Card Three
Ten of Pentacles - Stability

Even though things seem good as they are, this is a message to let you know it can all be even better. I'm really drawn to something at a distance. It feels like you are not yet aware of greater opportunity lining up for you. You will be tempted out of your comfort zone. That temptation has substance and truth. But it may all seem too good to be true to you. Be steady yet adventurous and you can go far.

---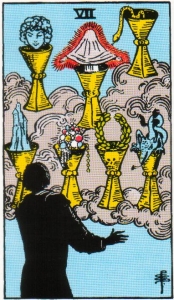 Card Four
Seven of Cups – Imagination

What you are visualizing in your mind's eye is truly taking form – even though you may not believe that yet. Make sure you are dreaming up what you do want and not manifesting what you fear. If you are not sure, take lessons in the creative visualization process. There is a lot at stake, so you may as well have a lot turn out very well indeed.
---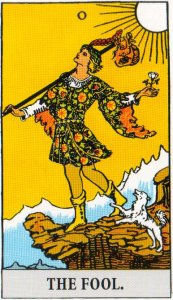 Card Five

0 - The Fool - Begin

I'm hearing music, I'm feeling the wind at your back gently edging you forward, I'm sensing the sun shining on your path. Be adventurous, don't make too many plans, step onto the first stepping stone you see, even though you do not understand where it leads. Dare to let spirit guide you.
---

Step 1 - what area of expertise do you need?

Step 2 - which type of reading do you prefer?

Step 3 - what level of experience fits your needs?
Use this wizard to connect with your perfect online psychic today!
---
Important Reminder - so you can stay in the loop!

How to LIKE this page fb.com/PsychicJunkieWebsite
My free facebook tarot card readings provide general information and guidance. I am unable to answer individual questions personally as the process through which I connect with each client takes more time and focus.
If you are looking for specific answers please consider a personal reading direct with me, available via the links below.
Ian Parkin

is owner, webmaster, and the go-to seer of this Website.

35 Years Providing 

Professional Psychic Services



Clairvoyant Readings Direct with Ian Parkin




Available in 24hrs by

Email

 and 

Phone, Skype, or Zoom

 by appointment