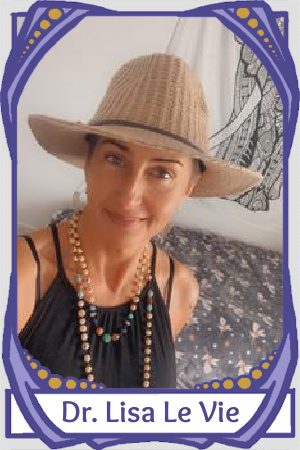 About Dr. Lisa Le Vie.  
Healing naturally, this is what I am passionate about! I believe in a holistic approach to healing. I am a Certified Traditional Naturopath with a doctorate in Naturopathic Medicine, a Bach Flower Practitioner, Certified Master Herbalist, Certified Nutritional Counselor, Certified Health Specialist, an ordained minister, a Spiritual Intuitive & Medium, a Licensed Massage Therapist, and a Reiki Master Teacher - Practitioner. I am a graduate of the Trinity School of Natural Health and I practice all of my modalities on both humans and animals. I teach and practice the "Usui Shiki Ryoho" tradition of Reiki and provide holistic and spiritual wellness to my clients through modalities such as reiki, massage, meditation, chakra alignment, sound and crystal healings, Bach Flower remedies, herbal remedies, diet & wellness consultations, and spiritual guidance through angel oracle & tarot card readings and intuition.
I would love to be a part of your journey of betterment. I can be reached on my social media and website for distance and in person appointments. All appointments can be booked online. I look forward to working with you! Be Blessed!!
Wellness Factions, LLC - Dr. Lisa Le Vie
instagram: @tampareikilove
facebook: @tampareikilove13
Guest Posts On the Psychic Junkie Website: