The Hoodoo Spells of Mark Star aka Doctor Midnight. - Spells to Bring Back Lovers, Stop Divorce, Love Drawing, Breakup Wrong Couples, Get A Marriage Proposal, Law & Judgment Favor, Better Health, Lose Weight, Casino Luck, Better Job, many more.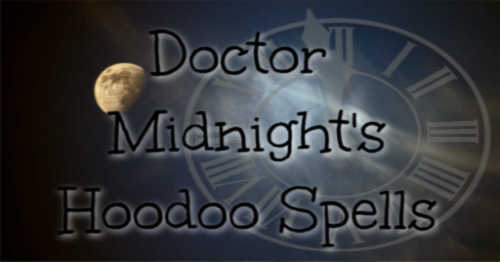 Mark Star aka Doctor Midnight
Over 35 years experience as a professional psychic, spiritual worker, and caster of hoodoo spells in New Orleans, LA, USA
Abilities:
Clairvoyance - Perception outside the known human senses.
Precognition - Perception of future events before they happen.
Remote viewing - Gathering of information at a distance.
Telepathy - Transfer of thoughts or emotions, especially knowing another person's thoughts. 
(Awaiting contact information update.)
---
Comments About Doctor Midnight's Hoodoo Spells
---
Clairvoyant Readings of Mark Star - by: Bonnie Jenkins 
I have been calling Mark Star for years. He goes by Dr. Midnight. He has accurately gave me predictions with time frames over and over. I'm so pleased to have him guide me.

---
This Doctor Midnight - by: Nancy Hoffman
I have been calling Mark Star since 2008. This Doctor Midnight, as he is called, has always given me my current situation and explained why I was going through the trial at hand. Then, he tells me how to turn the bad situation into something good. Any time I have asked him about a time frame, Mark has always been honest. Best of all, he has done two hoodoo spells for me and they worked exactly as described. One was for my ex to leave me alone. My ex-husband was always trying to be involved in my business. He had a new girlfriend but still was calling ask about my bills, plans, job, etc. Mr. Mark cast the spell and he finally disappeared a week later. The next spell was to find a suitable boyfriend. I had been meeting losers and was getting depressed with all the meetups that were not going anywhere. The spell was nothing short of amazing. Less than two weeks later I had two professionals ask me out, including a manager at an old job, and my new neighbor down the street. I highly recommend Mark Star for readings and Hoodoo Spells.
---
Best Hoodoo Spellscaster Ever - by: Mother Lover
Mark Star cast a spell called Return To Me just 2 months ago. Since then, my ex broke up with his girlfriend and started dating me again. I know Mark Star's work is the real thing! Thank you Mark Star for your hoodoo spells did for me. Sincerely, Dawn
---
Thank You - by: Gayle 1961
Mark is absolutely the best. He doesn't waste your time or your money and if he really doesn't see something, he won't tell you he does! He has been professional and kind, consistent with his hoodoo spells. I am waiting for the latest to unfold.
---
Mark Star | Doctor Midnight - by Tony
Yes! Mr. Mark, it did happen just like you predicted. I went to work on the 20th, my manager had written the best evaluation I've ever got in my whole entire life! I read it out only to find he gave me my pay raise and on top of that more responsibilities! I'm so happy and looking forward for the 24th, 25th & 26th. I'm going to call you again!
---
Total Fraud - by: Anonymous
Had a reading with Mark Star. Very cocky and nothing that he said was true. He kept saying the spirits were telling him things and nothing that he has said has come to pass. Total fraud. Save your money. He said he could save my marriage and my then husband still left me and is happily married with kids with someone else. I don't see how people can sleep preying on desperate souls.
---
Psychic Mark Star - by: Stella
I have been calling Mark Star for years. I've had a lot of problems with my daughter and he helped me get her back and keep her out of trouble. I'm so very thankful for all he has done for me all the numerous times I've needed him.
---
Spell Casting with Hoodoo Doctor - by Terry
I would like to publicly thank Mark for helping me in a situation I truly thought was hopeless. I know what he does, he does for a living, but it's hard not to think of him as a new found friend. In a business that is overrun with people that are looking to take advantage of someone who is broken-hearted and desperate, Mark is someone who is true to his word. He's the real deal folks. I purchased the 'Return to Me' from Mark's hoodoo spells, at midnight on a Friday. It was to get my girlfriend back. She had not returned my call in 6 months. Just 3 days later, she called and wanted to meet me for dinner! Thank you again. - Terry
---
To add answers or comments about Mark Star's Hoodoo Spells please use my contact form. Please start the conversation with the heading [About Hoodoo Spells].

---