William Constantine
World-Renowned Psychic Medium and Ghost Whisperer William Constantine has lectured, conducted demonstrations, and read for private clients for over ten years. He has a lifelong commitment to the development of his psychic ability with real integrity. 
At his public demonstrations and private readings you can obtain fascinating mesages from his Spirit Communication. He delivers his insights into the afterlife from the messages he receives as a ghost whisperer using humor, compassion and honestly, intermingled with a professional gentleness.
William Constantine states: "It's about respect of you, respect of the process, respect of the grief, respect of the pain, respect of the healing, and respect of the validations. I am just a part of the healing process and I am always honored to be a part of such personal journeys."
William Realized his Talents Early Life
Born with the ability to see and communicate with those that have passed on - a real ghost whisperer from the beginning. Growing up was a unique experience, not only was he going through foster care, he was also learning quickly that he was very different from everyone else.
William started picking up insights into the afterlife and giving readings when he was very young. He learned early on that his words had meaning to those around him, and a powerful meaning at that. William was saying things that he couldn't possibly have known, describing places people and situations that he'd never even experienced.
He soon developed a small base of clients, which grew, and once he learned that he could conduct ghost whisperer readings online, his clientele expanded worldwide.
He conducted online ghost whisperer readings, in-person readings, even phone readings with his unique insights into the afterlife, and all the while he was learning something; that he had the ability to bring happiness and closure to those lives that he touched.
William Constantine's clients from all over the world tell him that he is truly blessed, and how he helps them so much. He also finds comfort in being able to relay information showing you that your loved ones didn't just die alone, and how they were in turn welcomed by other loved ones who have passed on.
William Constantine in the Media
Appearing on Sirius Satellite's The Good Life Show with Jesse Dylan and then numerous appearances on several Clear Channel stations' broadcasts, he brought through amazingly accurate insights into the afterlife for listeners. He has also been a featured ghost whisperer on The Joyce Keller Show, Waking up with Wolf, Poppoff with Mary Jane Popp, and various other US, Canadian and European radio stations, satellite radio networks, and internet broadcasts all over the world.
Print appearances have included a feature article in The Register Citizen, Kula Magazine. He writes a monthly ghost whisperer column of insights into the afterlife for TAPS Para Magazine, the Official Magazine for Ghost Hunters.
As his reputation in the psychic community grows, Constantine's clients hail him for the detail and accuracy in his ghost whisperer readings, and his sensitivity to the validations being brought through, always honoring the clients' feelings when presenting his sensitive insights into the afterlife.
William Constantine Links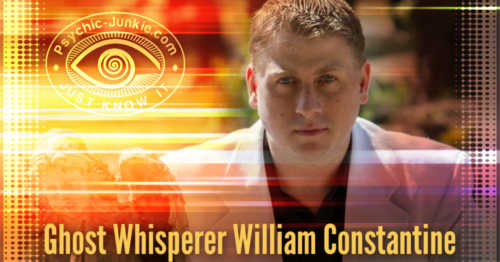 In fact, he is becoming one of the most sought after ghost whisperer mediums and has been compared to famous psychics of the world like; John Edward, James Van Praagh, John Holland, and Allison Dubois.
William says, "We all are equally good and each of us brings our own unique insights into the afterlife to the table. Being compared to some of the greatest in the field today is such an honor and for me, it is a truly humbling experience. I respect, admire, and thank all of them for paving the road for psychic mediums like myself to make a difference."
William Constantine offers private sessions via phone, in person, and through Instant Messaging systems. He lives in Windsor, Connecticut with his fiancée and two children.