Free Psychics
Guidelines and Links for Free Readings
I'm often asked about how to find free psychics. Although I'm a professional myself and work for a fee I realize that there are psychics out there who offer either totally free readings or a free psychic question here and there.
It is spiritually empowering to have money and to charge money for spiritual services such as psychic readings. Money is simply a form of exchange. Exchange for our time, training, and service is necessary and important, particularly in the society and age we live in.
A talented psychic cannot serve in the capacity necessary if they cannot get paid to do what they are good at. Choosing to follow their passion and not waste their days in a meaningless job is why a professional psychic is not in the business of giving free readings. The exception of course is when a free reading is provided as an introduction to paid services to follow if chosen.
Dedicated psychics need time, energy, and money to reach and help as many people as possible. We should all be financially prosperous, getting paid to share whatever God given talents and gifts we have with the people around us.
My recommendation is to dump the poverty consciousness and lack of self-worth prevalent in many spiritual circles. Seek real psychic advice from professional psychics when you can. But if you just don't have the resources to pay for a reading yet, then paying in the time and energy required to sift out a free but helpful reading is a good second option.
I have set out in clear and simple terms my tips for finding free online psychic readings. No money necessary just a little patience and perseverance in finding that ideal connection for your questions. I will add to these pages as I come across even more 'no-fee' psychics for you. So read through my suggestions in each of these links. They will take you to the right starting points for finding free online psychics in various ways.

---
More links to free psychics
For instant answers to urgent problems Sara Freder offers a free reading this way: "I commit myself : if you have tormenting problems or difficulties, I will e-mail you an absolutely free psychic reading. The nature of your problems or difficulties have no incidence. It can be a love problem, or whatever ... What is important is they are worrying you. I am giving you today the unique opportunity to get a psychic reading which can change your life forever. I make the promise I will not ask of you a single dollar for the reading you will receive. Not now. Not later. My psychic readings are 100% free!" Pick up your free personalized reading here.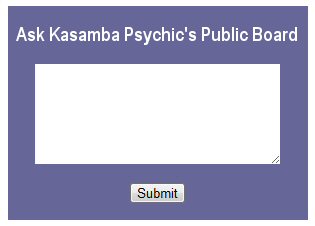 If you have a specific question but you are not sure whom to ask, simply post your request in Kasamba's Public Board and wait for the Psychics to contact you with their answers - - > (Note: Public Board only available on Desktops and Tablets - not on mobile phones)

M o r e . . . 
Visit Free Online Psychic Reading page to browse genuinely free full psychic readings, tarot readings, love readings and relationship advice. Get love help or romantic tips to find your soul mate today.
Read more about absolutely free clairvoyant readings.

You can find free love psychic advice here.
The Psychic Talk with Snake River, may not now be available.
You can recommend your reputable clairvoyants and psychics here.
I am taking free questions as an introduction to my paid psychic service.