I See Writing on the Walls
by Lisa
(Alabama)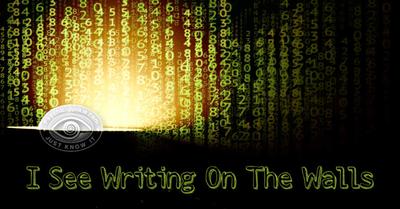 Seeing Writing On The Walls
In 2007 I was lying in bed at my mother's house and I looked at a wall in the corner and a light appeared in that spot with writing on the wall. I had my glasses off and couldn't see what it read and I was afraid to blink because I thought it would fade away. I did eventually blink and the writing and the light faded.

After asking it to come back several times the writing appeared again but I still could not make it out. Days later while lying in bed the writing came back, this time I had my glasses on but it was written in a strange language that I did not understand. It faded but reappeared days later this time in block form going in different directions.

I went into the hospital a few weeks later and lying in the hospital bed with the lights off I saw spirits of people walking back and forth through my room as if it was a passage way to somewhere. I also saw a large white male sit in the chair beside my bed and talked with me but I do not remember what we talked about. I also remember a little boy standing at the side of my bed and I don't remember why.

I later moved into a female friend's house and the writing came back. It was written in Greek or some strange language. I have asked God the why of this and I still don't know.

I temporarily live in my sister's apartment and I have seen the writing again. A strange feeling comes over me when it appears. I have also experienced my bed vibrating twice. I have heard voices of people talking over the years and have had a spirit voice whisper in my ear information about others that I wouldn't have otherwise known.

I sense people's emotions and can read people very well which has turned out to be a blessing and a curse because we as people are not very truthful a lot of the time.

I have had knocking on the side of my bed and the side of my sofa when I am lying on it. I know when someone is going to die or has died.

It's all very strange and I wonder if someone can help me understand this and tell me how to develop these gifts.

Has anyone else seen writing on the wall?