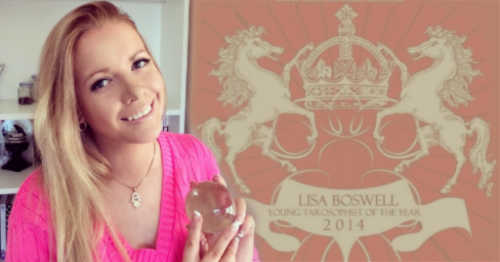 Lisa Boswell is an award-winning divination teacher who currently resides in the UK. Through her websites Divination & Fortune Telling and Read Lenormand, Lisa teaches both experienced and would-be readers how they can predict the future of their love lives, relationships and businesses using Tarot and Lenormand.
Born into a Romany Gypsy family of fortune tellers, Lisa has had an active interest in the occult from a young age. She specializes in teaching predictive Tarot, fortune-telling and divination.
You can find out more about her work through her Divination & Fortune-Telling Website 
Lisa is not only a business coach, and the 'Psychic in Business' e-book is not her main source of income. She has never even been to business school. But she is a professional reader and divination teacher. As her day job, Lisa teaches diviners how to give better readings, find the divination methods which suit them and improve their psychic development. 
In Lisa's own words . . . "For the first couple of years of my clairvoyancy and fortune telling business I was poor. Like proper poor. Like find a penny on the floor and dive for it poor. I was a single parent and that far in the shit I had to borrow the money off my parents for my daughter's birthday and Christmas presents. Just like most other professional psychics, I started in the bottom of the barrel, in free reading request hell. 
I literally taught myself everything, because I had to. Building websites, linking newsletters, finding clients, marketing, everything. It took me a very long time and I did things the hard way; I never reached out to another reader for help or asked a successful person how to get more bookings. I just worked and worked until I figured out how to make it in this industry. 
It's been a few years now since I have penny dived (LOL). I can now say I have a thriving business, career and have seen my fair share of success including: 

Winning my Young Tarsophist of the Year Award for my work with Tarot. 
Worked professionally as a psychic for years while making better than full-time working money on less than part-time working hours. 
Appearing in media all over the world including on TV giving readings to the public. 
Making money everyday while I sleep. No joke. I literally wake up in the morning with new students, subscribers and readers, it's great. 
Having half a million hits to my website, every month. 
Helping other readers improve their readings (BEST JOB IN THE WORLD). 
Having just the best students a teacher could ask for. 
In my e-book, Psychic in Business I will teach you everything I know about finding clients, keeping them and making them come back. Plus, I will tell you how you are preventing yourself from making money and holding yourself back. 
For the cost of your average reading or self-published Tarot deck, this e-book will teach you how to make a living and a career in the clairvoyancy and fortune telling business".