Free Psychic Tarot Readings:
How To Get Them In Facebook
Ian Parkin is the verified author of this post.
I regularly post the latest answers to your free psychic tarot readings questions here. To participate you will need to know how to get this offer showing up in your Facebook feed. 


A real psychic see things clearly from a more elevated place to provide answers and give you quality advice. Each of our trusted psychic advisors have ratings and reviews from people just like you. Get 3 free minutes and 50% off!

I lay out and photograph five of my tarot cards. I use many different tarot decks, so there is a variation on the intuitive energy each time. 
I've embedded the most recent free psychic tarot readings facebook post below.
How To Set Your Notification Setting ON For Highlight Posts
Important  Steps - for you to stay in the loop!
First LIKE my page
fb.com/PsychicJunkieWebsite 
Then . . . 

On my Page click Following 
Click next to see Notifications 
On your notification settings select ON (Highlight Posts) 
now you will find my update posts will stay within your feed's reach and you won't miss out on any future Free Psychic Tarot Readings.


On my facebook post's most recent Free Psychic Tarot Readings image, glance over the cards (left to right) 1 + 2 + 3 + 4 + 5.
In a relaxed state of mind, think of your question and then imagine pushing your question into the heart of the crystal ball (also in the photo).
While doing so, take note of the card number that come to your mind, as if it was emanating from the crystal ball and drifting right back into your awareness.

Then . . .

Type your card choice in the Facebook Comments below the card spread image (not your question, keep that private)
Please add YOUR own magic to the mix with Page Likes and Post Shares
After reading the cards I will ❤️ your comment as soon as I post results
I will post the link back to the results which will appear on this page below
Latest Psychic Tarot Reading Post Revealed 10-11-19
---
Card One
Five of Pentacles - Insecure

False Beliefs Appearing Real (FEAR) My feeling here is that you are influenced by your surroundings. I'm shown you have the answers, but you may not be listening to your own inner wisdom. It's time for you to take the lead and make a success out of what you have at hand. Do not waste time trying to convince others who are just not that interested. Be true, decisive and proactive.

---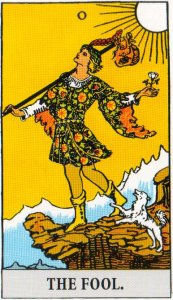 Card Two
0 - The Fool - Begin

It is time to act on that heartfelt burning desire. Because it is meant to be, you will see hints and nudges edging you on. If you have been practicing for something or studying for something yet you are hesitant about getting real, just start. Everything will fall into place once you do.

---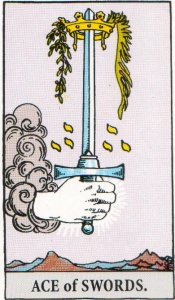 Card Three
Ace of Swords – Breakthrough

If you dare you will succeed. I see for you the recognition of winning. This appears a big issue, so put plenty of oomph into your project/goals/desire. Of course, for every part of your own oomph, the divine will put oomph in too. So, you are not alone, but you are the responsible leader. 

---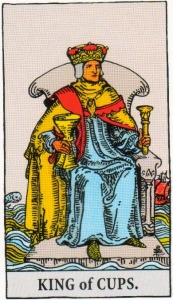 Card Four
King of Cups – Assurance

OK, there is something you have your eye on, yet you focus on what is in the way. Look past the blocks. Do not be distracted by insecurity. This is a message to be calm and determined and act in the wisest of ways. Your happiness ship does come in. So, don't worry, you are to be happy indeed.
---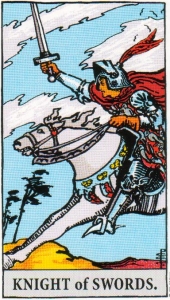 Card Five

Knight of Swords - Idealistic

You may find that things are not turning out as you had expected (gambled upon). But with your passion, energy and momentum you can shape your world into what you want it to be. Don't look back, stay focused on what you want your future to be like. I also notice that in striving to move forward you are well protected from any negative issues of the past. 
---
---
2nd Last Psychic Tarot Readings Revealed
---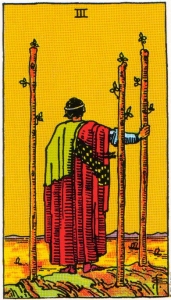 Card One
Three of Wands - Optimism

I have a sense of amplification. Perhaps it's time to tell the world about something, something you may have been holding back on.  It is as if what you intend or hope for is going to turn out much bigger, better, easier than your own foresight can imagine. I also sense great distance so this may relate to long term ambition rather than short term whims and fancy. So, with something serious in mind, just go for it, you are on a winner!

---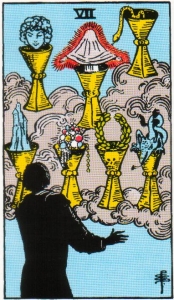 Card Two
Seven of Cups – Imagination

Congratulations, you have just been awarded seven wishes! Make a list of seven things you would most like to happen. Get inspired and get detailed in your mind's eye. I'm shown there is no hierarchy here, so there is no order of priority. Stay focused on your list, and tick off each item as it happens. Your affirmation is simple. "I accept and enjoy, having it all – and everything has helped this to happen"

---
Card Three
Eight of Cups - Withdrawal

What area is it that, no matter how good/much you have, you still do not feel genuinely successful? OK, that thing/area is as good as it gets. Turn yourself around and you will notice the grass can indeed be greener on another side. Fulfillment awaits in the right place. And in that place, there is no struggle. 

---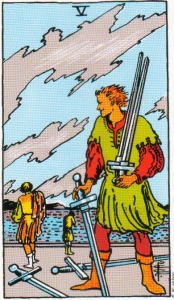 Card Four
Five of Swords – Pointless

You can win an argument but look at the fact that a disagreement is happening. Let go of issues that foster struggle. Take a path of no resistance. Find the door to the happy place and venture in. Wrap yourself in kindness.
---
Card Five

Queen of Wands - Influential

You will have much to be grateful for. Magically, everything around you will come together. You do not have to venture away or stretch your resources. Just relax and accept it all with an open heart. To keep the good flowing allow the energy to pass through you. Share what you can when you can. The more you do, the greater the flow increases.
---
---

Step 1 - what area of expertise do you need?

Step 2 - which type of reading do you prefer?

Step 3 - what level of experience fits your needs?
Leave it to the universe and use this wizard to connect with your perfect online psychic today!

Important Reminder - so you can stay in the loop
First LIKE my page
fb.com/PsychicJunkieWebsite
Then. . .
On my Page click Following 

Click next to see Notifications 
On your notification settings select ON (Highlight Posts) 
now you will find my update posts will stay within your feed's reach and you won't miss out on any future Free Psychic Tarot Readings.


My free psychic tarot readings on Facebook provides general information and guidance and I am unable to answer individual questions personally as the process through which I connect with each client takes more time and focus.
If you are looking for specific answers please consider my professional psychic email service.

Or, you can check out the TOP RATED psychic readers I have partnered with who are happy to offer you 50% Discount and 3 Free Minutes if you are a new customer to their service. 
Comments About Psychic Tarot Readings
---
I have been giving psychic tarot readings for over ten years. I am clairvoyant and I find that the imagery of the tarot really sparks my psychic ability. I like to look at the imagery while I am giving information from my minds eye to someone who has called me.
I feel like it is very important to really work with a deck extensively before using it in readings because the same card in a different deck may have very different meanings. I have one deck in particular that I use for most of my psychic readings.

I like to choose a deck that has a lot of evocative imagery because I am a very visual person. I feel like the longer you work with a deck the more information it will give you. It is important to discover the idiosyncratic meanings that each card reveals to you. It is best not to simply use canned meanings of cards that are written on instruction sheets that come with the deck.

Meditation can be very helpful practice for the psychic advisor. Meditation is known to increase a person's psychic abilities. I like to choose one of the major arcana cards to meditate on for twenty minutes before I go to sleep and then again first thing in the morning. Tarot cards can help awaken your psychic abilities.
by SolsticeSorceress (Olympia, WA, USA)
---
Great Advice - by: Anonymous 
Tarot does indeed give us profound wisdom, not just the cookie cutter meanings found in books. The cards can speak to you with something else or add something to it. Great advice SolsticeSorceress!
---
To post comments about psychic tarot readings or to answer these comments about psychic tarot readings please use my contact form. Start the conversation with the heading About Psychic Tarot Readings. (Note - this form is not for acquiring Free Readings.)