How To Get My Free Psychic Tarot Readings
In Your Facebook Feed
I regularly post answers to your free psychic tarot readings questions here. To participate you will need to know how to get this offer showing up in your Facebook feed. 

I lay out and photograph five of my tarot cards. I use many different tarot decks, so there is a variation on the intuitive energy each time. 
I've embeded the most recent free psychic tarot readings facebook post below.
Important  Steps - for you to stay in the loop!
First LIKE my page
fb.com/OnlinePsychicAdvice 
Then . . . 

On my Page click Following 
Click next to see Notifications 
On your notification settings select ON (Highlight Posts) 
now you will find my update posts will stay within your feed's reach and you won't miss out on any future Free Psychic Tarot Readings.


On my facebook post's, most recent Free Psychic Tarot Readings, image glance over the cards (left to right) 1 + 2 + 3 + 4 + 5.
In a relaxed state of mind, think of your question and then imagine pushing your question into the heart of the crystal ball (also in the photo).
While doing so, take note of the card number that come to your mind, as if it was emanating from the crystal ball and drifting right back into your awareness.

Then . . .

Type your card choice in the Facebook Comments below the card spread image (not your question, keep that private)
Please add YOUR your own magic to the mix with Page Likes and Post Shares
When I have read the cards I will ❤️ your comment
I will post the link back to the results which will appear on this page below
Latest Free Psychic Tarot Readings Revealed
---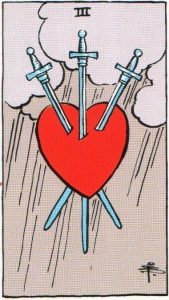 Card One
Three of Swords - Sacrifice
The silver lining is not quite showing yet. So, if you are submersed in sorrow and do not see much to be happy about, fear not. What soon starts as a sliver of hope, will very quickly swell into great expectations. Think of it as giving a little to gain a lot.
---
Card Two
Four of Pentacles - Secure
The wish you have projected to the universe is coming good. Look for the little signs to know when and where to seize upon your gift. This is the beginning of something big. Your manifesting confounds the heck out of the experts who say no. Stick with the magic, it will stay with you all the way through.
---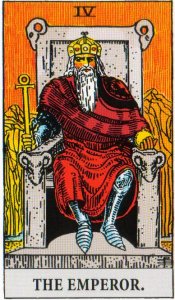 Card Three
IV - The Emperor - Authority
Use your expertise to make things turn out as you would want them to. This is not a time to hope for the best, it is time to make your desires come into fruition. Plan for the best, do the work and keep the upper hand so that progress stays on track and you reach the best of outcomes. I'm shaking some good luck dust over this to give you extra confidence.
---
Card Four
Nine of Cups - Satisfaction
You have a good foundation, have taken risks, and now you can sit back and enjoy your rewards. (Or soon will). Your happiness acts like a magnet pulling others into your realm. What you may not yet know is that there is far greater happiness in store for you and is yet to come.
---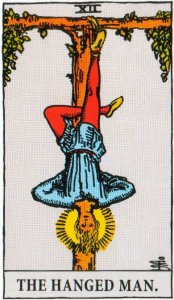 Card Five

12 - The Hanged Man - Sticky
Don't give up, but look at the situation differently. Something that has evaded you, up to now, is sort of staring you in the face. Key here is Sort Of! A radical shift in perception is needed, but once you get it you really get it. Don't quit it – just squint it. Oh, and there's an angelic helper waiting in the wings for you to get it and get on.
---
Important Reminder - so you can stay in the loop
First LIKE my page
fb.com/OnlinePsychicAdvice 
Then . . .

On my Page click Following 

Click next to see Notifications 
On your notification settings select ON (Highlight Posts) 
now you will find my update posts will stay within your feed's reach and you won't miss out on any future Free Psychic Tarot Readings.


My free psychic tarot readings on Facebook provides general information and guidance and I am unable to answer individual questions personally as the process through which I connect with each client takes more time and focus.
If you are looking for specific answers please consider my professional psychic email service.

Or, you can check out the TOP RATED psychic readers I have partnered with who are happy to offer you 50% Discount and 4 Free Minutes if you are a new customer to their service. 
Comments About Psychic Tarot Readings
---
I have been giving psychic tarot readings for over ten years. I am clairvoyant and I find that the imagery of the tarot really sparks my psychic ability. I like to look at the imagery while I am giving information from my minds eye to someone who has called me.
I feel like it is very important to really work with a deck extensively before using it in readings because the same card in a different deck may have very different meanings. I have one deck in particular that I use for most of my psychic readings.

I like to choose a deck that has a lot of evocative imagery because I am a very visual person. I feel like the longer you work with a deck the more information it will give you. It is important to discover the idiosyncratic meanings that each card reveals to you. It is best not to simply use canned meanings of cards that are written on instruction sheets that come with the deck.

Meditation can be very helpful practice for the psychic advisor. Meditation is known to increase a person's psychic abilities. I like to choose one of the major arcana cards to meditate on for twenty minutes before I go to sleep and then again first thing in the morning. Tarot cards can help awaken your psychic abilities.
by SolsticeSorceress (Olympia, WA, USA)
---
Great Advice - by: Anonymous 
Tarot does indeed give us profound wisdom, not just the cookie cutter meanings found in books. The cards can speak to you with something else or add something to it. Great advice SolsticeSorceress!
---
To post comments about psychic tarot readings or to answer these comments about psychic tarot readings please use my contact form. Start the conversation with the heading About Psychic Tarot Readings. (Note - this form is not for acquiring Free Readings.)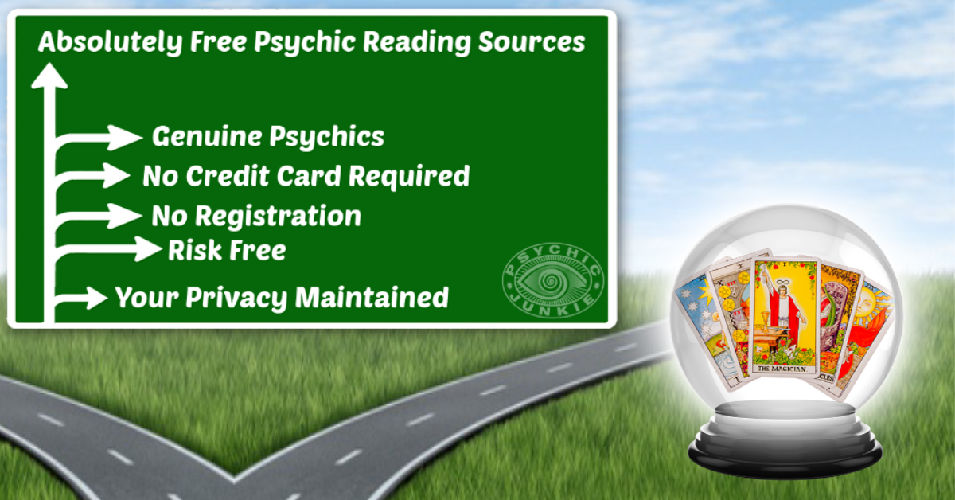 Proven Absolutely Free Psychic Reading Opportunities
Learn how to make the best of these proven and absolutely free psychic reading opportunities. You can get multiple questions answered from this list. With no credit card required, genuine psychics, mediums, clairvoyants, tarot readers, risk free, and privacy maintained.

---
Keyword for the Major Arcana + Pentacles + Cups + Swords + Wands

I created this list of Tarot Keywords to assist those who needed a tangible single word meaning for each card while they learned. These five printable pages available for free download inside the psychic circle members area. 
---
Are You a Candidate for a Psychic Reading by Email?
Scarcity of free time? - Shy? - Prefer writing to talking? - Hearing impaired? - Brain Fog?  Learn about my email psychic readings process and  you can decide what level of interaction you would like.