How To Get My Free Psychic Tarot Readings
In Your Facebook Feed
Ian Parkin is the verified author of this post.
I regularly post the latest answers to your free psychic tarot readings questions here. To participate you will need to know how to get this offer showing up in your Facebook feed. 

I lay out and photograph five of my tarot cards. I use many different tarot decks, so there is a variation on the intuitive energy each time. 
I've embedded the most recent free psychic tarot readings facebook post below.
Important  Steps - for you to stay in the loop!
First LIKE my page
fb.com/PsychicJunkieWebsite 
Then . . . 

On my Page click Following 
Click next to see Notifications 
On your notification settings select ON (Highlight Posts) 
now you will find my update posts will stay within your feed's reach and you won't miss out on any future Free Psychic Tarot Readings.


On my facebook post's, most recent Free Psychic Tarot Readings, image glance over the cards (left to right) 1 + 2 + 3 + 4 + 5.
In a relaxed state of mind, think of your question and then imagine pushing your question into the heart of the crystal ball (also in the photo).
While doing so, take note of the card number that come to your mind, as if it was emanating from the crystal ball and drifting right back into your awareness.

Then . . .

Type your card choice in the Facebook Comments below the card spread image (not your question, keep that private)
Please add YOUR your own magic to the mix with Page Likes and Post Shares
When I have read the cards I will ❤️ your comment
I will post the link back to the results which will appear on this page below
Latest Psychic Tarot Reading Post Revealed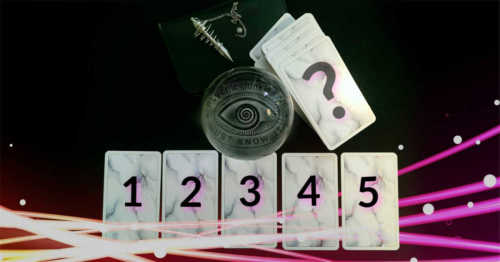 ---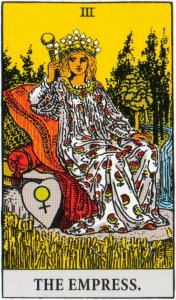 Card One
III - The Empress - Abundant

What may seem a bit prickly on the outside is lush and golden on the inside. So, it may need a little courage to get past a fear or insecurity, but going for it is so well worth the effort. The perfect time for taking action is here now. But no rush, this window lingers a while. I feel you hold the key to a big dream that has been out of your reach before now. Luck is with you!

---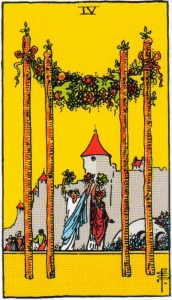 Card Two
Four of Wands – Achievement

I can see your success. The desire that appears out of reach is made possible in divinely appropriate ways. This means you may hesitate and fear going forward. Trust in the magic of the universe, go for what you really want, and when close enough, (and only when close enough), you too will see the absolute possibility. Proceed slow and steady, in a natural rhythm. Stay in tune with your environment. While writing this I can hear the tick, tick, tick of a musician's metronome signifying the steady beat of your progress.  

---
Card Three
Eight of Pentacles - Diligence

Be smart, go where the energy flows. Be where you feel great, be with people who lift your spirit, and undertake things that obviously align with your calling. Then stick with it.

---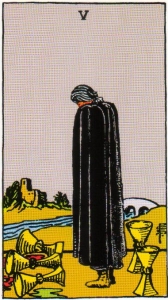 Card Four
Five of Cups - Disappointment

If you are looking at loss or some other sort of disappointment it will help to take note of the good things that have come from it. I'm seeing a certain richness very close that you are overlooking. You are protected.
---
Card Five

Four of Swords - Reprieve

Chill out and let bygones be 'bye and gone'. If you take a break from a difficult situation now, you will find renewed energy and strength to use in much better ways for a much brighter future. You will know when to start over, all will become clear.
---
---
Previous Psychic Tarot Reading Post Revealed
---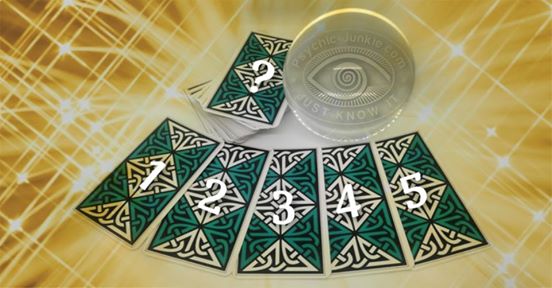 ---
Card One
Knight of Pentacles – Potent
So, what are you going to do with all that potential? Everything is ready, but if you are playing it safe you may never get going. Unburden yourself of the fears that hold you back. I'm seeing the perfect opportunity in front of you. And it is all soft and cozy, there is nothing to fear but the fear. I sense great speed once you do dig your heals in and get stuck in. Go on now . . .
---
Card Two
Six of Cups – Nostalgia

Repeating the past does not change the now or the future. Be proud of what has already been achieved and be brave enough to allow things to be different from this point on. It's all good, but it can be so much better.
---
Card Three
Three of Pentacles – Ability

It may seem like everyone around you is hypnotized. Why can't others see what you see? Do not wait for the approval or the go-ahead from another. You know what needs doing, you can do it. And YOU are the one to decide. Do it and you will inspire those who look to you for guidance.
---
Card Four
Seven of Pentacles - Evaluate

From everything that seems good for you at present, what one thing stands out from all? Place your energy and attention on that special area and you will see something magical happen. It is like a whole new world opens for you. One that you may have missed if you did not take time to make this important evaluation now.
---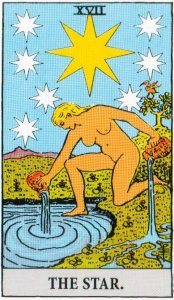 Card Five

XVII - The Star - Renewal

It is a good time to let go of past struggles. Be optimistic and be open to new beginnings. A good path opens to you and it would be wise to set foot upon it. I'm not saying forget about your troubles, but learn from them so you are better prepared in the future. I see a helping, healing guide walking forward with you from this point.
---
---
Important Reminder - so you can stay in the loop
First LIKE my page
fb.com/PsychicJunkieWebsite
Then. . .
On my Page click Following 

Click next to see Notifications 
On your notification settings select ON (Highlight Posts) 
now you will find my update posts will stay within your feed's reach and you won't miss out on any future Free Psychic Tarot Readings.


My free psychic tarot readings on Facebook provides general information and guidance and I am unable to answer individual questions personally as the process through which I connect with each client takes more time and focus.
If you are looking for specific answers please consider my professional psychic email service.

Or, you can check out the TOP RATED psychic readers I have partnered with who are happy to offer you 50% Discount and 4 Free Minutes if you are a new customer to their service. 
Comments About Psychic Tarot Readings
---
I have been giving psychic tarot readings for over ten years. I am clairvoyant and I find that the imagery of the tarot really sparks my psychic ability. I like to look at the imagery while I am giving information from my minds eye to someone who has called me.
I feel like it is very important to really work with a deck extensively before using it in readings because the same card in a different deck may have very different meanings. I have one deck in particular that I use for most of my psychic readings.

I like to choose a deck that has a lot of evocative imagery because I am a very visual person. I feel like the longer you work with a deck the more information it will give you. It is important to discover the idiosyncratic meanings that each card reveals to you. It is best not to simply use canned meanings of cards that are written on instruction sheets that come with the deck.

Meditation can be very helpful practice for the psychic advisor. Meditation is known to increase a person's psychic abilities. I like to choose one of the major arcana cards to meditate on for twenty minutes before I go to sleep and then again first thing in the morning. Tarot cards can help awaken your psychic abilities.
by SolsticeSorceress (Olympia, WA, USA)
---
Great Advice - by: Anonymous 
Tarot does indeed give us profound wisdom, not just the cookie cutter meanings found in books. The cards can speak to you with something else or add something to it. Great advice SolsticeSorceress!
---
To post comments about psychic tarot readings or to answer these comments about psychic tarot readings please use my contact form. Start the conversation with the heading About Psychic Tarot Readings. (Note - this form is not for acquiring Free Readings.)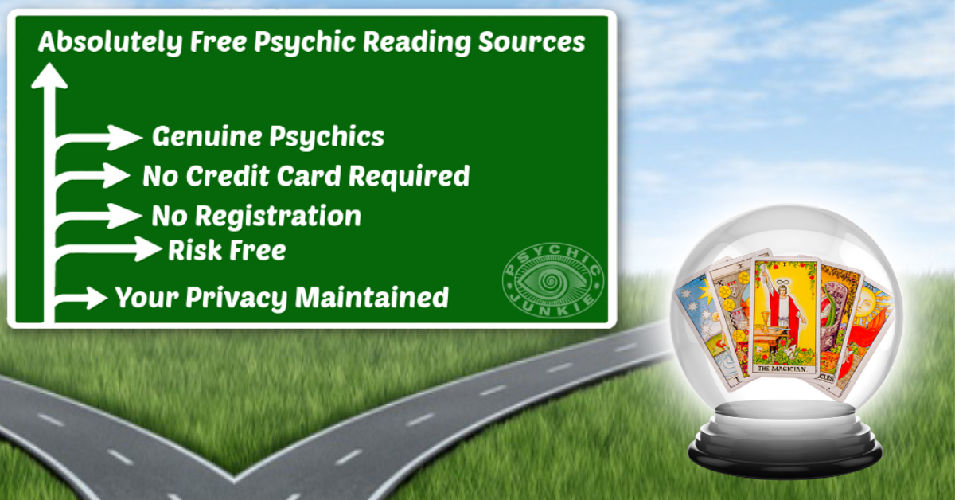 Proven Absolutely Free Psychic Reading Opportunities
Learn how to make the best of these proven and absolutely free psychic reading opportunities. You can get multiple questions answered from this list. With no credit card required, genuine psychics, mediums, clairvoyants, tarot readers, risk free, and privacy maintained.

--- Keyword for the Major Arcana + Pentacles + Cups + Swords + Wands

I created this list of Tarot Keywords to assist those who needed a tangible single word meaning for each card while they learned. These five printable pages available for free download inside the psychic circle members area. 
---
Are You a Candidate for a Psychic Reading by Email?
Scarcity of free time? - Shy? - Prefer writing to talking? - Hearing impaired? - Brain Fog?  Learn about my email psychic readings process and  you can decide what level of interaction you would like.