Rev Patty Lekawa
by Spirit Star
(Australia)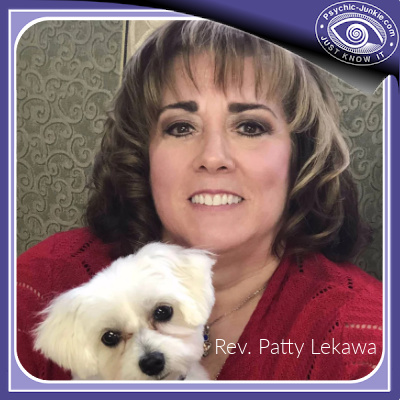 My father's name is Hilton
After my father died, whilst living in Chicago, I was invited to see Oprah's personal Turkish coffee grind reader. Whilst I wasn't too sure what that was, and as I was still reeling from my father's passing, I agreed to have a clairvoyant psychic reading from the grinds of a Turkish coffee. After an hour or so of telling me very little she asked if I had any questions. I replied by asking if my father was Ok. She sat blankly for a moment, and then said "I see nothing, a void". I responded by saying that is perhaps because he died recently. She said "Ohhh, I don't talk to dead people, but I know someone who can. You'll need to use my name as she only takes personal referrals, and it will take six months to get an appointment for a psychic reading, but call her". That lady was Rev Patty Lekawa.

So I called, was told that I would need to wait a number of months for my clairvoyant reading with Rev Patty Lekawa. But I left my details and continued on about my life as best the grief would let me. The following day, whilst I was knee-deep in snow in Madison, Wisconsin, I received a call on my cell phone. It was Patty, saying that she had been told to "make an appointment for a clairvoyant psychic reading available to me" and that if I liked I could come the very next day!

I did – Rev Patty Lekawa lives in a place called Crystal Lake, which is about 90 minutes out of Chicago. When I arrived and sat down I was feeling quite numb, but I was touched by her persona, and looked forward to a pleasant chat, if nothing else.

The psychic reading began when she asked me if I traveled a lot. I said - Yes I do travel a fair bit. She asked if I often stayed in the Hilton Hotels. I said no, because my employer had a corporate agreement with Marriott. She said, "I have a very clear image, of the Hilton Hotel. I'm seeing a large hotel and the Hilton sign is flashing at me very brightly."

"That would be", I said, "Because my father's name is Hilton."

From that point on, I was overwhelmed with the details that I received in my psychic reading with Patty. I received a heartfelt apology from a very special man, an assurance that he is Ok, that all is as it should be and that I have things that need to be done. Then there was an admonishment that I am to eat breakfast instead of running out the door without it, a chuckle about how he misses beer and over and over again, his assurances of love.

All this from a man who very firmly did not believe in god, would not participate in any kind of religious or spiritual practice, to the point where we had a graveside service only for him and was very clear that once we die, that's it - the end of the road!

Then Patty gave me a message from his mother, with regard to the gift that I placed in his coffin. It had belonged to her and only I knew about it, yet Patty detailed the gift perfectly as she continued with my clairvoyant psychic reading.

Whilst I'd always know differently, the messages from this clairvoyant reading affected me profoundly. The accuracy of my clairvoyant psychic reading left me in awe of Patty's gift; it was proof positive that my gut feelings about the afterlife were right all along. So I set out to learn everything I could about clairvoyant psychic readings. I went on to learn a tremendous amount from Patty via her church and study groups. I aspired to develop my own gift to the level that she has, as she went through a similar experience after her father had died.

I developed a very practical approach to all things spiritual and seek cross references regularly – for this reason I find Carolyn Myss very helpful. Carolyn has a PhD in theology – and whenever she offers a theory – it is supported by detailed research. I had the pleasure of working with her in Chicago.

Another influence has been Jung – whilst in Chicago I had the opportunity to study at the Jungian institute. I really appreciated his approach; that of the clinical psychologist married to a psychic. I found his formal training and his wife's spiritual gift had created an important blend of medical and spiritual study.