The Rev Patty Lekawa Gets Your Genuine Psychic Reviews
The page below includes Psychic Reviews for Rev Patty Lekawa from multiple authors. I have verified and approved these submissions. – Ian Parkin
Rev. Patty Lekawa was amazing in telling me things that only I would know the meaning of. My parents grew up on a farm and Patty would tell me she saw chickens and their heads being cut off. She also saw a motion which described to me is exactly how tortillas are made when started from scratch. 
She also told me that my miscarried son loved me and that my Grandma and Grandpa were present, too. I never said anything to Patty and only gave her a personal affect that I had owned for more than a year. She wrote a lot of this information down and encouraged me to take notes for myself. She also told me that a large black dog was also present. Who knew that my childhood dog, named Panther (because of his black coat color), was there to greet me! I had a lot of relatives greet me and was spoken to for a long time by my mother. Psychic Review by by Guadalupe (Chicago, Illinois, United States.)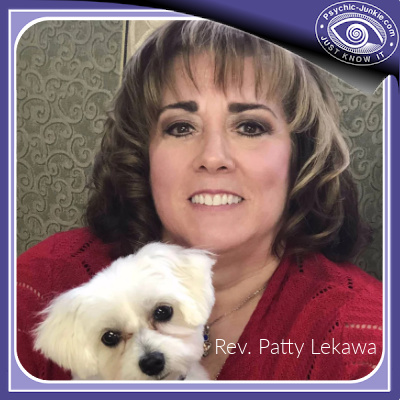 I haven't seen her... but - by Anonymous
I have heard of Rev Patty Lekawa but two of my friends saw her at different times within two years ... and she has brought up my son (I lost the baby) at separate times trying to get a message to me. How that this is nowhere on the social media and two separate people go and see her and she tells them both of the same boy trying to reach out to me... what a few words only I said to myself that they said to me that my son said to Patty... my heart sank into my chest... yet I still have not seen her personally .. but I will.
More reviews for Rev Patty Lekawa
---
15 years of good readings - by Katie
I started going to Rev Patty Lekawa nearly 15 years ago. Recently I was sorting through my desk and file cabinets in preparation for a move. I found my notes and Patty's notes (from the early readings) from all my readings. I decided to review them as my annual appointment was coming up. I chuckled as I read "who's Georgia? She wants me to tell you she loves you and is always with you"..... I didn't chuckle so much at the question as at my notation....that this lady made a left turn ... feeling all smug that I don't know anyone named Georgia! It was months later when I realized Georgia was my grandmother's nickname! I realized reading my notes from past readings that many times I made similar notations, but 15 years later 98% of everything Patty told me is now rooted in fact and truth. I've never known Patty to make specific diagnosis, but she has very accurately warned about problem areas. With Patty's guidance and delivery of messages from my deceased live ones, I have grown so much spiritually. I would recommend Patty to anyone. But please be open and calm to get the most out of her readings.......
---
Extremely Accurate and Comforting - by Anonymous Mom
A friend recommended Rev Patty Lekawa after my 14 yr. old son died in 2015. I made an appointment and went to see her. I gave no indication of the pain I was in or my last name, town etc. I don't do Facebook and we didn't have a big funeral or even an obituary. Right at the beginning my son came through along with my brother who also died young. She was completely accurate about the things from my past and relatives that have passed over. Her messages from my loved ones have been a comfort me in this most difficult time. Coincidentally, my sister had seen Patty many years ago when she used to do parties. She looked to see if she still had the notes. She did and they were AMAZING! Patty had told her how many children she would have, what her career would be (which was nothing like she was doing at the time) and so many other accurate things. God Bless You Patty.
---
Rev Patty Lekawa is a Angel - by Renee Sebek
Everything came true the whole 7 years it all came true. She knew all about me, and my loved ones came through. Great women and her husband is a nice man.
---
Amazing Readings - by Anonymous
I've been a client of Patty's since 2011. She has told me things that even my life long friends do not know. Things that would not be found on the internet. I find it a gift that she is so open and honest about sharing her life stories to complete strangers. Yes, she has given me a referral to a doctor. That doctor diagnosed something my primary care doctor didn't see. I would find it odd if she told you something but didn't have a direction or a person to help you with that problem. I've never been disappointed in a reading with her. My friends and family have been equally impressed with her abilities. Thank you Patty for sharing your gift with us.
---
Contact details for Rev Patty Lekawa
Patty's webiste: pattylekawa.com (cannot be linked while site is not secured by https)
Patty's events at LightSource Foundation Church: plekawa.homestead.com
If you would like to ask questions, add answers, or comment on this page please use my contact form. Start the conversation with the heading [About Rev Patty Lekawa]
Or if you're inspired to write an article on another psychic please submit a guest post here.
---
---
---
Keep your kindred spirits informed by sharing this . . .

---
---